One of the great things about the Birde speaker is that an Aussie mum and dad designed it for their kids from 2-5-years old. So, you know it is child-friendly, secure, and fit for purpose.
That purpose – to entertain the little blighters. Even better, kids can have fun either alone or in a group with Birde without having to monopolise parents time or their smartphone. Yes, I know that is a terrible thing to say, but the Birde system is engaging with enough content that I can see years of use.
How did Birde fly?
In 2015 Aussie parents Daniel and Leah Corkin were worried about how easy it was to expose their three kids to inappropriate content on devices such as tablets, phones and TVs.
The idea of creating a curated, walled-garden to remove the risk of kid's exposure to inappropriate content, excessive advertising and too much screen time was hatched.
What is Birde?
It is a portable, rechargeable, Wi-Fi media player/speaker that accepts content from Birde 'Seeds'.
Design: washable nylon fabric, IPX 67 (water and dust resistant)
Size/Weight: 175mm x 73mm x 67mm x 450g
Speaker: 2.0 channels, 2 x 40mm transducers, 2 x 8W Class D amps
Battery: Rechargeable, 3000mah. Up to 8 hours continuous playback (subject to volume level and audio content).
Recharge time: 2 hours with 5V/2A charger and six hours (estimate) with the Qi wireless version.
Connectivity: Wi-Fi g 2.4Ghz. Connect via the Birde App. Auto-discovery of Birde TV
Child Interface: Power, volume, Birde Seed reader, colour coded LED indicator, auto sleep and wake
Colours: Blue or Purple
Warranty: 2-years
Cost: Micro-USB version – $199 (charge cable but no charger) including a preload of $30 of music, audiobook and video content (The Wiggles, Play School and more) and a natural cotton seed bag
Cost: 5W Qi charge dock version with charger and cable – $299 including a preload of $60 of music, audiobook and video content (The Wiggles, Play School, StoryBots and more) Bonus Funky Chicken animated video and a natural cotton seed bag. Note Bing Lee is selling this version for $219.
Out of the box
You know this little Birde (website here) will fly with the under 5's. It comes either in bright purple or blue, and there are just three easy controls; on/off, and volume up or down. As a well-known meerkat is wont to say, "Simple."
Charging is via the micro-USB cable (2 hours with a 5V/2A charger). We did not try the 5W Qi version, but we estimate six hours. Battery life is enough for a day.
And it feels durable and childproof. All a child must do is tap the Seed they want (bright and colourful identification), and the fun begins.
Setup (for Adults only)
Charge and turn on
Download the mobile app for Android or iOS
Set up a Birde account (to purchase new Birde seeds)
Connect to home Wi-Fi via WPS (enables Play Video & Audio Seeds on your TV; Download new Seeds; Monitor Playback Via Mobile App Play Audio Seeds from your Phone; and Play downloaded Audio.
Tap a Birde seed to the Birde nest
Content downloads to the internal 8GB storage and the Birde Seed will start playing the content on the speaker or TV
You can also download Birde TV apps for Android TV, FireTV, LG WebOS, Samsung Tizen and Roku (Telstra TV) with Apple TV and Android tablet coming soon. This plays Birde Seeds with audio and video content.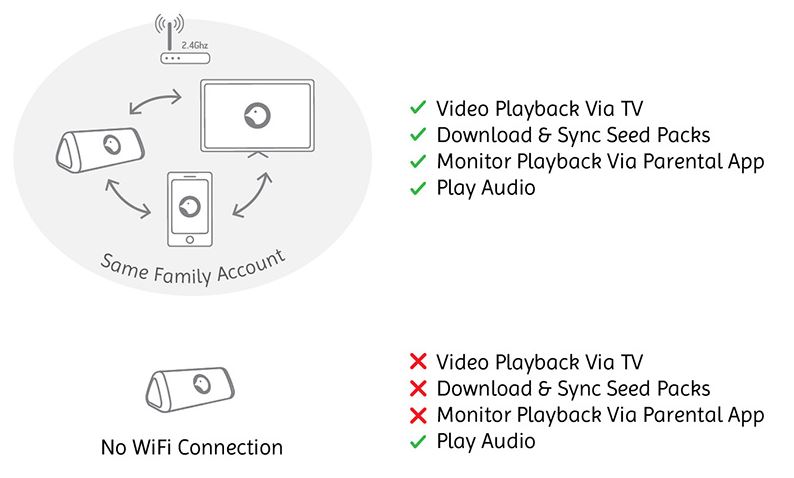 Curated content
Parents control the content via the Birde Parental APP while the kids have the independence to choose what the Seeds they want from music to audiobooks and videos.
There are thousands of hours of entertainment available – The ABC, Wiggles, Giggle and Hoot, and Nickelodeon has contributed to the content ensuring a huge variety of safe, kid-friendly watching and listening.
Sound
While we don't expect audiophile standard, it is fit for the task. Depending on the content, the maximum volume is 77dB (so it won't hurt kids hearing), and it has a mid-sound signature for clearer voice.
It is not a Bluetooth speaker, nor does it have an AUX input – it can only play content via the Seed or over Wi-Fi. BTW – if you lose a Seed it can still play purchased content via the app.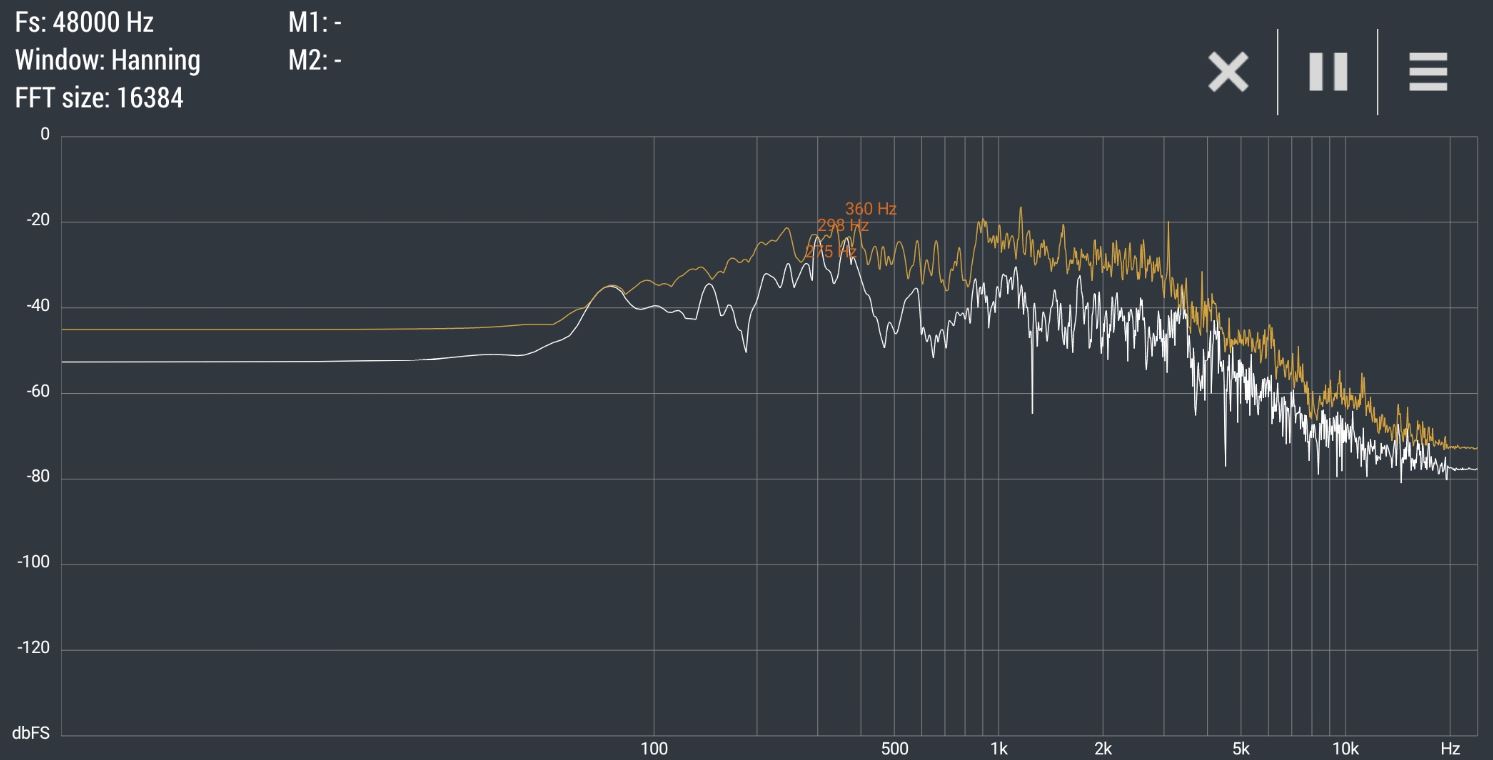 Tested on kids – sorry ours are grown up!
GadgetGirl's take – I'm certainly not a kid, but even I was excited to open the pack of Birde Seeds
The concept is brilliantly simple. Parents can curate, admittedly at the cost of new Seeds, what content you want your kids to hear and see when it is playing.
We had a variety of content to test – each seed is a bright little Tap and Play enabled cardboard hexagon (fairly chew-proof) with a picture on the front showing content. That is the key to downloading the content over Wi-Fi to the onboard storage.
Without the benefit of test subjects and knowing the propensity of parents to park kids before the TV, we suspect that the combo audio/video content is most engaging and more expensive.
We are a little concerned at a few things – no deal breakers:
The duration of some of the content – most of the seeds we tried are around ten minutes. You may need to purchase many seeds over the kid/device's lifetime. For Birde to be successful, it needs lots of content, and we suggest the ability to swap content with other Birde owners – library-style – would be great.
We are not sure how portable it really is. When it is out of Wi-Fi range the Birde Seeds can only play audio, not video, stored on the device. That means you can't easily play it on another home's TV. It needs to be easily portable so the kids can use it at the sitters, grandparents, friends etc. There is a family group facility, but I am not sure this aspect has been adequately addressed yet.
The app has no functionality to remove the account if you sell/give it away (you can remove the device). Back to point one, you need to be able to transfer ownership of Seeds and the device.
The unit only has 8GB storage. The NFC seeds are just a key to downloaded content accessed over Wi-Fi. While you can manage storage via the app, kids may not understand why something won't play and be discouraged from using it.
I can see it being a companion device for pre-school and early primary school kids.
I remember our children singing along to Playschool until they became addicted to the internet and all the damaging content that entails – damned computers and screen time!
Babysitters, nannies and grannies will adore Birde. It is such an easy and worry-free way to keep their little charges educated and entertained, whether at home or outside at the park or beach (subject to the transit caveats of the points above).
And we will definitely be getting one for our grandson – although he is still a little young, we can just see our daughter-in-law singing along to get him to sleep.
As it is unique and as there is no downside apart from perhaps a Birde Seed habit, we think it is perfect for the task. Keeping kids off parents backs and even reading bedtime stories.
Well built and almsot kid-proof
Great concept of curated, walled-garden content
Issue of portability (especially video content) to other locations
Issue of being able to gift or sell device and content not resolved