It's been a long time coming, but BlackBerry has finally announced the handset that will debut its next operating system, BlackBerry 10.
Coming in March, the Z10 will also be BlackBerry's first touchscreen 4G smartphone, with expandable memory, multitasking, NFC, and more. Is it enough to bring BlackBerry back into play against Apple's iPhone and the big range of Android devices, or is it an empty hope?
Features
New BlackBerry devices are few and far between – we don't think we've seen one for almost a year. But with 2013 well and truly here, a new handset has come, and with it, a brand new operating system.
Coming to Optus and Telstra in March, the BlackBerry Z10 is a full touchscreen handset with no front facing buttons, though you will find a power button up top and three buttons – volume up, down, and a middle voice control button – on the right.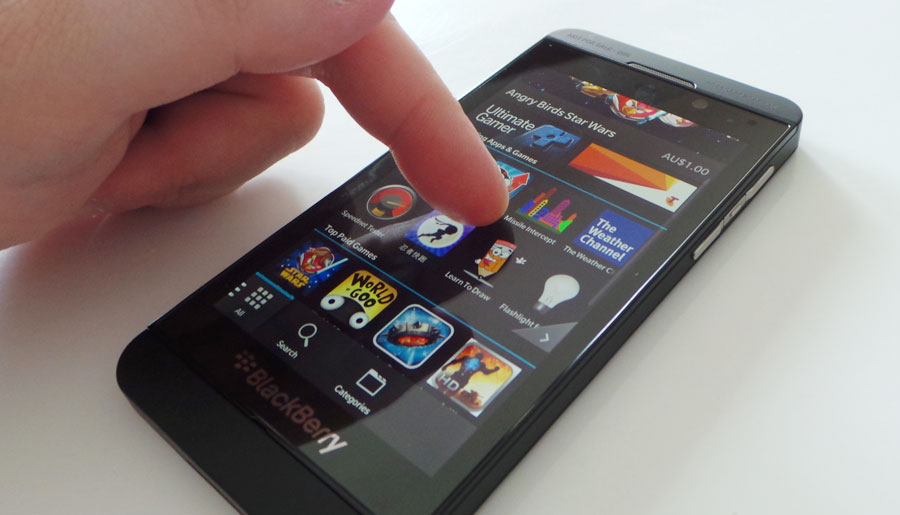 The screen is a big one for BlackBerry, with the company's first 4.2 inch display. This supports the HD-friendly resolution of 1280 x 768, and manages a pixel-per-inch count of roughly 355 – higher than that of the iPhone 5.
Inside the handset, BlackBerry has thrown in similar technology similar to that in the flagship Windows Phone products. In fact, like the Nokia Lumia 920, the BlackBerry Z10 features a dual-core 1.5GHz Qualcomm Snapdragon processor, as well as the same Adreno 225 graphics chips.
Unlike the Nokia, BlackBerry has included 2GB RAM, which should help to make the operating system feel faster. It's provided 16GB of storage, but made it possible to upgrade this using microSD expandable memory.
Multimedia and connectivity features are pretty standard here, with Bluetooth 4.0 and A2DP included, as well as Near-Field Communication, WiFi 802.11 a/b/g/n with a dual-band antenna for quicker operation, GPS, a rear 8 megapixel camera with 1080p Full HD video capture, and a front 2 megapixel camera with 720p HD video capture. Access to the fourth generation mobile networks is included, offering faster downloads provided you're using Optus and Telstra in Australia (at this time).
The back is removable on this handset, and you'll find an 1800mAh battery underneath, as well as slots for a microSD and the microSIM, required for connecting this handset to the mobile network.
Outside of these two covered slots, ports are limited, with only microUSB and microHDMI ports on the left edge of the device, and a 3.5mm headset up top next to the power button.
Performance
There's a lot of competition out in this space, and we're changing phones so often that this reviewer sometimes finds it hard to remember which phone is actually his own.
What we do know is what phones should feel like, and the Z10 is off to a good start in this area, even in this pre-production build model.
We already mentioned in our hands-on with this smartphone that the Z10 looks and feels like it the lovechild of an Apple iPhone 5 and a Nokia Lumia. After a weekend of use, we're even more convinced of this.
This handset features the soft angles of the iPhone while using a similarly plastic body from the Nokia Lumia handsets – although it doesn't feel as strong or durable as the full polycarbonate bodies Nokia uses in its Windows Phone-based devices.
The screen is nice, big, and reasonably sharp, though could be a touch brighter; this dullness was the first thing GadgetGuy staffers tended to comment on.
Outside of this, the Z10 is quite comfortable, with a small enough width that your hands and fingers don't feel as if they're fumbling to use the handset.