While BlackBerry has made inroads with its new device, not everything is perfect.
Maybe it's because we're spoiled, and maybe it's because we think a phone should last at least day, but we were not impressed with the Z10's battery life.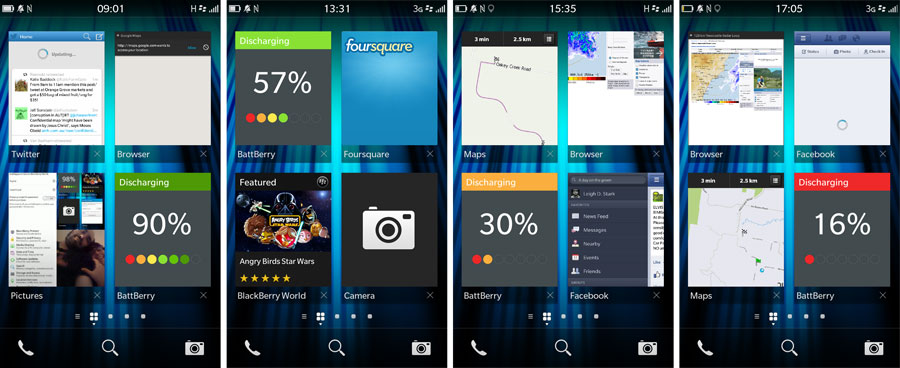 Our regular day consisted of making a few calls, surfing the web, some GPS and mapping activities, using the camera, social networking, emails, and texts – all things we'd expect BlackBerry users to  be using – and yet the Z10 barely managed 12 hours of operation.
It was taken off charge around 6.30 am and by 5.05pm, we were giving up, the battery reporting only 16 percent, (which essentially means a max of one hour more).
It's possible that our experience is a function of the review sample being a pre-production model, and there may be no similar issues when the handsets is marketed in March.
The app ecosystem is another area that could use improvement.
BlackBerry boasts more 70,000 apps for its new ecosystem, but while it has some of the big ones – Twitter, Facebook, LinkedIn – it's also missing some big ones, including Google Chrome, Skype, Instagram, and even the public transport app, TripView.
As a point, you can quickly add frames and Instagram-like retro effects to images natively in the photo editing parts of the phone, but it's not Instagram, and doesn't include the same network sharing on offer through Instagram.
Official favourites like YouTube and Dropbox are also missing in action, though compromises have been made. BlackBerry has made its own connector for Dropbox that integrates with the service quite well, while YouTube escapes with a pre-installed shortcut to the website, as opposed to an official application.
It's useful to note that there are some decent apps and games in the BlackBerry App World, and while 70,000 apps may seem like a lot, like every app store, the question is more about how good or useful all of these apps may be. For instance, when we searched for an official YouTube app, we were surprised to see the number of apps based around the users of YouTube, with special apps developed around the videos people were posting.
That might seem strange, but we suspect many of these are coming from a special tool BlackBerry has put together that makes it possible for anyone to create an app quickly with an RSS feed, the constantly updating news feed that comes straight from websites.
A quick development time like this is good for people who want an app for their business or homepage, but also means the store will likely be cluttered with small apps that only a few people want, all the while increasing the number of apps on the ecosystem. Good for BlackBerry, but not necessarily good for you.
Conclusion
The Z10 is the phone BlackBerry should have released last year, taking advantage of an intuitive workflow that evolves the operating system.  It makes things easier for BlackBerry users than they have been before, with the fluid OS allowing you to get around to what you need to do quickly.
And for the first time, you don't need to be so dependent on the whole BlackBerry "way" of doing things – like connecting to a BlackBerry account or server just to grab email and activity. (This is still necessary for some features we were unable to test, such as the way of virtualising workspaces through BlackBerry Balance).
Battery performance needs work, but overall the Z10 is a welcome first step towards a true touchscreen from the company formerly known as RIM. It's probably not enough, however, to reclaim users who have already migrated away from their Blackberry past.
Its real test, then, will be if it can keep loyal users focused in face of the number and quality of options from Android, iOS and Windows. We reckon we'll know the result in less than a year.
Note: the BlackBerry Z10 we were reviewing from is a pre-production model, which could carry some bugs with it. It carried Telstra identifiers on it, but because of it's build status, aspects of the performance may have been impacted. 
Well balanced handset; Quite easy to use; 4G; Payment systems handled by the new operating system; BlackBerry Hub does a good job of connecting every message and account;
Not the greatest battery life; App ecosystem lacks some of the big apps you may want to use; Camera autofocus could be quicker;