Sonos may well have kicked off the HiFi field that is multi-room audio, but it's not the only company getting its fingers in, with Bluesound joining the fray, bringing experience from Paul Smith Barton speakers and NAD amplifiers and making your listening experience more akin to what an audiophile would love.
The name "Bluesound" may not be familiar to you or anyone, but the background of the company should be, especially once heard.
"Our roots are audiophiles," says John Banks, one of the people who has been working on Bluesound for a while now, the Director of Market Development at Lenbrook, the company that owns Bluesound, as well as PSB Speakers and NAD, both names with audio pedigree. "We're proud of that fact," said Banks.
"Much of the engineering you find in Bluesound really has its roots in very high end technology."
That high end technology is a degree of precision few electronics have, with a focus on audio for purists, who love sound when it's not over processed, and is made to sound real, or at least the way the musician imagined it would sound when played in headphones or speakers.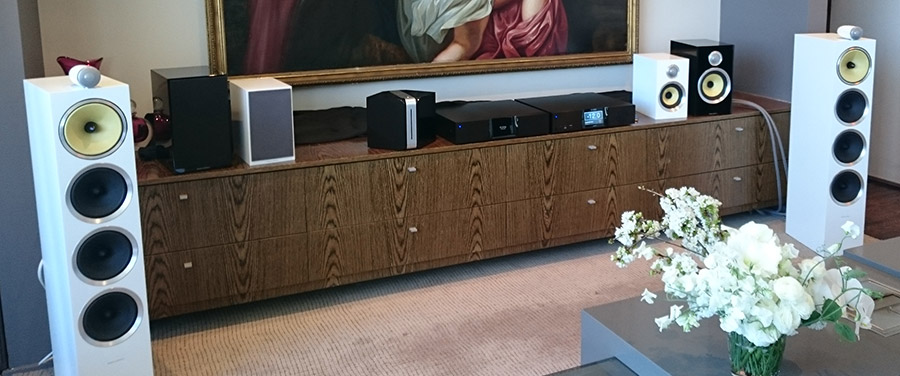 But high-end HiFi hasn't really evolved with the modern world, or not in the way many owners of modern technology would like.
While high-end sound systems are getting better all the time, they haven't yet woken up to the idea of wireless streaming, with the world of high resolution audio not really tapped in this area.
Sonos lets you dabble in FLAC, and practically pioneered the world of multi-room audio, but if you want to listen to music on your own speakers with your own amplifier and send your high-end collection around your home through these speakers, you haven't had a whole lot of options.
And that's where Bluesound hopes to chime in.
"In some ways, we see Bluesound as the democratisation of high end audio," said Banks, adding that it was "HiFi for a new generation."
"Bluesound at its core is really a brand that is trying to marry the world of high resolution fabulous sounding HiFi to wireless multi-room streaming audio," he said. "We see this as a first."
To create that first, Bluesound's people spent years working on a product that could change HiFi as it was known, delivering balanced and distinct sound and creating its own app for the products to talk to each other.
But unlike other multi room systems, most of the Bluesound products aren't speakers, but rather streaming players designed to be connected to an existing HiFi setup.
These start with the "Node," which is a small streaming music player that doesn't have any amplification, but will bring wireless connectivity to your current stereo system.
It will be joined by the "Powernode," a similar product paired with a stereo amplifier capable of recording at 35-bit, which we're told "eliminates any noise or distortion from the music" and provides 90 watts of power.
Another product lacks speakers, and this is the "Vault," which is basically a NAS for people who don't want to fuss around with network storage.
This product will have been 1 and 2TB inside, and will come with a CD ripper, able to make a copy of your music in both MP3 and FLAC, spitting out the disc and letting it do all the work for you that you'd normally need a computer for, before sending this to other Bluesound products in your home.
Then there's the "Pulse," and this looks to be the first all-in-one streaming sound product for Bluesound, with a specifically tuned speaker designed by Paul Barton, with one 5.25 inch subwoofer inside and two 2.75 inch aluminium cone drivers inside, providing 80 watts of power and controlled by three digital amps.
Finally, there's the "Duo," which is a small satellite speaker and subwoofer combination providing as much as 280 watts of power through an 8 inch subwoofer, and speakers with 4 inch woofers and 1 inch tweeters.
All of these devices connect to your network using the existing 802.11n technology, with Bluesound telling GadgetGuy there was no mesh network in place, and that this would utilise your existing setup, but that better networks with more access points and repeaters around the home would likely increase performance.
There's also Bluetooth streaming included, making it possible to send music directly from a device, but no support for either AptX or AirPlay, with the wireless streaming handled through the Bluesound system and app, which will exist on Android and iOS.
Testing them briefly, the audio from the Duo speakers connected to a PowerNode was clear, very clear, with the feeling that we were listening to much bigger speakers than what was in the room. There was no extra fuzz or noise coming in despite the volume being offered, and all we could hear was the instruments and vocals being tested through the sound system, which reminded us larger speakers than the tiny things placed around the room.
Pricing for the units isn't cheap, and puts it above what multi-room streaming competitors offer, though this product is more tailored to high-end sound than some of these products. As such, you'll find the Bluesound range in specialist stores across Australia shortly, with the Node coming in at $649, the Powernode at $999, Bluesound's all-in-one Pulse speaker at $999, the CD-ripping Vault at $1499, and the Duo speaker system for $1499.