It's nice to see the premium electronics brands beginning to embrace trends, and now that we're seeing a few top tier audio entities take a look at portable wireless speakers, it's time for Bang & Olufsen to have a play.
Features and performance
If you're into premium lifestyle brands, it's likely that you're into Bang & Olufsen, a name that often brings out the luxury home theatre and HiFi fanatics because of the style, design, and technology the Danish brand throws into its gear, which currently includes unique speakers, headphones, TVs, and plenty of other things.
But B&O doesn't do much in the Bluetooth space. It's been big in sound for a while, but portable speakers aren't what the brand is known for, at least not in the past.
This year, however, we have a Bluetooth speaker from B&O, or from the brand B&O Play, which according to its people wants to be known as "B&O Play by Bang & Olufsen."
So while it reads like it's a Bang & Olufsen product, it is and it isn't, like if you buy a Lexus, you're technically buying a Toyota, even though you're not. Something like that.
Moving on.
Larger than most of the Bluetooth speakers we see, the BeoPlay A2 is a long flat unit made of plastic and metal, though the plastic is easily the most obvious part, with long grills on each side made from a thick polycarbonate that provides an interesting aesthetic, and in our speaker, reminded us of an army-wish look due to the forest green look it presented us with.
In between this is a metal body, cold to the touch and with only a scattering of buttons — power, volume rocker, Bluetooth — while one of the edges features a power charge port, 3.5mm line-in, and, a USB out so you can plug in that phone or tablet of yours and charge directly from the large battery, which by itself can provide up to 24 hours of life.
Each side of the speaker has a channel, making the BeoPlay A2 a speaker capable of sending audio in each direction the grills sit on, collectively providing two 30W digital Class D amps, two 3 inch drivers, two 0.75 inch tweeters, and two 3 inch bass radiators working passively, in a box weighing a little over a kilograms (1.1kg to be exact).
A strap is also attached to the edge, made of leather, which makes it easy to carry the speaker around, though you'll want to stand it up — not lie it down on one of the speaker sides — to get the most out of the speaker.
Turning it on is easy — press the power button to see a light and hear a small beep — with pairing fairly simple, though it could do with more audio cues, as Bang & Olufsen has certainly gone down the minimalist route here.
Once the product is paired with your phone, you're ready to play, so… let's BeoPlay (boom-fish).
The GadgetGuy sound test used for headphones is also suited to speakers, so we're using that here and starting with electronica, with the pumped up bass and synthy sounds of Mooro's "M66R6" which has pretty pumped up bass from either direction, with clear mids and highs coming across too, the keyboard and digital percussion all clear, just as the robot voice sings out.
The Glitch Mob's "Skullclub" starts off a little flat, likely due to the lack of bass, giving a feeling that without strong low sounds, the BeoPlay's effort can sound a touch shallow.
That changes when the song really gets into it, as the bass punches and the song comes together, but we're curious to see how this will pan out across the music spectrum, as every song has a different profile.
In Radiohead's "Idioteque," the mids start the song, and these feel like there's a bit of dimensionality lost in transit, though it picks up as the rest of the song gels together.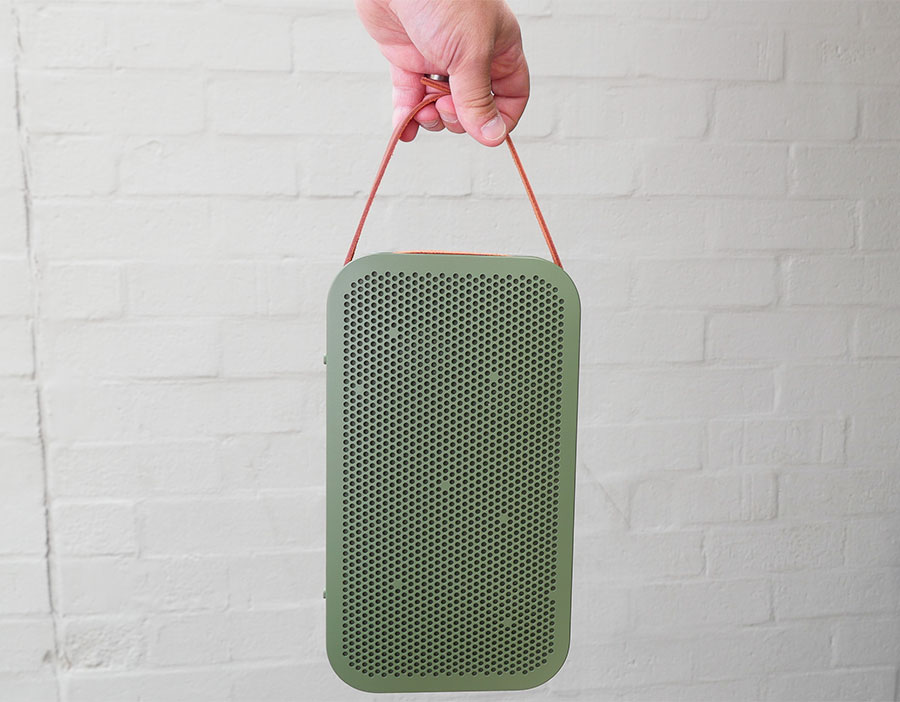 Over to proper rock, and Rage Against The Machine's "Bulls On Parade" is clear, with obvious distinction between the guitars, bass, drums, and the vocals of Zach de la Rocha, though when there's no low end to the track, such as in the intro, the song comes off feeling shallow.
We're beginning to get a feeling with the BeoPlay that it's in the mids where things are a little missing, providing an altogether bright sound with enough punch from the bass, but not a totally warm gelled sound.
Closure In Moscow's "A Night At The Spleen" reveals a balanced sound between vocals, guitar, drums, and bass, with solid balance when there song kicks in, and we saw similar performance from The Rolling Stones classic "Gimme Shelter" with a clear rolling bass which sits under the highs of the guitar.
Pop and R&B also gets the sound test treatment, and we start this with the Michael Jackson classic "Billie Jean," which starts the bass with drums and percussion, a punchy start for a speaker that adores the punchy sound.
This sets the mood well, and with the bass already placed, the midst and the highs in this track have something to work for. In this style of music, the speaker's personality can really come out.
Modern R&B can be a little less real with regards to the instrument, and the hollow synch of Jessie J's "Bang Bang" is clear here, with an obvious artificial element applied and the speaker's shallowness in the mids highlighting it even more, though the high vocals and excess bass are pushed quite well by the BeoPlay A2.
Hip-hop tested by Macklemore's "Can't Hold Us" and Kanye West's "Jesus Walks" shows more promise thanks to better mixing in each track, with multiple layers of each of the three spectrums working together to offset the vocals. In these tracks, the songs are clear, loud, and vibrant, with distinction music lovers will appreciate.
And music lovers who really love jazz will likely be happy, because even though the mid-range can be a little shallow, the balance between the spectrums reveals a lovely tonality. Helping it is the real nature of the music, with nary an artificial instrument, at least in the tracks we're testing.
In Dave Brubeck's "Maria" the bass, drums, sax and piano work beautifully with a strong balance between the regions, while John Coltrane's "Blue Train" starts with the lack of bass and a little shallowness — similar to what we've seen on other tracks — but is fixed up right sway when the bass kicks in, with a good round sound that works beautifully when everything kicks in.
Modern recordings of jazz are just as solid too, heard in "Treme Second Line" by New Orleans local Kermit Ruffins, with loud horns, drums, clear vocals, and a mish mash of sounds that lets you relive the feeling of a big jazz band walking through the streets.
There's plenty of volume in the BeoPlay A2, too, which helps this song feel live.
Finally, there's classical, and thanks to what we've seen in jazz with the real instruments, classical is a treat, too. Freddy Kampf's version of "Fantasie Impromptu" is clear though a little subdued due to the lack of a low end, a subtle piece that the BeoPlay is clear on, but that needs a little more depth with.
Nigel Kennedy's version of Satie's "Gymnopedie No. 1" is clearer and more balanced, again likely due to different mixing with a more rounded out bottom end that helps provide personality to the speaker.
Testing it with the beginnings of our high-resolution audio test, it's nice to see the BeoPlay A2 can handle its own when high-res audio files are thrown its way, such as it did with a 24-bit 96kHz version of Art Pepper's "You Be So Nice To Come Home To," Dave Brubeck's "Blue Rondo A La Turk" in 24-bit 176kHz, and a 24-bit 44.1kHz version of Imogen Heap's "Headlock," which is just the beginning of our high-res list.
In almost all the tracks, the highs were spoken for, with the bass coming in just under everything, adding to the bright sound the BeoPlay gave the other tracks in our regular playlist.
One thing we did note is that the BeoPlay is loud, and while we've mentioned it already, we feel we need to mention it again.
The B&O BeoPlay A2 is so loud, you can fill a small room quite easily, not just a small desk, and that's at half volume, with full volume offering so much sound we suspect the neighbourhood will be a little bothered by us, and you too, if you end up pumping it up this much.
Noise fluctuations weren't easily noticeable through this either, which bodes well for people who love to turn it up.
Some things are missing from the package, though, such as Near-Field Communication and a case, elements we'd expect a close to $500 speaker to have.
No NFC means no easy pairing just from bumping a phone or tablet to the speaker. We're guessing most people won't have a problem with this, as pairing is done simply by activating the Bluetooth scan by holding the Bluetooth button down, and then using your phone or tablet to look for the speaker and connect to it, but a wireless bump would have been a nice inclusion.
There's also no case in the box, even though you'd probably expect such a portable speaker to have one.
It does come with a carrying strap, but we hope the plastic casing keeps the speaker in good condition, because for the price on offer, you'd hope it would.
The rest of our complaints come from the input and output ports on the speaker, and we're a little surprised to see Bang & Olufsen not really doing better here, especially when similarly priced high-end audio brands are certainly pulling their weight better, such as Harman Kardon.
Your connections are pretty basic, with only Bluetooth or 3.5mm audio provided for sending audio its way, with a single USB port to charge your gadgets from — which is a nice inclusion, we'll admit — and then a standard power pack jack for charging.
This last one surprises us, especially since microUSB is more or less the standard these days, so we're not sure why B&O hasn't gone for something a little more standard as far as recharge cycles go.
Conclusion
B&O's BeoPlay speaker is a good entry to the Bluetooth speaker market, providing a bright sound with oodles of volume for people who like to turn it up.
What it lacks for in modern technological prowess is makes up for in the ability to shatter eardrums with portable audio magnitude, and if you love to turn it up past eleven, this is really what you're looking for.
Clear sound; Can charge gadgets off its USB port; Comes with a carrying strap; It's a good looking portable speaker; Auxiliary 3.5mm input; Bright sound; Fair amount of bass; Loads of volume;
Mids need work; Doesn't charge from microUSB; No NFC; No case included in the box, just the built-in carrying strap; Only one charge connector;