The most interesting statement from Boost Mobile founder and CEO Peter Adderton was that 5G, 6G or 7G might not be the future of mobile communications after all.
Peter Adderton was in Australia celebrating Boost Mobile Australia's 20th birthday, quite auspiciously on 20/02/20 at its Barangaroo HQ in Sydney.
"In the next five years, Telco's as we know it may not exist. We may be buying communications (voice and data) directly from Amazon (Bezos/Project Kuiper), Google (Project Loon), SpaceX (Elon Musk), OneWeb (Richard Branson), Boeing, Samsung and even Facebook (Solar-powered drones)."
Adderton says a move to 'satellite spectrum Wi-Fi' will commoditise connectivity and the Telcos could easily be left out. Sure, there are issues to solve, like latency and handset battery life, but they will be resolved sooner rather than later.
"Big Telco's are slow to move, slow to adapt and saddled with infrastructure (poles, wires, towers, routers…). Satellite Wi-Fi could be ubiquitous.
As the leading Australian MVNO (Mobile Virtual Network Operator) Boost needs to stay well ahead of the game. We can change in an instant, he says.
GG: What is happening with eSIM?
Peter Adderton (PA): "Telcos hate eSIM as users can change providers at a whim. We love it for that reason."
eSIM is an electronic sim in the phone. It allows almost instant change of Telco or global roaming, and Telcos don't like that as you are not locked in. It is the same reason Telco's here insist on selling single sim models when the world wants dual sim – so they can have a Boost one in there as well for the best value!
We expect to release new products for eSIM handset owners to make it easy at airports to hook up with the Australian network – expensive overseas roaming is dead. And with eSIM, we can seamlessly swap (if we needed to) a customer to another network it if offered better coverage or value for them.
And eSiM allows us to do instant promotions and deals – no Titanic Telco can do that.
GG: Reports suggest that Boost is over half of Telstra's 4G network pre-paid revenue. How do you manage that relationship when it can call the shots?
PA: It is all about cannibalism [or lack of]. We target the market that Telstra either can't get or doesn't have the product to get. Our pre-paid market is youth-focused, but we have a lot of seniors and value seekers too. We have a relationship with our audience that a traditional telco could never have. That is why it created Belong to go after that market but its still Telstra!
Now, a business executive, I use AT&T (USA) on a flagship phone. That is the business Telstra knows how to handle and we don't cannibalise its sales there.
And if you were Telstra would you want MVNOs to help get the maximum use of its network instead of another. No, MVNO's help get clients Telstra can not get.
GG: Will you offer access to Telstra's 5G network?
PA: There is nothing Telstra could say or do to make me buy a 5G phone now. Handsets cost a few hundred dollars more, 5G reception is mostly mythical, and there are no real use case or killer app (like video that drove 4G) that dictates Joe Average needs it.
When 5G phones cost the same as 4G, and there is no price premium for access (Telstra will charge $15 per month extra for 5G from June) then maybe 5G handsets will take off. Just as a 4K TV is no more expensive than a 1080p one and there is little native 4K content.
All the Telcos are doing is building 'hype' instead of building the network. They hope it will sell more phones and lock you in. We will not offer 5G until it is ready – that could be several years away.
I can't see how Telcos can afford to build ubiquitous 5G networks, let alone the genuine 5G mmWave networks we really need that will have a microcell every 50 metres or so. The sub-6Ghz network Telstra now offers is merely 4G – a little faster if you have reception.
GG: Comments on the Vodafone/TPG merger being back on?
The ACCC's Rod Simms wanted a fourth mobile network, and TPG dangled a carrot to build it. But TPG never really had any intention of building. The end game was always a Vodafone/TPG merger (details here including Adderton's comments) that is not going to make things any better.
The Government (ACCC) has missed the point and the opportunity to help make MVNOs the fourth network. They should have made the merger contingent on more protection for them. It is up to us to keep the major players honest but to do that we need to be even more competitive.
GG: Why has Boost Mobile been so successful?
PA: 20 years ago, we started to counter Virgin Mobile – they are no longer here. We went to the US and did exceptionally well, and Sprint bought the brand. Now it is merging with T-Mobile/Dish, and the principal asset is Boost's 9.4million US customers. The Boost brand survives. Why?
It is a powerful brand, and it cares about customers. It makes it easy to get voice and data. Hell, we are even doing refurbished phones for customers that need a great phone but can't afford new. And yes, we need to find another brand racing team to back (after Holden's shock withdrawal from the Australian market).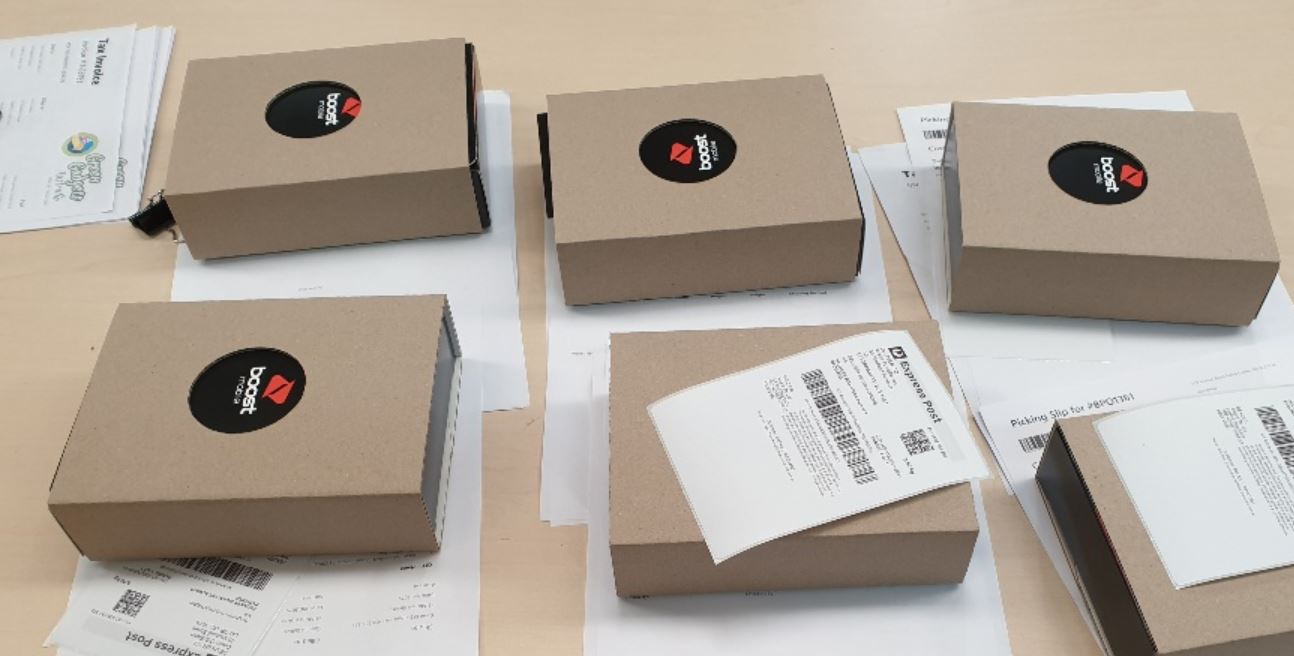 You can't be the cheapest MVNO, or you will die. You need to be competitive and offer a little more via service and things like roll-over data, unlimited calls/text, and international call inclusions. Boost customers are very loyal. One must question if they would be so loyal to a Telco?
GadgetGuy's take – Peter Adderton and the Energiser bunny would get along well
It is clear that Boost's business has been build in equal parts of enthusiasm and business sense. Its expansion into the US gave it the economy of scale to cement deals that are good for its users.
Adderton is tech-savvy, a bit of a futurist and perfect to continue to take the risks and the lead needed to stay ahead in the cut-throat MVMO game.
Interestingly not 10 minutes later (and totally unrelated to Boost), that Val Quinn (Channel 7 Sunrise GadgetGuy) was telling me about SpaceX and Starlink. Fascinating stuff and we will look further into that.