The Bose Home Speaker 500 with Amazon Alexa is typical Bose sound and build quality wrapped up in a semi-futuristic looking speaker enclosure.
I must admit approaching the review of the Bose Home Speaker 500 with a degree of scepticism – a $599.95 Bluetooth speaker, even with Alexa better be damned good.
What are Bose Smart Home speakers?
Bose has hitched its wagon to Amazon Alexa, and all that entails. The new range includes
Home Speaker 500 in Triple Black or Lux Silver
Soundbar 500
Soundbar 700
Note that these do not work with other Bose speakers in a multi-room setup. Nor will It do multi-room with Amazon's Echo products or act as an intercom etc. That has been a deal breaker with many Bose aficionados.
Review Paradigms: Bose Home Speaker 500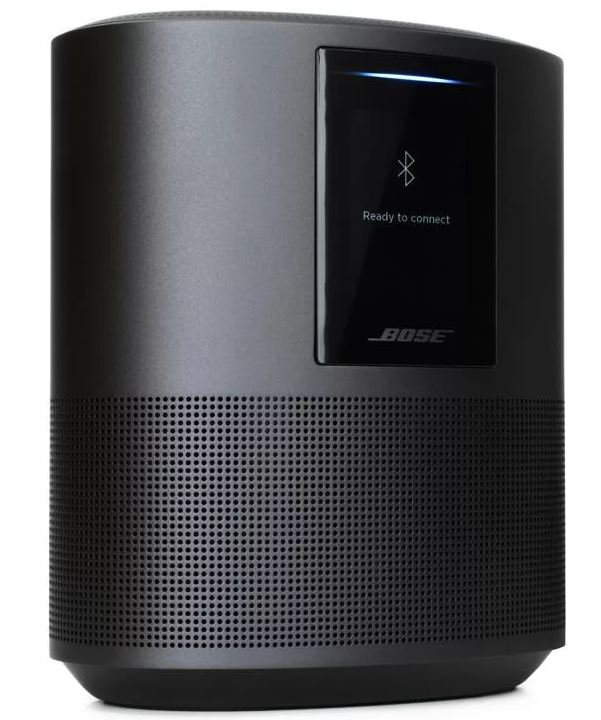 This is a stereo speaker in the one enclosure – it needs to create a stereo sound stage with reasonable separation
As it is likely to be in the lounge or kitchen, it needs to generate at least 80dB of distortion free sound
Given its intended use as a music streaming device, it needs to have a warm and sweet sound signature with an EQ that can add or subtract bass or treble.
We are not concerned with what Alexa can do (GadgetGuy 101 here), but we are concerned with how effective its far-field mics are and how its 70 x 50mm colour screen interacts with Alexa
Ease of setup for Wi-Fi and Bluetooth
Music sources
Now we love Bose stuff, but you must remember that Bose does not give detailed specifications. All that is on its website is dimensions and weight – 20.3 cm H x 17 cm W x 10.9 cm D x 2.15kg.
Setup
The Bose Home speaker 500 plugs into a 240V power outlet via a right angle 2-pin cable.
Download the Bose Music app for Android or iOS
You must create a Bose account.
In the app add speaker (you are using BT at this point, and it can just act as a BT speaker or via 3.5mm AUX In)
Setup Wi-Fi (it supports 2.4GHz and 5Ghz)
Add it to Alexa Voice Assistant (you need an Amazon account)
Overall the Bose app saw the speaker but was very slow in reconnecting after the NBN went down. I almost did a reset!
Display
It defaults to a clock when not showing speaker information, icons or the streaming service, album and artist currently playing.
It serves no other purpose like touch controls or displaying Alexa information.
Presets
You can set up six presets using the Bose Music app or the buttons on the top. These are for internet radio or playlists from the app.
Music sources
It is an Alexa speaker, and it presumes content will come from Amazon Prime music. Via the app you can access Dreezer, SiriusXM (US only), TuneIn radio or Spotify Premium (not free).
Via Alexa you can access music services it supports via installing the appropriate skill. Note that these do not usually support playlist set up in the full app.
Note it does not support the Amazon Echo multi-room, broadcast or hands-free speakerphone capability.
Bose does not say what quality streaming it supports. I tried a few like FLAC, MP3, AC and WMA and all performed fine, but it was not high-res music as far as I could tell.
Bose's US website says Airplay 2 coming in 2019 – via a firmware update.
Far-field mics
We like to turn up the volume in tests. At maximum volume (well anything over about 70%) the far-field mics were useless. We later found that there are eight of these. I found that I was shouting at distances over three metres. Not that Sonos is any champ here either.
Sound
Yes, it reached 80.4db. There was a little harshness and backing off to 76-78dB fixed that. It will fill a largish space.
It is stereo, but separation is really a little narrow to hear distinct left and right tracks. It relies on bouncing the sound off nearby walls. We tried in a bookshelf, but that made it worse. It certainly adds some dimension over a mono speaker – but not enough.
Note: I read a PC News review stating, "Bose claims its Home Speaker 500 has the widest stereo image of any smart speaker, filling a room with expansive stereo sound despite its relatively modest footprint."
Later the reviewer stated, "Never once did I notice anything like a wide stereo image. This speaker is not going to trick you into believing you're listening to two stereo speakers placed far away from each other."
We agree!
Sound wise bass started creeping in at 100Hz and was consistent to 400Hz. Mids were flat to 2kHz and then treble cut into 12kHz.
It is a warm and sweet signature that is the nirvana. But the app EQ is poor. It offers +/- 100 for Bass or Treble, and that does not relate to dB adjustments.
We could pull some bass out, but we could not add any. Similarly, we could back off treble, but it made little difference in adding treble. EQs are at best an aspirin giving users the illusion of control – it's hard to change the physical characteristics of a speaker.
GadgetGuy's take: For Bose enthusiasts only
If you like Bose sound (and I do) and are aware upfront that this is a partly functional Alexa speaker with no backwards compatibility to other Bose or Alexa speakers, then fine. I suspect there are a few too many caveats there.
Second, and maybe it is just me, I want some more specifications than the size and weight. Bose should be shouting these to the hills, but instead, it seems to be hiding something. For example, we know the stereo speakers are full-range – no tweeter or woofer in sight. Much of the Bose sound signature is in Bose's DSP (digital signal processor) as seen by the limited EQ effect.
As a BT speaker and forgetting Alexa it is great – everything, I expect from Bose. But the price puts it way beyond what you need to pay to get that quality in a BT speaker.
I would like to compare it with other speakers, but there are few Alexa speakers in this category, unlike Google that has speakers from LG, Panasonic, Sony and many more.
Sonos is its nearest competitor, and it has full support for Alexa as well as Apple Airplay2. That makes it a superior purchase. Or skip Bose and get a pair of Echo 2nd generation speakers and a sub and save $100 while getting a full Alexa setup.
And don't believe the sound stage stuff!
Warm and sweet sound signature
80dB maximum volume with minor distortion
EQ does little
Important Amazon Echo functions not available
Won't work with Bose Soundtouch or other Alexa speakers for multi-room
Sporadic Wi-Fi dropouts and long reconnect times (could be NBN FTTN)
Far-field mics don't work about 70% volume or over 3 metres away
Screen is more a gimmick than useful
Touch controls would benefit from back-lighting
No Airplay 2 yet
And don't believe the sound stage stuff!