GadgetGuy/Girls live on adrenalin and coffee. Thanks to the Breville Bambino Plus we can make the latter, or is that latte?
We have reviewed plenty of coffeemakers over the years. From a low-cost capsule (OK it was from Aldi and was surprisingly good) to the 'Starship' Jura S8 that at $2,650 can automatically make coffee even a barista would be proud of.
The Breville Bambino at $599.95 sits in the affordable coffee-machine range. Breville has machines from $199.95 to $3,599.95.
We let the coffeeholics loose with a bag of beans and no expectations!

First Impressions
To position this machine, it is a manual, compact with a single coffee wand (called a portafilter) and an steam wand. It does not have automatic features such as an inbuilt grinder, LCD/programs, or integrated milk frother. And that is not a bad thing because what you get is a good, honest, well-made coffee-machine that can make a good, honest, cup of coffee with very little fuss.
Setup of the Bambino is easy as! Find some kitchen bench space (not much), fill up the water reservoir, plug it in, run a 'one button' clean and you are ready to go.

Getting a good espresso from the Bambino Plus is almost as simple as adding good grinds (no auto-grinder) into the portafilter, tamp, trip, and hit the button.
It looks well made with a faux brushed stainless-steel finish, but it is also in a Black Truffle and Sea Salt finishes. The important bits are real stainless steel. It is a nice feature for the modern kitchen and not too big at 19.5 x 32 x 31 cm.
Accessories galore
There is an art to making good coffee. Beans are paramount so don't expect great coffee from house-brand, ground coffee at $15-20 per kg. You are more likely to find good ground coffee from $40 or more. We won't go into details of what makes good coffee beans but when you find one that you like, buy the grounds immediately.
As this is not an automatic coffee maker, you place 19g of grounds into the portafilter handle. By-the-way that is more than 50cups of coffee per kg so spending $50 per kg ($1 per cup) is still cheaper than you three-times-a-day-fix.
Use the 54mm Tamper to tamp it down, and the Razor Precision Dosing Tool (blade) to clear away excess grounds that could otherwise end up in the brew.
Our reviewers found that tamping was the key to getting good pressure. "Getting consistent pressure maybe a struggle for newbies, but the included trimmer will help them get the optimum amount of coffee grinds (19g) in the basket for the ideal extraction pressure for one cup."

The reviewers added, "It is not very aromatic while brewing, which is always disappointing as nothing gets a coffee fan like the smell of fresh brew coffee. But the result is a strong espresso, with no sediments, and a flavoursome golden crema, no bitterness".
The espresso is strong but well balanced. If you find the extraction process is taking too long or short (about 10 seconds is the ideal with the Bambino) change either the grind of the bean (fine, medium or coarse) or the amount. Reviewers found a medium grind works best for Espresso as that is what true coffee drinkers, drink.
A dash of milk
It comes with a 480ml Stainless Steel Milk Jug that also fits perfectly over the temperature sensor for automatic milk frothing. It has three levels of temperature from flat white to cappuccino. Our reviewers said, "The milk froth was comparable to that produced by a high-end machine if you know what you are doing."
What they really mean is that coffee should be strong and black – add some milk if you are a wuss.
Clean up
Easy, fast and efficient. After every use of the milk-wand runs an auto-clean cycle. The drip tray is light and easy to remove without spilling the contents.
GadgetGuy's take: Breville Bambino Plus
Sometimes I think we go overboard with coffee makers. There is an argument for uber-expensive, fully automatic units with LCD panels, smartphone apps and refrigerated milk delivery just as people drive Porsches. But equally, there is a market for a good, honest coffee-machine that gets the best from beans, just as people drive Toyotas.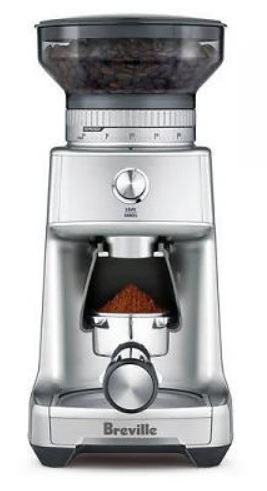 So, for our money, it's a great unit although for sheer convenience and a greater choice of beans we would probably recommend the BaristaExpress or Barista Pro at $899.95/1,199 with a built-in grinder.Or buy a Breville Dose Control Pro at $199.95 – problem solved.
We are rating it as a manual coffee-maker with no expectations of any automation. As such it is pretty hard to beat this coffee.
For more details, you can visit the Breville website here.
With the right bean/grind makes a strong, well balanced black coffee
Small, does not take up a lot of counter space
Easy to clean and maintain
Barista's go to college to learn their trade – don't expect miracles on the first cup
An integrated grinder would make life easier