The Canon Pixma Endurance G7060 is part of its small office/home office (SOHO) refillable ink tank range. As such its focus in on the lowest possible ink cost per page compared to a traditional cartridge-based inkjet.
The four separate ink bottles (Cyan, Magenta, Yellow and Black) can print up to 6000 mono pages and 7700 colour – based on lab tests of course. But hey, who is counting when a set of ink costs $104.96 – that's less than a cent per colour or mono page!
Now we move to the total cost of ownership. It costs $679 with four ink bottles. Compared to a low-cost cartridge inkjet you could be saving between 10 and 20 cents a page. Do the math, and after 3000-4000 sheets you are well ahead. The cheap printer may not even last that long.
So, the use case is for someone or a business that perhaps prints up to a ream of paper each month. And we must not forget that it is a multi-function printer (MFP) – print, scan, copy, and fax built for SOHO use.
Review: Canon Pixma Endurance G7060
Endurance Website here
594-page manual here
Price: $649
Country of manufacture: Thailand
Canon is a Japanese multinational corporation established in 1937 and is famous for its printers, cameras/lenses, scanners and office equipment.
If you see the Endurance G7065, we understand it's the same printer with an extra two black ink bottles.
What is a Canon Pixma Endurance G7060?
A refillable ink tank, SOHO grade, MFP. That means its build quality is a little more resilient than a consumer printer. It also means it only comes in boring black.
We won't go into the finer points of MFP – print, copy, scan and fax because pretty well every MFP from every brand does what this does. The only thing it is missing is duplex scanning (it can auto-duplex print).
Setup
This one requires you go to Canon's website and type in a model number. It then downloads the drivers (Windows, Android, macOS, iOS) and guides you through installing the printer. The connection is via Wi-Fi (2.4Ghz), Ethernet, or old-fashioned USB-B.
You can access all settings via the 2-line screen (not easy) or the apps and driver (easy).
It prints a test page, and you are ready.
We did notice one slightly annoying thing. Every time you pull out the paper tray or open the rear feed, it asks to confirm the paper size/type. Sure, you can ignore that, but it is clear that the printer does its best work when it knows the paper.
Speed
I mentioned print speeds are from the lab! And Canon, like every other printer maker, quotes them. The problem is that these are not real-life figures.
Canon quotes mono/colour as 13/6.8 ipm (inches per minute and an A4 sheet is about 11.6" long). Neither does that consider the auto-duplex (that you can turn off) which effectively takes over twice as long.
We did a test print of 10 single-sided sheets and then 10-duplex (20 prints). Forgetting the time to print (about 7 seconds)
Mono single – 9 minutes or 54 seconds per page
Mono duplex – 20 minutes or 120 seconds per double sided page
Colour single – 15 minutes or 90 seconds per page
Colour duplex – 36 minutes or 207 seconds per double sided page
An 6×4 borderless colour print (in photo mode) took under a minute.
An A4 borderless takes a little longer.
Caveat: The mono test was a colour sheet with a fair proportion image versus text with the driver switched to greyscale. We tested a straight text only sheet, and that reduced to 45/60 seconds.
That fairly closely aligns to Canon's stated figures.
Ink tanks
The tank holds enough (in theory) to print 6000 (pigment) mono or 7700 (dye) colour combo. But the initial setup sucks up a lot of ink to fill the lines and set up. This is one printer that you should keep switched on.
The tanks are straightforward to fill and are colour coded. You can part-fill or top up a tank too. And the driver will also tell you estimated pages left.
Paper feed
Paper tray 250 sheets 65gsm (200 x 80gsm) but we suggest underfilling. The tray accepts 64-105gsm paper
Output tray – 50 sheets (this is a nuisance if you are doing a lot of printing)
Manual feed to 300gsm (one to 80 sheets depends on weight)
Auto Duplex print only works from the tray with a plain paper setting.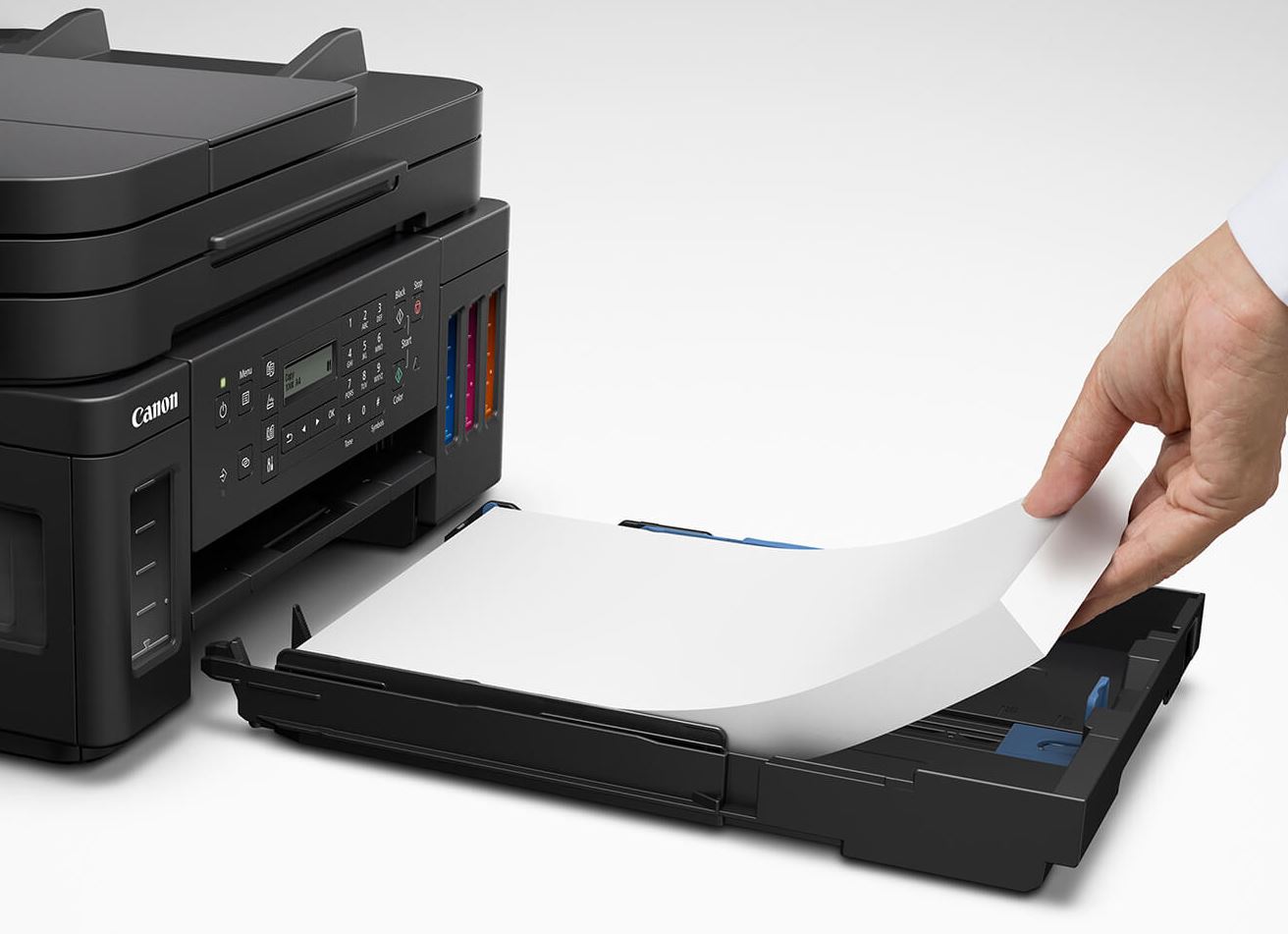 The Auto document feeder is single-sided (not duplex).
Apps and cloud print
PIXMA Cloud Link includes Instagram and SlideShare in addition to existing cloud services such as Facebook, Dropbox and Google Drive.
It supports Apple AirPrint, Google Cloud Print, Windows 10 Mobile Print and Mopria Print Service (Android).
Desk size
403 (W) x 369 (D) x 234 (H) x 9.6kg
It is pretty small, but as you need access to the rear for the manual paper feed and the paper comes out the front, the working depth is closer to 600mm.
Maintenance
You can initiate a print head alignment or clean/deep clean etc. via the app or the display.
There are some special instructions for moving the printer. You need to put it in transport mode and turn off the ink lever. Transport flat and in the supplied plastic bag in case of ink leaks. Ink stains would be tough to remove.
GadgetGuy's take – The Canon Pixma Endurance G7060 focuses on ultra-low print cost.
Unlike the natty little Pixma TR150 battery portable (GadgetGuy review here) that is almost alone in its category and where portability is the focus, the Endurance G7060 is up against some strong competition from Epson EcoTank and Brother Inkvestment – both good Japanese companies as well.
So, while Canon may not appreciate the frankness – all brands have similar features – it does not outshine the competition in any particular area.
Our advice is to look for the features you want (or not) – duplex print, duplex scan, fax, single or dual input trays, print speeds, footprint, LAN/Wi-Fi, Cloud, borderless, photoprint, and then compare.
Canon does shine for its replacement warranty and Print Assist tutorials.
Positives
Solid blacks and crisp text
Printed colours match the sRGB gamut (laptop screen) very well
Incredibly low cost of print
Smallish footprint but its deeper than it looks
Canon Replacement warranty
Good support
Negatives
Even though its SOHO standard it is still made of plastic
No USB print
The two-line screen is not what you expect at this price
Slower than you think - ipm is not ppm
No stated duty cycle - we suspect 1000 pages a month is close