The Canon TR8660 is a SOHO (small office, home office) grade, all-in-one printer with five ink cartridges for up to 4800x1200DPI print. It is a slightly feature upgraded version of the TR7660. It may be a funny place to start a review but let's mention the elephant in the room. I hear lots of criticism when I review a standard 'cartridge' printer. Why? Ink-tank printers like Canon's Endurance range offer far lower printed-page costs and are probably a tad more environmentally friendly.
Well, the trade-off is the upfront cost. You can buy this for about $229 (or less online) from Bing Lee and other retailers. A similarly features G7060 Endurance (Review here 8.6/10) costs around $650 (admittedly with a swag of ink). The answer to any criticism depends on how you use the printer. If it is more an on-and-off-ramp to the internet (scanning etc.) than a volume printer, then the lower capital cost is a major benefit. Or vice versa – if you print a lot, then Endurance's higher capital cost is a no-brainer.
Details: Canon TR8660 PIXMA HOME OFFICE all-in-one printer
Website here
Online manual here
Canon Amazon Store
Price: $229, but you may get a better price online (postage is usually extra)
Elevator pitch: part of the new Canon's new Home and Home office range
Warranty: 12-months ACL
Country of manufacture: Thailand
Canon is a Japanese multinational corporation (Est. 1937) and is famous for its printers, cameras/lenses, scanners and office equipment.
The new range
Canon has new models, including two variations on its new Megatank (ink tank) consumer models. Interestingly they all print, copy and scan.
TS3465 Pixma Home (white) and TS3460 (Black) with a flatbed scanner
TR7060 Pixma Home Office with ADF
TR7660 and TR8660 Pixma Home office (this review) with approx. 20-page ADF
G3620 and G3660 MegaTank with a flatbed scanner
Its 2019/2020 range is still available. The point is that you can get pretty well whatever specs you want from the Pixma and Endurance range.
Difference between Canon TR8660 and TR7660 (this review)
The TR8660 adds an Ethernet connection, SD Slot, a 4.3″ screen (3″ on TR7660) and uses a tad more power. Apart from that, they have the same print engine and specifications.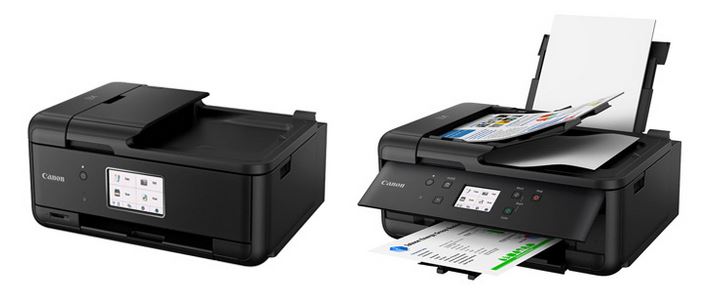 First look – Canon TR8660
I see a lot of printers, and invariably HOME OFFICE printers are boring black. This does not disappoint. It is 438 x 351 x 190mm x 7.9kg, but you need to leave room behind (for the rear feed slot and if paper jams) and out front for paper output. You are going to need at least a 600mm depth desk.
It has a small, front pull out paper tray – 100 sheets of 64gsm bond or about 80 sheets of typical 80gsm. There is also a pull out front output tray. The rear feed will also take a similar quantity of plain paper. As it is an almost straight pass-through, it can handle matte and gloss photo paper up to 300gsm. ADF scanning is single side. Build quality is fine for this price of the printer. Sure, its plastic (did I mention black?) apart from the carriage mechanism, but it should stand up to SOHO use.
Setup
The easiest way to set it up is via an app because no one has a CD-player in their notebooks anymore (CD supplied). You can do it via a PC or by scanning a QR code on a smartphone using the Canon Print Inkjet/Selphie app. Or you can try via the touchpad, but it's a lot slower.
Print styles
It will do auto-2-sided duplex print (with a margin) and single side borderless A4 print. Its duplex print slows the device by about 60%.
Print speeds
Canon quotes 10 ipm (inches per minute) for colour and 15ipm for mono. A 4×6″ postcard print is 37 seconds. An A4 sheet is about 11.6″ long. Overall, this is accurate except that it does not take pre-print 'rasterization' time into account – when you press the print button on PC or Mac to the time it completes the print. This is a one-off time regardless of the number of copies. It also depends on the image complexity, resolution and PC/Macs processing power. The time to print (using an i7 HP 2020 x360 Spectre) was about 10 seconds plus. Please add this to any figures below
Mono single – 80gsm Reflex, 60 lines, Calibri 11point single line spacing – 50 seconds
Mono Duplex – as above – 115 seconds
Colour single – 50% text and 50% colour image – 70 seconds
Colour duplex – as above – 160 seconds
These tests adequately reflect Canon's lab test claims. You need to spend a lot more to get print speeds faster than a minute a page.
Print quality
Standard defaults give an excellent print quality on Reflex 80gsm bond, although ink does tend to soak into this spongelike paper. You get better results with a 90gsm premium and even better results on 100gsm coated stock (both will feed through the front cassette). Unfortunately, that is around $20 per ream versus $5 for bond. Again, if you need this, you need to look for a printer that can handle constant high-quality printing. Regardless of stock you get crisp blacks, and good colours with no visible banding.
Noise
Canon claim 45.5dBa. It can get up to 55dB on continuous print – not really loud.
Ink
It is 'oft said' that ink cost per gram is more expensive than the best French perfumes! No matter how correct this is, it depends on a crossed-line equation of print volume and capital cost per print. Low print volume – a ream or two a year and $229 for the printer – makes sense. High volume – a ream a month – moves the crossed lines to the more expensive tank printers.
This uses five cartridges. A PGI-680 PGBK, four CLI-681 in CMYK. It gives it the edge for photo printing as it handles grey-scale better. If you are a typical shopper, you will rip down to Officeworks and buy the five cartridges (see ink use table at the end) for $112.78. Or you can get the XL versions for $153.90. There are even XXL versions for $200.
I will let you do the maths, because there are so many variables to page counts. Suffice to say that you only replace the individual cartridges when empty, and you will find that mono should be closer to 10 cents a page and colour under 20 cents a page (in theory).
But wait, there is more. If you are a canny shopper and search places like InkStation and HotToner, you may well find a five-pack of standard for AROUND $85, XL for $116 and XXL for $155, including freight. And if you use a lot of ink, the bulk prices for a 20 pack (4×5) are about $600. But at that point, you would be better off using an Endurance tank printer. What I will say is use genuine Canon ink, at least during warranty.
Other features
USB connect
Wi-Fi, Wi-Di, and Ethernet connect
SD Card up to SDXC exFAT format, .Doc, PJEG, TIFF
Print from specified clouds (Google, Box, OneDrive and Facebook)
Scan to specified clouds
Print from Android and iOS, Windows or Mac (including M1 Mac)
Maintenance, jams etc
A review typically only tests the device for a limited number of pages. In this case, about 100-pages and 20-scans. All were fine with no jams. Canon does not publish maximum page per month duty cycles any more (few brands do), but I can't see why it would not be capable of at least a ream a month and dozens of scans. Maintenance should involve no more than an occasional removal of paper dust from the scanner roller and paper feeder. Keep one thing in mind – if you turn it on-and-off when you need it, you may waste a fortune in ink as it clears the print nozzles – leave it on!
Note that once you insert cartridges, it must remain in a horizontal position if you move it. You can remove the cartridges, but it will purge more ink when reinserted.
GadgetGuy's take – for $229, it is fine for SOHO use
Canon TR8660 or TR7660 gives you plenty of features for an affordable price. Yes, ink costs can be higher. Once you know your approximate monthly use, you can shop around for the best ink package – it starts to be more economical. I think it is a better investment for the family with school-age and even tertiary age children. It is going to last five years or more and be reliable for assignment and school work.
Rating Canon TR8860
It passes or exceeds all tests commensurate with this price bracket. As such as we start at 8/10 and add points from there. Given the extensive range of inks – standard, XL, and XXL we think Canon has gone a long way to addressing traditional inkjet cartridge running costs.
Canon TR8660 ink yield per cartridge.
Note that it is impossible to average out ink yield (courtesy InkStation).
| Ink Colour | Code | Ink Yield (A4 | Page Yield |
| --- | --- | --- | --- |
| Photo Black | 680 – PGBK – XXL | 600 | High |
| | 680 – PGBK – XL | 400 | High |
| | 680 – PGBK | 200 | Standard |
| Cyan | 681 – C – XXL | 823 | High |
| | 681 – C – XL | 515 | High |
| | 681 – C | 257 | Standard |
| Magenta | 681 – M – XXL | 763 | High |
| | 681 – M – XL | 476 | High |
| | 681 – M | 238 | Standard |
| Yellow | 681 – Y – XXL | 818 | High |
| | 681 – Y – XL | 238 | Standard |
| | 681 – Y | 255 | Standard |
| Black | 681 – BK – XXL | 6380 | High |
| | 681 – BK – XL | 3180 | High |
| | 681 – BK | 940 | Standard |
Canon TR8660 – a SOHO all-in-one printer
Perfect for home use where an all-in-one excels.
Positives
Well-made and Canon quality
Perfect as an internet on-and-off-ramp
Negatives
Black - boring black