The need for compact cameras is declining now that so many of us have at least 8 megapixels on our person at all times. You can say thanks to mobiles for that, but if you want quality and zoom, you need to go for something else, and that's where the "G" series comes in.

Easily one of Canon's more successful camera ranges, this is a series that has been going for longer than people probably remember, starting back in 2000 with the PowerShot G cameras being developed as a close to professional-grade style of compact camera boasting high-level enthusiast features for people who wanted more than a basic compact.
Features like RAW support are commonly included here, as are bigger sensors and more manual-inspired control, and with two new additions to the range, the G series is getting a little more fleshed out, offering more rangefinder-like support or style, depending on what you're after.
The first of these models entering the line-up is the G5X, a model that appears to draw its design and build from the digital SLR cameras Canon normally produces, applying that logic and then slimming it down.
Under the hood, you'll find a one inch CMOS sensor carrying 20.2 megapixels and supporting up to ISO12800 with Full HD video capture support found here, too, while controlling the camera will be done through a series of physical controls and a 3 inch vari-angle touchscreen.
Canon is equipping the camera with a 4.2x zoom lens, providing around 24 to 100mm of length across f/1.8 to 2.8, and you'll even find WiFi here with Near-Field Communication, allowing Android devices to easily pair with the camera to share photos, while iPhone users will link up with WiFi alone.
But the one feature that really grabs us on the G5X is one so view cameras get these days, and it's one that helps make up the design of the new camera: a viewfinder.
Yes, Canon's G5X will be equipped with an OLED electronic viewfinder just behind that Canon logo, providing 2.36 million dots of clarity when you press your eye against the viewfinder, handy if it's ultra bright outside, or you just prefer to use the viewfinder all the same.
Hands-on with the G5X and we found it to be a comfortable hold for people used to cameras, with a beautifully clear screen and an overall feeling that the camera was suitably high grade.
One thing we loved was the control ring around the lens which appears to be able to be customised, allowing one to manipulate the camera almost as if they were using a real manual camera.
Another camera will also be joining the G series, and while the G5X was semi-expected, thanks to its pro-inspired body, the next entrant is a little less expected, as Canon's G series gets smaller for customers keen to have something solid and stable for the world around them, but without the bulk.
This camera is the G9X, and it appears to be among the smallest model G camera Canon has ever attempted, as the company packs in the same 1 inch 20.2 megapixel sensor found in the G5X and installs it in a smaller body.
Compact is the name of the game for this one, with only 3x optical zoom translating to 28 to 84mm spread out over f/2 to f/4.9.
The differences in aperture cite that the G9X isn't quite in the same ballpark lens quality-wise as the G5X, but the G9X also appears to be smaller and lighter, providing a versatile little camera in a body measuring just under 31mm thick and merely 209 grams of weight, compared to the G5X which measures in at 44mm thick and 377 grams.
Both arrive with one very cool feature, though, and it's one we wish more cameras supported in general: USB charging.
For the first time, Canon's compact cameras will gain a feature we've been asking for since we first saw a Samsung camera offer it, allowing both the G5X and G9X cameras to be plugged into a USB port and charged from it.
Alternatively, a standalone battery charger will also be supplied, an option that will no doubt be popular if you have a few batteries lying around that need to be charged independently.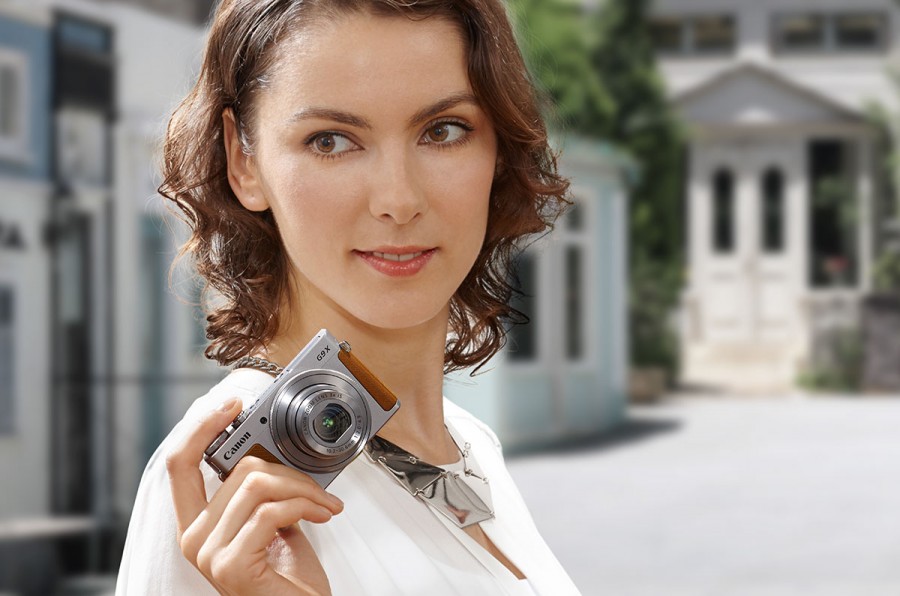 We didn't spend all that much time with this one, but found it was very small — our notes even say "tiny" — with a comfortable hand hold applied to the G9X. The controls were a little too singular for us, but we suspect we could probably get used to them quickly, with these pulled back no doubt to keep the size down altogether.
As for price and availability, Canon doesn't do the former, but as for the latter, representatives for Canon did tell GadgetGuy to expect both the G5X and the G9X around late October, just in time for the holiday rush.