Aussie company Chargeasap (that is 'charge fast' in our lingo) has gone to the next stage with world-leading OMEGA 100W and 200W GaN (Gallium Nitride) chargers. They are available for pre-order and shipping in December.
According to Wikipedia, GaNs primary use is in LEDs, solar cells and satellites for its high heat stability. It is ideal as a power amplifier able to replace the traditional wire coil transformer. These have a 95% power efficiency rating – well above transformer types.
Chargeasap sent me the OMEGA 200W model – a prototype to prove it exists. We don't usually cover Kickstarter or Indiegogo projects until they have made it to the sales stage.
Chargeasap claim this is the world's first 200W GaN charger. Not only that it comes in a reasonably small 88 x 55 x 42mm x 240g. It also has an OMEGA 100W that measures 60 x 55 x 26mm x 155g.
There are a couple of small catches – no deal breakers.
First, the design has a fold-out 240V Type A (US-style flat prongs) that requires an adapter plug here.
Second, the 200W is 2 x 100W USB-C PD 3.0 5~15V/3A, 20V/3.25A, 20V/5A (PPS) outlets (can use these concurrently for 200W). It also has 2 x USB-A ports that are OPPO VOOC (5V/4.5A/22.5W dual-channel) and QC 3.0 compatible (5V/3A, 9V/2A, 12V/1.8A/18W). Until we thoroughly test it, I am guessing that you have 200W in total to share. No matter as there is little that needs more than 100W anyway.
Similarly, the 100W has 2xUSB-C PD 100W and 1xUSB-A OPPO VOOC/QC 3.0 ports. A total of 100W is available.
The OMEGA 200W is the world's first portable charger to quick charge a laptop (MacBook Pro), a tablet (iPad Pro), smartphone (iPhone), and mobile device (AirPods, Watch) all at the same time.
Tests – Chargeasap OMEGA 100W and 200W GaN chargers
We ran some preliminary tests using a Power-Z monitor
HP x360 Spectre i7 – delivered full 65W of PD standard power – PASS
HP Spectre i7 and Microsoft Surface Pro i7 – both 65W and delivered concurrently – PASS
OPPO Find X2 Pro with Qualcomm SD865+– delivered 22W VOOC over two channels using the proprietary yellow USB-C cable – PASS
Samsung Galaxy S20 Ultra (45W capable) – delivered 45W over USB-C PD 3.0 port
OPPO Find X2 Neo with Qualcomm SD765G – delivered 22W over green USB-C cable – PASS
Samsung Tab S6 with Qualcomm SD855 QC – delivered 15W QC 3.0 – PASS
(Tests use 0% battery and are initial PD/QC wattage. This does reduce in stages as per the standard)
Australian regulation
They have been internationally certified and have Over-current, Over-voltage, Over-temperature (a Graphene membrane and nano heatsink), and Short-circuit Protection.
There are no regulatory markings on the prototype. The website says it comes with three plug converters (AU/EU/UK) for use in 200+ countries worldwide. The adaptors become part of the Omega body to satisfy Australian regulations.
The input voltage is AC 100-240V 50/60Hz/2.5A.
GadgetGuy's take – the Chargeasap OMEGA 100W and 200W GaN chargers may become my favourite portable chargers.
The 65W HP charger is a half-brick size – the Surface Pro 7 even bigger. The OMEGA 200W is far smaller and more powerful.
My current favourite portable Moshi USB-C PD 3.0 65W is excellent but only has one output.
What I like is that these support USB-C PD 3.0 and QC 3.0/VOOC/Dash etc.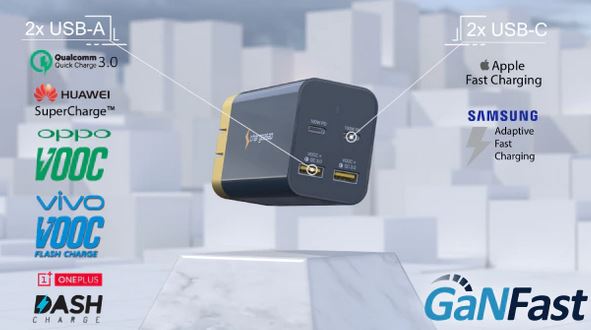 I will be ordering one! You can find these here.
You can read more about this Aussie companies products here including its innovative Graphene powerbank.