The Choetech 10W Qi car charger fits onto the ventilation slots found in most modern cars.
Like most Qi devices it has the intelligence to negotiate with the smartphone to deliver exactly the charge it needs. Choetech also has a trickle charge when the battery reaches 95%.
GadgetGuy will not formally review the Choetech 10W Qi car charger (website here, rather point out a few differences.
Depending on your utility (cigarette) socket adaptor it supports Qualcomm QC 2.0. That means it can use a 5V/2A and 9V/1.8A (16/18W) charger and deliver that wirelessly.
We used a Belkin BOOST↑UP 2-Port Car Charger that has two 5V/2.4A outputs. This did not support fast charge. We also tested with the Belkin 27W QC charger, and it did make an appreciable difference.
It is a single coil device meaning cases to 3mm thick are fine. It would not make it through the EFM Armour case at 5mm.
It grips the phone securely enough using more of a gravity grip – as the phone presses downwards the arms close inwards. The bottom support has a cut out to allow direct charging via USB as well.
Choetech 10W Qi car charger charging Speeds
It can deliver 10W which is more than a Qi iPhone requires. Using a Samsung Note9 as a GPS navigation device, it was able to keep up with a considerable battery drain but not charge the phone any further. When GPS was off, and it was just streaming Bluetooth music it was able to get ahead slowly.
It comes with a USB-A to micro-USB cable that will fit most utility power adapters.
My one caveat is that air vents were never designed to hold much weight and you need to make sure that your vehicle is suitable. Otherwise, there are suction mounted chargers like the Choetech T521-S.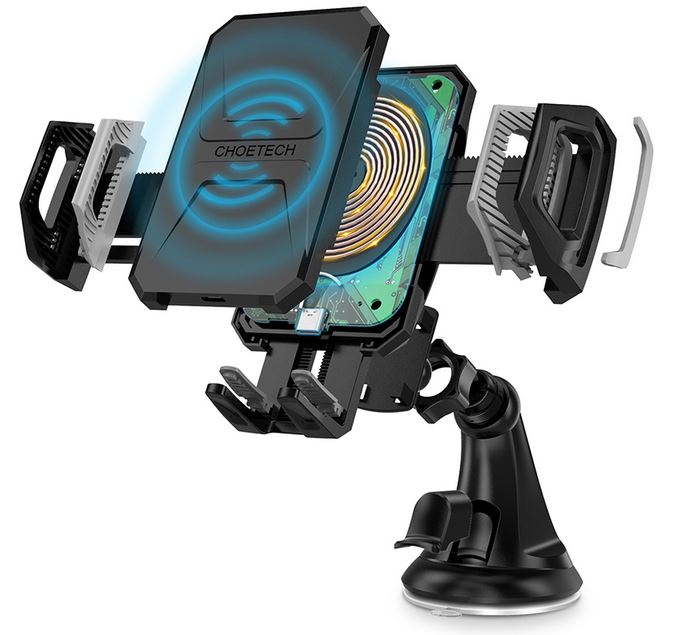 And you will need a cigarette lighter charger adaptor.
Price: A$44.97 inc postage from eBay Australia