Does the love of your life love computers as much you? Then nothing will make him or her happier that one of these fine computers or peripherals. This is, after all, the year of Intel 8th Generation Core and Thunderbolt 3.
If some of the goodies near the top seem too much for your budget, read to the bottom for some slightly less expensive stuff.
Lenovo Yoga 920 (14) – $1,899 to $2,999
The Lenovo Yoga 920(14) convertible is a "consumer-verging-on-prosumer" computer, so says our reviewer. You can fold the screen of a convertible computer all the way back, turning it into a tablet. The Yoga uses a "watchband"hinge to give it that flexibility.
Of course, you can choose the processor from Intel's 8th generation line up. Storage is 512GB of NVMe SSD, while the screen can be either full high definition or 4K. It's a touch screen. Some models come with a pen. For others, it's an option.
Read our review here. We rated it 4.4/5.
Dell Inspiron 14" 5000 2-in-1 – $959 to $1,529
There's more than one convertible – or 2-in-1 – on the market. The Dell Inspiron 14" 5000 impressed us almost as much. This one can reach closer to entry level since the basic model comes with an 8th generation Core i3. But for those wanting more power it can be optioned up to i5 or i7.
Optioning up also increases the storage from 128GB to 256GB. Our reviewer says that this computer is "a great i3/i5/ i7 device at a great price with above average specs for the price". And to "do better, you would need to spend at least $1000 more".
Read our review here. We rated it 4.3/5.
Read our review here.
Microsoft Surface Pro 6 – from $1,349
Anyone want to buy this particular writer a Christmas present? He'd be very pleased indeed with the latest Microsoft Surface Pro. "Next Generation", our reviewer called it. The Surface Pro has returned to its former naming conventions. It's now the Surface Pro 6.
Now finished in black, it has been upgraded to 8th generation Intel. The price above does not include a keyboard or pen (it's compatible with those from the last two years). The screen is magnificent. With storage from 128GB to 1TB, and CPUs up to Core i7, you can provide your loved one whatever power he or she needs.
Read our review here. We rated it at 4.3/5.
Dell Inspiron 27 7000 All-in-One PC – $1,999 to $2,789
Desktop computers. Remember them? For real power and for a real screen, your loved one will love the Dell Inspiron 27 7000. No peering at a 14 inch, or even 15 inch screen. This one is a Full HD touch screen and comes in at 27 inches. There's a powerful Nvidia GeForce GTX1050 graphics card and you can use that to run an external monitor. Sorry, he or she can use it.You wouldn't be buying this for yourself, would you?
But remember, this is an all-in-one PC, so expansion possibilities are limited. Still, this one made our reviewer reassess his former dislike of all-in-ones.
Read our review here. We rated it at (a very impressive) 4.5/5.
Microsoft Surface Go – $599 to $839
Don't confuse the Microsoft Surface Go with the Microsoft Surface Pro. You may remember the original Surface used a cut-down Windows and an Atom processor. Its limelight was stolen by the Pro. Now Microsoft has re-entered the field with an excellent value 10-inch tablet. And that screen has an impressive 1200 by 1800 pixels of resolution.
It comes in a few versions, all running an Intel Pentium Gold 44157 processor. It might seem like a Windows version of the iPad, but how many iPads can driver two external 1080p monitors? As for our reviewer: "It's everything you expect from a Surface device – only smaller."
Read our review here. We rated it at 4.3/5.
ASUS ZenBook S – $2,299 to $2,699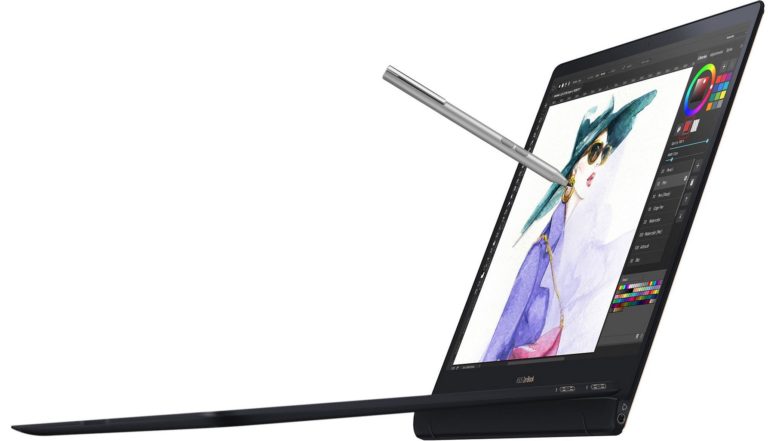 The subtitle to our review of the ASUS ZenBook S was that it "is a success, almost perfection". Yes, we were that impressed. We're pretty sure your loved one will be as well.
We loved the looks – Deep Dive Blue or Burgundy Red. We loved the 4K 13.3 inch touchscreen (apart from it being a fingerprint magnet). We loved the wonderfully thin styling. We loved the MIL-STD 810G rating for toughness. We loved the inclusion of top-notch tech, not least the two Thunderbolt 3 USB-C 3 3.1 Gen 2 ports.
And we particularly loved the 13.5 hour battery life.
Read our review here. We rated it at an amazing 4.8/5.
Intel NUC 8 VR Machine – from $1,299
Intel NUC – Next Unit of Computing – units started as non-descript little boxes. But the Intel NUC 8 VR is a powerhouse, nicknamed Hades Canyon. From its glowing panel logo through its Intel Core i7-8809G processor to its two Thunderbolt 3 and 7 USB ports, our reviewer was impressed. And so will be your loved one.
This is a little box with real power for games, beyond what you'd expect. For goodness sakes, there are even two gigabit LAN ports, along with 2×2 MIMO Wi-Fi.
Read our review here. We rated it at 4/5. The actual configuration of the NUC can be tricky,especially taking into accounts some versions having an unlocked processor. Read about that here.
Belkin Thunderbolt 3 Express Dock for MacBook Pro – $529.95
Does she or he have a recent MacBook Pro? Or the new MacBook Air? Pity about the lack of ports, apart from Thunderbolt. What she needs, surely, is a break-out box adding all those missing things.
The Belkin Thunderbolt 3 Express Dock has it all. It will turn one Thunderbolt 3 port on your Mac into two USB Type-C/Thunderbolt ports, plus three USB 3.0 ports, plus a DisplayPort, plus a headphone/microphone port. And it will charge her Mac at the same time.
Read our review here. We rated it at 4.0/5.
Kensington Thunderbolt 3 dock – $579.95
But what if she or he doesn't have a MacBook Pro? We're mostly Windows people around here, so we found the Kensington Thunderbolt 3 dock of more use. The Belkin dock didn't like our Windows computers.
This one turns a single Thunderbolt port on your Windows computer into two USB Type-C ports, one DisplayPort, two USB Type-A ports and microphone/headphones. And it will charge his Windows computer at the same time.
Read our review here. We rated it at 4.7/5.
OWC Thunderbolt Dock 3 – $429.99
Back to Mac. The OWC Thunderbolt Dock 3 is a relative bargain as these things go, yet it has thirteen different ports. In addition to two more Thunderbolt 3 ports and a collection of USB Type-A connections, it includes FireWire 800. Remember that? Macs used to use it as their high-speed connection to the rest of the world.
Then there's the headphone/microphone, plus optical digitaloutput for an audio system. And gigabit Ethernet. And it will charge her Mac atthe same time, albeit rather slowly if it's a 15.6 inch Mac.
Read our review here. We rated it at 4.8/5.