We're often exhorted to give the gift of music for Christmas. Not all of us are talented that way. But we can always give the gift of music gear! We've done a lot of listening through headphones this year, plus through quite a few sound bars. Here are a bunch of suggestions. They cover the price range from stocking filler to seriously challenging.
Brainwavz Audio BLU-300 Bluetooth earphones – $54.65
Better get in soon for these ones. About the only major criticism we had of these earphones was delivery time. Because they are supplied from Hong Kong, they can take up to 25 days. But, by golly, what great stocking fillers these are. We scored them highly for decent sound quality and a good fit. And for the very, very low price.
Almost as good as the price was the physical design. The neck band takes the weight off the earbuds, and doesn't pull to either side. That makes them an easy wear.
Read our review here. We rated them at 4.4/5.
Blue Ella headphones – $1,299
And so we move from the lowest cost earwear amongst our recommendations to the second most expensive. The Blue Ella headphones are wired. That is, no Bluetooth. Although they do have built in audiophile amplifiers to make sure the sound is up to par.
They use planar magnetic drivers instead of the more common dynamic drivers and produce a simply glorious sound. Almost regardless of the source, thanks to that amplifier.
The Blue Ella headphones are an ideal gift for those who both love their music and want to hear it to the highest standards.
Read our review here. We rated them at 4.7/5.
Blue Lola headphones – $449.95
Can't stretch to $1,300 for the Blue Ella headphones? The Blue Lola headphones come from the same company and share the same Formula One racer-inspired mechanical structure. But they use more conventional drivers inside the headphones and skip the built-in amplifier.
Despite being "passive" (that is, having no built-in amplifier) they had no trouble producing high levels of good quality sound, even from an iPad Mini or the mini headphone adaptor for a Google Pixel 2 XL phone.
Read our review here. We rated them at 4.6/5.
Sony HT-X9000F Dolby Atmos/DTS:X soundbar – $698
What if your loved one has a nice – or not so nice – TV, but no audio system for it? How about a little something to make it sound much, much better? That's where this Sony soundbar comes in. It will absolutely kill the sound of any TV. We found that it delivers "surprisingly good movie and music performance", especially given the sensible price. The wireless subwoofer even went all the way down to 41 hertz.
And it's easy to use. They can just plug it into their TV, and it's right to go.
Read our review here. We rated it at 4.2/5.
Plantronics BackBeat GO 810 Noise Reducing Headphones – $239.99
Is he or she a traveller? In particular, an air traveller? A vital bit of kit is a decent pair of noise-reducing headphones. Problem is, many of the big brand names sell them for five hundred bucks. Enter Plantronics with a surprisingly good pair for less than half that price.
Okay, their Bluetooth connection is limited to the standard SBC codec, rather one of the fancier new ones. But music sounded very enjoyable through them and the noise cancellation was highly effective.
Read our review here. We rated them at 4.5/5.
Plantronics BackBeat GO 605 Bluetooth headphones – $139.99
But what if he or she isn't a traveller? But wants respectable sound from over-ear Bluetooth headphones. The Plantronics BackBeat GO 605 headphones do that rather well, at a rather economical price.
Nice features: they are extremely light (around 175 grams) and the ear cups fold flat, making them easy to carry around in their soft carry bag. Of course, you can talk on the paired phone handsfree, and use them in passive mode with the included cable should the battery run down.
Read our review here. We rated them at 4.5/5.
JBL Tune600BTNC Noise Reducing Bluetooth headphones – $149.95
Now not all brand name audio makes are high priced. And some cover quite the range. JBL is just such a company. Again, if your loved one is a frequent air traveller, they'll need noise cancelling headphones, and these ones from JBL are real bargains. Yes, just under $150 with get real noise cancelling from a real headphone brand.
They sit on the ears rather than around them, but we found that even after hours of use they remained comfortable.
Read our review here. We rated them at 4.4/5.
Sony Sports WF-SP700N wireless noise cancelling earbuds – $299.95
Hold on! Don't jump to conclusions! These earbuds are said to be noise cancelling, but as far as we could hear, that function simply didn't work. So, you may ask, why are we suggesting that you buy them for your precious loved one?
Well, the noise reduction might not work, but everything else about them was highly effective. Indeed, we used them as our buds of choice for several months after completing the review. They work well. They charge up several times from their case. They're light and comfortable. They sound okay. What's not to like?
Read our review here. We rated them at 4.4/5.
Sennheiser HD 820 headphones – $3,499
Now this will tell him or her how much you love them! (Don't forget to accidentally drop how much they cost into the conversation over the Christmas table.) These are prestige headphones for someone who loves the best possible music delivery in the quietness of their home. They will work with most devices but are at their best with a balanced headphone amp.
Does he or she not have one of those? Perhaps you should consider tossing in the matching Sennheiser HDV 820 amplifier ($3,799.95).
Read our review here. We rated them at 4.7/5.
Fitbit Flyer Bluetooth earphones – $199.95
Forget about Apple, Window and all that stuff. This writer is heavily embedded in the Fitbit ecosystem. Got the scales, the various trackers and smart watches. And, of course, the earphones.
We were a little worried that earphones from a non-audio company might be a bit
rough. We needn't have worried. Our reviewer concluded: "The Fitbit Flyer earphones do their most important function right. That is, they sound excellent. And they're more than adequate in all other areas as well. I could well live with these as my main Bluetooth earbuds."
Read our review here. We rated them at 4.5/5.
JBL Bar 5.1 soundbar – $999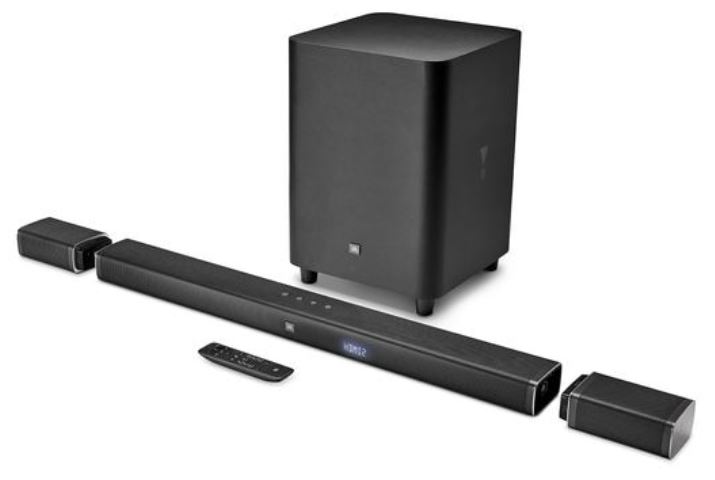 So, we've established that your loved one's TV could do with a sound boost. And that a soundbar might be the way to go. Problem is, try as they might, few of them can do effective surround sound. But JBL's has one of the cleverest fixes for this we've ever seen.
It comes as a soundbar and subwoofer, plus two battery operated wireless surround speakers. These just plug onto the ends of the soundbar where they're charged up. A charge is good for up to ten hours of use. No power points required!
Read our review here. We rated it at 4.7/5.
LG SK10Y Dolby Atmos Soundbar – $1,699
The latest surround standards are more than 5.1 channels. Things like Dolby Atmos and DTS:X demand "height" speakers as well. If he or she wants to experience that, then maybe this LG Dolby Atmos soundbar is the way to go.
It comes with a wireless subwoofer and two wireless surround speakers. Semi-wireless: all three have to be plugged into power to work. But what about the "height".
There are two drivers in the top of the soundbar which shoot sound up at the ceiling in the approved "Dolby Enabled" manner.
Read our review here. We rated it at 4.5/5.
Sennheiser CX 6.00BT Bluetooth earphones – $169.95
Not all headphones from Sennheiser cost upwards of three grand. These Bluetooth earbuds come in at under $170. So perhaps he or she would appreciate the brand name without the expense.
But Sennheiser, even with lower cost earphones, is still largely about the sound quality. So, these earphones have the aptX codec built in. That allows higher quality delivery of sound over Bluetooth than the standard SBC codec. Our conclusion: "The Sennheiser CX 6.00BT are smart, practical and deliver almost first-class sound, marred only by the rather strong treble."
Read our review here. We rated them at 4.5/5.
Audiofly AF33W Bluetooth earphones – $59.99
Another stocking stuffer? Well, you might think so judging from the price, but these earphones belie their low cost. They come from Western Australian firm Audiofly. Its background is in the world of in-ear monitors. Those are earphones designed for use by musical performers on stage. So, you know, they're kind of serious about sound.
All we can add is how we finished our review: "So, it turns out that it is possible to have decent Bluetooth sound at a relatively modest price. The Audiofly AF33W certainly proves that."
Read our review here. We rated them at 4.4/5.