A smartphone can be a great Christmas gift for many reasons. For one thing, smartphones cover the gamut of gift prices, from inexpensive to gobsmackingly generous. The models we suggest below cover the range from $89 to $2,369, or more than 25:1. (Is an Apple iPhone XS Max really 26 times better than an Alcatel 1C 3G? Maybe. But four times better than a Nokia 7.1? That's a much harder call.)
More importantly, once you've given your loved one a smartphone, you can keep in contact with them by WhatsApp, Messenger, SMS or even good old-fashioned telephone calls. And that, surely, is the best gift of all.
Huawei Mate 20 Pro smartphone – $1,599
We reckon your loved one will love Huawei's flagship, the Mate 20 Pro. It's all screen – just about 6.4 inches of it – and just about no surround. Its performance is first class. The Mate 20 Pro comes with 128GB of storage, so there's plenty of room for your photos and media.
And speaking of photos, the camera is class leading. Camera? We mean cameras: three of them. One has 40MP of resolution. Another delivers real 3x telephoto. The phone combines the images created by multiple cameras to create astonishing photos.
Read our review here. Our rating is an incredible 5.0/5.0.
Google Pixel 3 XL – $1,199/$1,349
In a sense you couldn't buy a better Android phone as a Christmas gift than the Google Pixel 3 XL, because is it the demonstration Android phone. Which isn't to say that it isn't a fine phone in other respects. It has a highly regarded camera, a super-fast Qualcomm Snapdragon 845 chip and a choice of 64GB or 128GB of storage (thus the two prices).
Our reviewer says that the person who'd love this phone is one who "appreciates pure Android Pie and three year's operating system upgrades as well as guaranteed timely security updates."
Read our review here. Our rating is 4.3/5.0.
Samsung Note9 smartphone – $1,499/$1,799
This one is up near the top of the price range, but surely that just says how much you truly love him or her! You get a choice: 6GB of memory with 128GB of storage or 8GB with 512GB. Either way, you can add half a terabyte more via a microSD card.
The Note9 has a stylus. There's really nothing better on the market for taking handwritten notes. But that doesn't take away from the other virtues of the phone, such as a first-class camera and a great 6.4 inch AMOLED screen.
Read about our first look at this phone here.
Apple iPhone XS Max smartphone – $1,799/$2,369
Is your loved one an inveterate iPhone lover who also pines for the massive displays on some Android models? Well, he or she can now have that display, if you're prepared to give them an $1,800 gift. That's for the 256GB version of the iPhone XS Max (the 512GB version costs well over two grand.)
Yes, it comes with the biggest screen ever for an iPhone: 6.5 inches. Yet the body is barely larger than that of an iPhone 8 Plus. And it uses an OLED display for the best colours and blacks available.
Read our review here. Our rating is 4.6/5.0.
OPPO Find X smartphone – $1,099
If you are buying for someone who is a lover of beauty, a lover of design, then the Oppo Find X ought to be on your shortlist. We reckon that in a world of largely indistinguishable slab phones, this one is stand-out beautiful.
It comes with a hot Qualcomm 845 processor and 8GB of memory, plus 128GB of storage. And it comes with a respectable camera, uniquely implemented. To avoid having a notch in a display that occupies 93.8% of the front surface, the camera is contained in a retracted section of the body. It slides quietly up whenever needed.
Read our review here. Our rating is 4.4/5.0.
Huawei Nova 3i smartphone – $599
Of course, you won't be alone if you can't afford to give a gift costing north of a thousand dollars. Fortunately, there are some impressive phones priced well below that, such as the $599 Huawei Nova 3i.
With things like 128GB of storage, Bluetooth with aptX and aptX HD support, a fast charging battery, Android 8.1, and a 6.3 inch FHD+ screen, you'd start to think that there's no reason to go for a more expensive model. But we would note that it's encumbered, still, with a Micro-B USB connection and single band Wi-Fi.
Read our review here. Our rating is 4.2/5.0.
Motorola e5 smartphone – $199
But perhaps $599 is still too much, so how about $199 for the Motorola e5 smartphone? It still has a gigantic display – 5.7 inches – in 720p HD and 18:9 aspect. The savings are in things like the Qualcomm Snapdragon 425 processor with 2GB of memory, and the 16GB of storage (but you can add up to 128GB on microSD). Again, single band Wi-Fi means potentially slower file transfers, although it should make little difference to web surfing.
On the other hand, you get dual SIM support, a large battery, fingerprint unlocking and fast charging.
Read our review here. Our rating is 3.9/5.0.
Alcatel 1C 3G smartphone – $89
Still too pricey? How about $89? It's almost unbelievable but, yes, for that price can give a brand new Android smart phone as a gift. It has a big 18:9 aspect 5.4 inch screen, albeit in standard definition. Plus an adequate processor with 1GB of memory and 16GB of storage. You can add another 32GB via MicroSD.
Alcatel has kept things light with Android 7.0. As the name implies, it works with 3G networks, so no speed benefits from 4G. Also, it's locked to Telstra pre-paid. So, its really for a loved one who needs a new pre-paid communications solution.
Read our review here.
Nokia 1 smartphone – $149
Read down a bit further and you'll see how we were taken aback by the amazingly fine value in the $499 Nokia 7.1. But here's a Nokia phone for just $149. That's getting down towards stocking filler territory.
Of course, the specifications are pretty basic. The Mediatek processor runs Android Go 8.1, the stripped-down version for lower powered phones. And it gets by with just 8GB of storage, with 5GB free. But you can use it for media, thanks to the support for 128GB microSD cards. The card can even be formatted for use as main phone storage.
Read our review here. Our rating is 4.0/5.0.
LG G7 ThinQ smartphone – $1,099
We really don't know why LG's flagship phones aren't automatically grouped in with the Apples, Samsungs and Pixels of the world. They're really pretty amazing, and much more affordable.
The LG G7 ThinQ smartphone, for example, has top notch everything. It runs the fastest and best Qualcomm processor, it includes 64GB of memory, and can be expanded via a microSD card by half a terabyte. The display is a massive 6.1 inches, has an insane 563ppi of resolution with HDR, and protected by Gorilla Glass 5.
It can be wirelessly charged, and it's one of the few phones with audiophile sound gear built in.
Read our review here. Our rating is 4.2/5.0.
Nokia 7.1 smartphone – $499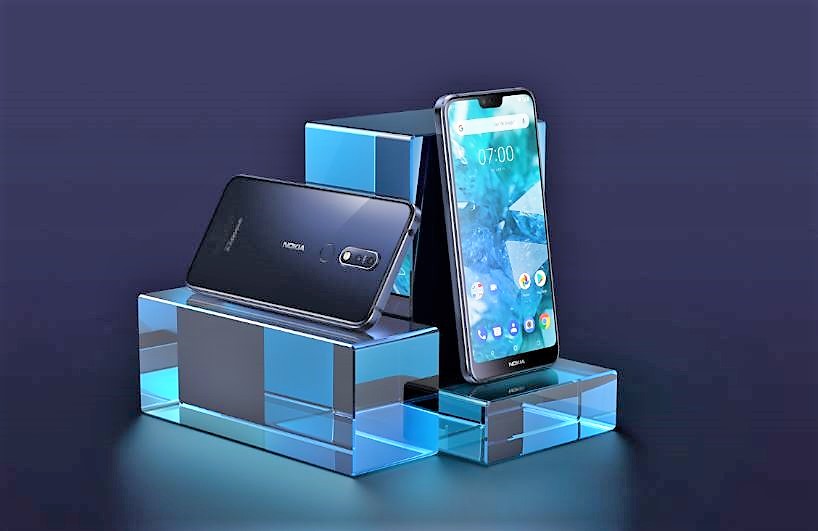 Hmmm. A "superb build" says our reviewer. He also admired the steel/copper finish. And he was "blown away" by the Nokia 7.1 smartphone's camera. Which isn't surprising, given the Zeiss optics and the fast, dual pixel autofocus.
And given the very reasonable $499 price tag.
It comes with Android One 8.1 installed — and now an update to 9.0 is available! This is a special version of vanilla Android, with two years of early updates guaranteed. There's aptX support for high quality Bluetooth sound and a super high resolution 2,880 by 1,080-pixel 5.84 inch display. Quality, power and a remarkably affordable price. We're impressed.
Read our review here.