Laser has branched out into Wi-Fi-connected smarthome devices. Called Connect SmartHome the range includes lighting, security, sensors, power and 'home and garden'.
Connect SmartHome is exclusive to Harvey Norman although it only currently lists 22 devices – there are over 30 in the line-up. Judging by the app, we are sure there will be many more categories, including irrigation, access control, health and more.
GadgetGuy knows Laser Co well, and we can be confident of the quality, reliability, support and value. It's a bold move to introduce a range of Connect SmartHome devices, but from our initial tests, they all work well and importantly connect seamlessly with OK Google where necessary.
Connect SmartHome app
The Connect SmartHome app is available for iOS or Android and integrates with Google Home (tested) and Alexa (not tested). It is a white-labelled Tuya app that is also used by Brilliant, Arlec (Grid Connect), Mirabelle, Nimbull Smart Homes and many more. Tuya is headquartered in the US and covers over 90,000 products made by 3000 manufacturers in 500 product categories.
What that means is Laser et al., don't have to develop or maintain the control app. It also means all the hard work is done – it's a great platform that allows Laser to source a vast range of products – if they meet its standards!
Quality
The Connect SmartHome range is Google-licensed, fully compliant with Australian Standards and Regulations, and like all Laser products has a replacement warranty and local customer support.
Privacy
As far as privacy goes Tuya knows your address, IP address, what devices, where they are, and how/when they are used. In the case of security camera video is stored in its cloud. It states, "We do not sell your Personal Data to third parties".
But the game changes when you use a voice assistant and its privacy policies over-ride that. But hey, you have to trust someone!
Laser Connect SmartHome has a 12-month warranty.
All are Wi-Fi 2.4Ghz and tested with a NETGEAR AX12 router – the most powerful available today. Lower speed routers may not have the transmission distance or the 2.4Mhz bandwidth to handle heavier loads from video cameras etc.
And a word of warning – most routers are not well placed to cover the home. As with any Wi-Fi device, you may need to buy a Wi-Fi extender or install a mesh system (GadgetGuy tutorial here).
DIY or DI DON'T
While most products are DIY, some require an electrician. For example, in-ceiling downlights, smart video doorbell (if connecting to doorbell wiring), and smart wall switches.
But the real power of these devices is when using them as part of a more comprehensive smart home. Via the app you can
Geofencing (turns on or off when your smartphone is near,
Routines. What to do at various times of the day, bedtime, wakeup etc
And of course, OK Google Control adds a whole new world of interoperability
It also has IFTTT support that binds the devices into a broader ecosystem. IFTTT means 'If this then that' and you can set nested conditions across a myriad of smart devices, e.g. If the front door sensor opens then turn on the hall light and activate the security video unless it is me and I have a geofenced smartphone.
You need to use the app to access more features. Voice assistants (as with all brands of smart devices) do not support all functions (at this time).
It is 'low-level' DIY smarthome, so my best advice is to do some investigation first and see if you want more! If so, then go to a smarthome expert and be prepared to invest in a Z-Wave, Zigbee SmartThings setup at considerably more cost.
Not to confuse you, but it is a way to control IR devices (those that have IR remote controls) from your smartphone via the Connect SmartHome app. Think Air Conditioner, TV etc.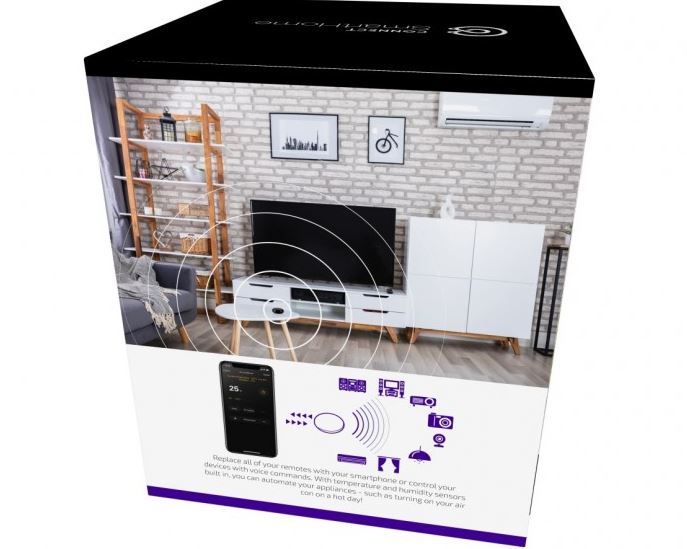 The temperature and humidity sensors are a bonus – you know what this is where the sensor is. The sensor requires USB 5V/1A power – a cable is provided but not a charger.
It uses the Remotec RT-400 chipset, and the IR cloud library is one of the most extensive for AC and AV devices, such as TV, DVD, STB, OTT box, Lighting, soundbars, audio devices and many more.
Tests
It worked the first time.
TV setup was flawless
Theoretical control distance is seven metres, but it was erratic after five
Extensive range of brands/models and types
But the real power of this is in controlling other IR devices via IFTTT.
GadgetGuy's take – I have used Remotec based products before, and the cloud database is impressive. In the case of a smartTV however, it does not support all the functions like switching to Netflix etc. But for an AC unit where all you want is on/off, temperature up/down and fan speed its perfect.
Best use – to control via IFTTT or schedule the use of an AC unit.
12V/1A (12W) 240V detachable plug pack (not IP67)
12 x RGB LED .6W (7.2W) 1200 lumens (LED covers screw off, but LEDs do not look user replaceable)
Cable length: 6.7m
APP and Voice Assistant dimmable and colour temperature adjust (no Blue Light issues)
IP67 rated (1m for up to 30 minutes) except charger!
16 million colours and eight pre-sets (changing colours)
Tests:
Setup via the app and control by Google Assistant – Pass
Wi-Fi 2.4 test. Theoretical distance from the router is about 50 metres. These were stable through an outside glass door to 30m.
GadgetGuy's take: IP67, well made, a little old-fashioned round bulb style, and eight presets. Suitable for patio lighting to impress your friends.
You probably have heard or Arlo, Ring, Swann and many more. This does pretty well everything the others do but at a lower cost.
720p, f/2.0, 166° wide-angle camera, speaker and microphone
OV9732 CMOS sensor, 3.0um, 720@25fps (will adjust frame rate from 1-25 depending on the signal strength and pixel bin to 640 x 360 in low light), mirror/flip,
15/30/45 second recorded clips triggered by push button or PIR motion sensor (Low, medium, high or off)
6 x IR LED
8-24V AC power (uses most existing doorbell transformer power) OR
User-replaceable Lithium-Ion rechargeable 18650 batteries (micro-USB cable supplied – no charger)
Micro-SD slot (to 32GB) for local recording
Mounting bracket and hardware
Note it is not IP rated so it should be undercover – not exposed to the elements
Chime
240V plugin
Pairs to Doorbell and can co-exist with original chime/s
Volume adjustable to 110dB
The sensor, 3um pixels and f/2.0 lens are capable of reasonable colour images down to about 100 lumens. (Daylight is 25,000 lumens, and office light is 400-500 lumens). We could not accurately test the IR cut-over to mono recording – its somewhere after twilight.
My concern with any Wi-Fi device is the distance from outside the front door to the router. Video doorbells are a special concern because they are often on a different home level and the Wi-Fi signal may have to travel through walls, cement floors and heavy doors. My best advice – make it a condition of purchase that it works in your home. Otherwise, you will need to purchase a Wi-Fi extender, and that is even more pain.
Tests:
It managed to make it about 30 metres from the router showing 60% signal strength before the signal was lost.
While it captures a wide-angle, that is at the expense of detail. You need to be within 1m of the video doorbell to use it for ID purposes.
The two-way (full-duplex) talk was impossible. One-way was OK.
It takes colour images in ambient light of about 100 lumens then switches to IR (mono)
Battery recharge was over eight hours so it makes sense to use existing AC doorbell wiring if you can.
The two 18650 x 2600mAh rechargeable Lithium-Ion batteries work in parallel for a claimed life of 4-6 months at 10 activations per day (we could not test that). You can buy 5800mAh batteries and a separate charger on eBay.
GadgetGuy's take: It is what you pay for – it works as advertised and that is all you can expect. It is comparable to any other 720p, Wi-Fi doorbell – more so at that price.
If video quality, distance to the router, and 100% rock-solid reliability are your needs, then you need to look at much higher cost security-based products like Arlo that has a separate base station (not Wi-Fi) and higher 1080p, 2-4K cameras, video doorbell, chimes, spotlights and more.
It does what it says – a window or door sensor that reports if it is opened. It is a simple magnetic sensor – mount the magnet on the door/window and the sensor on the frame, and that is it.
Battery operated by a replaceable 3V CR2 its good for 2600 triggers – some years!
These are best on doors or windows that are potential entry points for a thief – and ones that you don't open anyway. Or doors that you frequently forget to lock. These are best used as part of an IFTT to trigger some other action.
The only downside is if the thief smashes the window glass you don't get an alarm (no magnetic sensor does this).
GadgetGuy's take – Does what it says and where it stops the PIR motion sensors start
There are two types – the aforesaid smart motion sensor and a motion sensor for $49 that is the same but lacks a magnetic mount.
This looks a little like a golf ball with an eye and attaches magnetically to a screw/adhesive mount. It uses a replaceable 3V CR23A battery that is good for 25000 triggers but being a passive, infrared (PIR) sensor you may use that sooner than you expect.
The best use for this is for areas that may be potential entry points for thieves like picture windows where a Window/Door sensor is easy to bypass. PIR range is in theory up seven metres, but we tested to five before it became erratic.
GadgetGuy's take – The preferable method of detecting unauthorised motion.
GadgetGuy's take – Connect SmartHome offers value and certainty
The majority of the products are DYI and in true DIY fashion RTFM, and it will work the first time. We know Laser, and we are sure it has put a lot of effort into testing and support as well as using the bullet-proof TUYA platform.
But we urge you to do a lot of research and think about what level of SmartHome you want.
Wi-Fi is a quick fix and maybe all you need. My opinion is that it is not really part of a longer-term overall smarthome solution with dedicated base stations and controls.