The D-Link DCS-8526LH FHD Pan and Tilt Wi-Fi Camera offers 360° views via a 340° pan and a 100° tilt.
The main reason to buy this is the ability to track movement around the room, ensuring you get a complete 360° 1080p picture. And the moving vista reveals far more than a static one.
Key features
Wired – not battery
Choice of Ethernet Lan or Wi-Fi 2.4Ghz
360° versatility
Person detection and customisable zones
1080p at 25fps (30fps is for countries with 60Hz electricity)
5V/2A – micro-USB charger
Half-duplex two-way conversation
microSD (up to 256GB) or cloud storage (at extra cost)
Google Assistant and Alexa support
Terrific D-Link support
D-Link DCS-8526LH FHD Pan and Tilt W-Fi Camera
Website here
Price: $179.95 plus a bonus smart plug DSP-W118
From: D-Link website or many other stores here
Warranty: One-year ACL or 2-years if the product is registered online
Country of Manufacture: China
D-Link, est. 1986 is a Taiwanese multinational networking company headquartered in Taipei, Taiwan. You can trust D-Link and your privacy.
Set-up – PASS
Download the mydlink app for Android or iOS
Set up an account if you don't have one (D-Link has a high degree of trust for personal information)
Power up the camera
Scan the barcode
Select either Ethernet LAN or the Wi-F 2.4Ghz SSID to use
And that is it
Simple and foolproof! And we repeat – privacy is not an issue.
Placement – PASS
This is mains powered via a micro-USB charger, so you need a power point nearby.
It sits on its round base and is suitable for desktops to bookshelves. It cannot be wall-mounted. But it can be ceiling mounted and the image inverted. This view, however, tends to show people's top-of-head instead of faces, so the ideal mount height is from 1-2metres,
Ethernet cable or Wi-Fi? Great to have a choice – PASS+
It gets a pretty strong Wi-Fi signal but with the usual caveats that the further from the router, the weaker the signal. Ethernet is more responsive in terms of pan/tilt movement speed and reduces voice lag from about 5 seconds to under 2 seconds.
It is 2.4Ghz that allows up to 30 metres line-of-sight from a router. If the signal passes through walls, windows, floors etc. you can halve that. We found that at 20m the signal was quite strong but persisted to 30m.
This is the key limitation of all Wi-Fi cameras except Arlo that can have a dedicated base station allowing for higher bitrates over longer distances. You can cure that by adding a Wi-Fi extender or three.
Voice Assistants – PASS
mydlink integrates with Google and Alexa. The command set is fairly limited
Turn on camera name (it should be on 24/7 anyway)
Display/cast to a TV or smart screen (this may require Chromecast)
Other commands added over time
The key issue here is that a voice assistant can use different brand cameras and allow you to view them, instead of in their respective apps.
Night Vision – PASS
It has Infrared LEDs (number not specified but guessing 4-6) that enable mono night vision to about 3-metres (claim 5m)
Sound/mic – PASS
Sound is half-duplex – walkie talkie style and depending on signal strength can have up to five-seconds' lag.
Maximum volume at 1m from the unit is 75.8dB.
Video quality – PASS+
It is a large 1/2.9", 2MP, f/2.0 Sony CMOS sensor. We tracked down the specs, and it has
Auto Gain Control, Automatic White Balance, Back Light Compensation, Day/Night, Digital Noise Reduction, Flickerless, Mirror, Motion Detection Tracking, On-Screen Display Menu, Privacy Masking, Weather Resistant, Wide Dynamic Range.
In theory, it can record at up to 25 frames per second (the website says 30fps, but that is for 60Hz power). Like all Wi-Fi cameras, resolution and quality depends solely on bandwidth and signal strength. The further away from the router, the lower the resolution and frames per second. This, like all others using similar sensors, will drop to 720p/25fps or even lower.
In short, it is not a cheapie with a plastic lens.
mydlink cloud – PASS+
Video compression to H.264. You can save to a 256GB microSD (not supplied) or the cloud at extra cost. It is fully editable.
The cloud price is reasonable although these are US dollars – divide by .7 and add 10% GST if applicable.
Field of View – PASS
It is a 16:9 image – Horizontal is 120°, and vertical is 62°. But the pan and tilt cover almost all of the room.
PIR – PASS
Motion detection claim is 10m. We found that it was reliable under 7m. But as it is a 1080p camera, details are lost too far away.
Person detection works on a rough outline of a medium height person and is quite effective. You can also set zones to help prevent false detections from pets etc.
Privacy mode – EXCEED
The app can engage privacy mode, and the entire camera head rotates to cover the lens.
D-Link DCS-8526LH image quality – EXCEED
The image quality is excellent due to a higher quality sensor.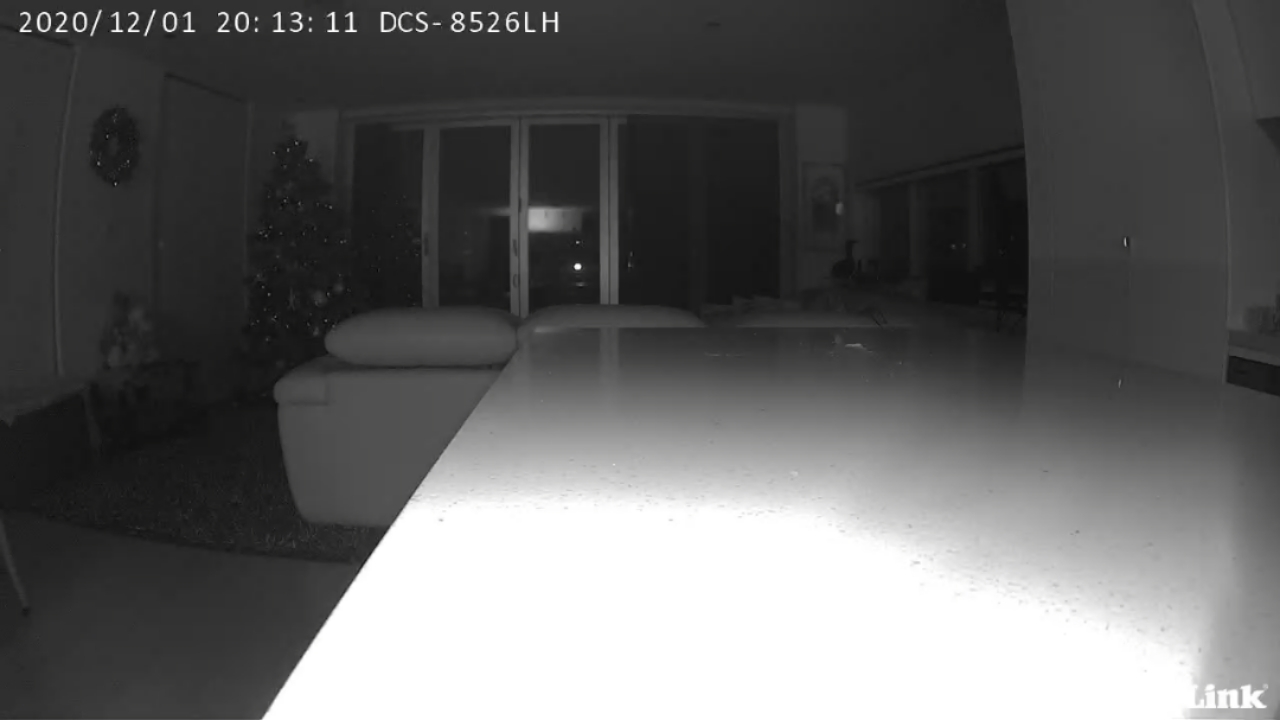 GadgetGuy's take – D-Link DCS-8526LH FHD Pan and Tilt W-Fi Camera – PTZ – is versatile and can cover more areas.
We don't usually bother with 1080p security camera's as they all tend to use the same innards and do the same thing.
This uses a premium CMOS sensor and has the PTZ function.
You can read other D-Link news and reviews here
Positives
D-Link quality, support and privacy
Better Wi-Fi signal strength that most
Quality glass lens and large sensor