Now that so many of us have replaced the camera with a smartphone, our little mobile devices carry so many pictures on them, you have to wonder just how you get them off?
Oh sure, there's always a computer, but in this "post-PC" world of ours that often has us not using a laptop or desktop in exchange for a tablet, that's not always easy, and uploading these images to social networking services doesn't count.
You can do that, but uploading an image to Instagram doesn't even come close to a full-size photo out of most of the smartphones you'll find out there, with only a mere 640×640 pixel image up until recently, switched to a 1080×1080 image as of July.
Doing the math, Instagram is getting a little over a megapixel for your image, and when the minimum standard for a smartphone camera these days is 5 megapixels, you know you're not getting the full picture.
Facebook can take a bigger image, with up to 2048 pixels on its largest side, giving you larger images, but it's not doing to provide the best backup solution if your phone goes walkabout or you decide to drop it in a pool of water, which we're told some people do.
So getting images off your device is an important thing, and it's also important for other files, such as any documents you've written on the phone, audio recordings, and anything else you deem important.
How do you do this?
Phones and tablets with Google Android
Without a doubt, Android is the easiest platform to get files off onto another medium in a heartbeat. And we're not kidding with that metaphor, because provided you have the right device, it doesn't take much more than a beat or two with your heart.
To do this, you need one of the dual mode USB keys that can be found in most electronic and office supply stores.
These are like regular USB thumb drives, only they have two ends: a standard full-size USB connector for a computer and a microUSB connector.
The full-size connector you know, as this is the one that allows you to plug in all sort of USB devices. You've plugged them in before, and will for some time to come, and this isn't going anywhere fast, though it likely will be replaced in the next decade or so.
That other connector, however, is the same one you use to charge an Android smartphone or tablet, and even some headphones, speakers, and computers.
"MicroUSB" is its name, and it is seen as the international standard for smartphone charging, which is why pretty much every smartphone relies on it, except for that of the iPhone (and in Europe, Apple is required to package in a converter, with the expectation being that by 2017, Apple will be forced to go with a standard USB charge mechanism, likely USB Type C by that point).
But charging is only one part of what the microUSB port can do, with data transfer another part of that.
You'll likely have seen that if you have ever plugged a phone into a computer before, since you can transfer files from one device to the other and back, and this also works when you're not using a computer.
When you're not using a computer, you can use the special dual-mode USB drive to backup files, transferring things from the phone to a thumb drive, which can later on be plugged into a computer and moved to your device.
Dual-mode drives come in all sorts of shapes and sizes, and some rely on USB 2.0, while others use USB 3.0, meaning the different device you purchase might have a faster connection to the computer you plug it into than others.
The good thing about dual-mode devices, though, is while they work as a way of backing up what's on a smartphone or tablet with a microUSB port, they also allow the phone or tablet to read what has been left on the USB drive.
Let's say you want to bring a document to read on your phone that you've been working on and you'll just be using your phone on the bus ride in. For this, you simply save the document to the dual-mode USB key, and then plug that key into the phone, allowing you to peek into the drive and open the document on your phone.
Apps for exploring what is on the drive exist for Android, and even if you don't download something special like File Commander — which is one of our favourites to use — Android phones and tablets will almost always come with some form of file browsing software preinstalled, allowing you to browse to the external USB device when you need to.
One more thing…
Owners of Android devices also get a bit of a bonus thanks to that microUSB port: they can use their regular notebook drive.
They can't just plug it in, obviously, since the microUSB port and USB connector normally used aren't the same, but if you find a special cable or converter, you can make it work.
These are called on-the-go cables, or "OtG" devices, and they basically convert the microUSB port to a regular USB port, similar to what those aforementioned dual-more USB drives are doing, but without the thumb drive.
If you already have a drive you love and don't mind bringing around a cable, this will work too, and for a much cheaper cost, with on-the-go cables running for around $2 to $11 depending on where you go.
Apple's iPhone and iPad
We're big fans of Apple's iPhone and iPad, but when it comes to getting files on and off the device, the big A has generally had two opinions on the matter, and these focus quite heavily on the cloud and computers.
The latter of these has been the rather dominant one for the better half of a decade when Apple found a way to revitalise the smartphone with its iPhone, and so the only way to get files off your iPhone was at one point to use a computer.
Fortunately, wireless networks and internet-based computing have paved the way to the "cloud", that magical place in the sky made up of ones and zeroes where you can wirelessly transfer your files and documents to a storage system held somewhere in the world.
Cloud storage is a necessity these days, too, and it's advisable that people have a backup method on a system they trust, such as Dropbox, Google Drive, Apple iCloud, Microsoft OneDrive, Box, and so on.
But what happens if you want to get the files off your iPhone and to your computer without the cloud?
In Australia, one of the best solutions we've come across is SanDisk's iXpand Flash Drive.
This one is a bit of an intriguing one, with SanDisk building a dual-mode thumb drive similar to the sort we see on Android, but with support for the iPhone and iPad.
There's a reason why we're intrigued by this, and it's because Apple has generally put up a wall whenever someone has posed this idea. You have been able to plug USB drives into Apple iDevices before, but these were usually music-based, and any time a hard drive or other storage device was plugged in, Apple's mobile operating system iOS would generally ignore it, making backups a little difficult.
SanDisk's iXpand gets around this problem by relying on an app to make that connection possible, and by allowing the drive to talk to the iPhone or iPad because of a battery found in the iXpand drive.
From what we're told, Apple's Lightning port found on the bottom of its products does like to make sure the power regulation is solid before something connects to it, acting sort of like a safety mechanism for the phone, which makes sense.
To get around this, SanDisk has had to install a battery in the iXpand, which will be recharged when the dual-mode device is plugged into a computer's USB port (i.e., when you're moving files back to the computer).
When the iXpand is plugged into the iPhone using the rubber Lightning port, iOS tells you that you need to run the iXpand app (downloadable for free from the Apple App Store), which allows you to select photos, files, and other images and move them both to and from the iXpand USB drive just like any other device.
And it works beautifully.
While the app could be a little better, it's a fairly seamless solution that packs in a file explorer and the USB key in one neat box, and when you're done, you merely plug it into a computer using the standard USB key to move files and charge that battery up.
The last note, however, is the weakest part, because once that battery loses charge, the iXpand doesn't work, needing that battery to work to make the connection possible. Charging is easy, though, and you simply plug the iXpand drive into a computer using the conventional USB port, with an orange light on the side going green when you're good to go.
We feel it'd be remiss not to acknowledge another solution found locally, and that's Imation's Link Power Drive, a USB drive with a battery for recharging your iPhone through a USB connector. This one works in very much the same way, but due to its slightly larger and clunkier size, isn't quite the same box.
Still, if the SanDisk is too expensive and you'd prefer to have a battery recharger in the same package, the Link offers it.
The wireless options
We've covered the main wired options, and there are quite a few depending on the hardware you're using, but there are also wireless choices.
"Wireless?" I hear you asking. "Surely they're all wireless? I think you mean plug-less!"
Essentially, these are interchangeable terms, as a USB thumb drive lacks wires, sure, but that port connector for either the microUSB port or the Lightning port is still a form of a wire, at least when we're talking about backup storage.
So we have wireless storage for smartphones and tablets, and these are specifically for Android and iOS. Sorry Windows, but we're not there yet. Maybe one day when Windows 10 rolls out to mobile devices good and proper, but not yet.
Right now, the options you have rely on apps to access devices that can stay in your backpack or pocket, with a button switching them on to access them.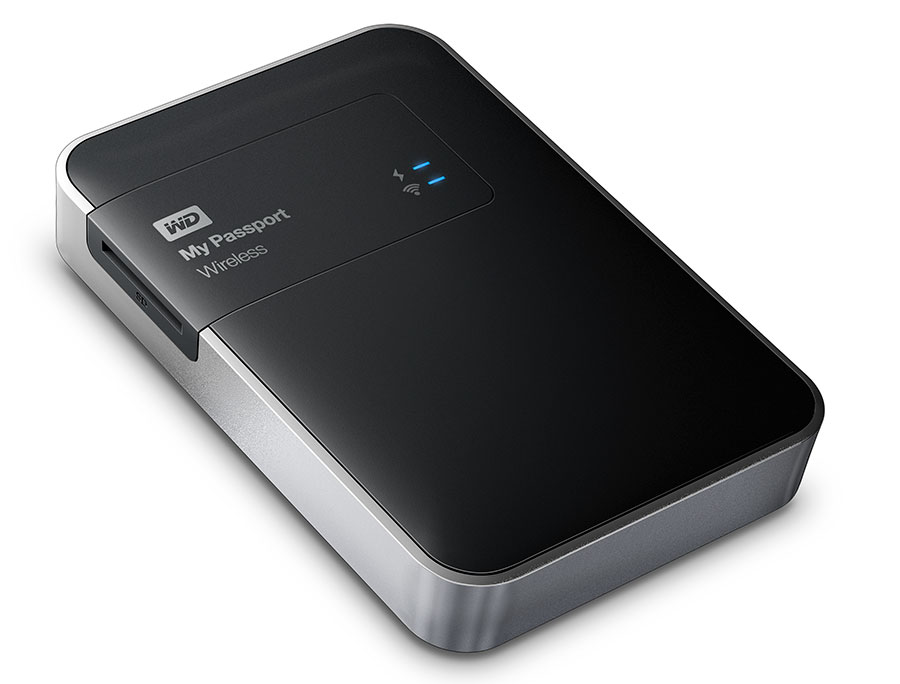 These include the WD My Passport wireless, which is an external USB 3.0 hard drive that can be used with a computer, but can also be connected to wirelessly with the WD MyCloud app.
The My Passport isn't alone in this capacity, joined by WD's My Cloud drives for the home network, but the My Cloud drives have to be plugged into the wall, while the My Passport Wireless does not, and can sit in your backpack and run off a small battery built into the unit.
Going a little smaller, there's SanDisk's Wireless Media Drive.
Resembling more of a flat square hockey puck of a thing — there's really no other way to explain this one — this includes a small battery, either 32 or 64GB of storage, and an SD card slot in case you want to bump the storage up a little or read files off the SD card.
There's an app for this one for the iPhone, iPad, Android, and even Amazon's Kindle Fire, and you can keep this one in your hand luggage without problems, and the battery charges through a microUSB port. Easy.
Or you can try for the pocket, with SanDisk releasing another product that does much the same thing but in a USB key, with the Connect Wireless Flash Drive.
For this product, SanDisk has taken much the same technology in its Wireless Media Drive, but made it smaller and pushed it into a USB key.
That means getting files to and from the drive can be as simple plugging the drive into a computer, and the wireless is switched on from a button on the drive.
You can't obviously do both at the same time, though, so make sure to disconnect the USB drive from the computer when you want to connect the wireless.
One thing of note on the SanDisk Connect, though, is where the memory comes from.
While other devices focus on storage built into the device, this one is based on a microSD card found inside the key.
That makes upgrading the storage size in the Connect Wireless Flash Drive an easy one, as you simply replace the microSD card with another one under the drive cover at the bottom of the unit.