In Australia, one of the best solutions we've come across is SanDisk's iXpand Flash Drive.
This one is a bit of an intriguing one, with SanDisk building a dual-mode thumb drive similar to the sort we see on Android, but with support for the iPhone and iPad.
There's a reason why we're intrigued by this, and it's because Apple has generally put up a wall whenever someone has posed this idea. You have been able to plug USB drives into Apple iDevices before, but these were usually music-based, and any time a hard drive or other storage device was plugged in, Apple's mobile operating system iOS would generally ignore it, making backups a little difficult.
SanDisk's iXpand gets around this problem by relying on an app to make that connection possible, and by allowing the drive to talk to the iPhone or iPad because of a battery found in the iXpand drive.
From what we're told, Apple's Lightning port found on the bottom of its products does like to make sure the power regulation is solid before something connects to it, acting sort of like a safety mechanism for the phone, which makes sense.
To get around this, SanDisk has had to install a battery in the iXpand, which will be recharged when the dual-mode device is plugged into a computer's USB port (i.e., when you're moving files back to the computer).
When the iXpand is plugged into the iPhone using the rubber Lightning port, iOS tells you that you need to run the iXpand app (downloadable for free from the Apple App Store), which allows you to select photos, files, and other images and move them both to and from the iXpand USB drive just like any other device.
And it works beautifully.
While the app could be a little better, it's a fairly seamless solution that packs in a file explorer and the USB key in one neat box, and when you're done, you merely plug it into a computer using the standard USB key to move files and charge that battery up.
The last note, however, is the weakest part, because once that battery loses charge, the iXpand doesn't work, needing that battery to work to make the connection possible. Charging is easy, though, and you simply plug the iXpand drive into a computer using the conventional USB port, with an orange light on the side going green when you're good to go.
We feel it'd be remiss not to acknowledge another solution found locally, and that's Imation's Link Power Drive, a USB drive with a battery for recharging your iPhone through a USB connector. This one works in very much the same way, but due to its slightly larger and clunkier size, isn't quite the same box.
Still, if the SanDisk is too expensive and you'd prefer to have a battery recharger in the same package, the Link offers it.
The wireless options
We've covered the main wired options, and there are quite a few depending on the hardware you're using, but there are also wireless choices.
"Wireless?" I hear you asking. "Surely they're all wireless? I think you mean plug-less!"
Essentially, these are interchangeable terms, as a USB thumb drive lacks wires, sure, but that port connector for either the microUSB port or the Lightning port is still a form of a wire, at least when we're talking about backup storage.
So we have wireless storage for smartphones and tablets, and these are specifically for Android and iOS. Sorry Windows, but we're not there yet. Maybe one day when Windows 10 rolls out to mobile devices good and proper, but not yet.
Right now, the options you have rely on apps to access devices that can stay in your backpack or pocket, with a button switching them on to access them.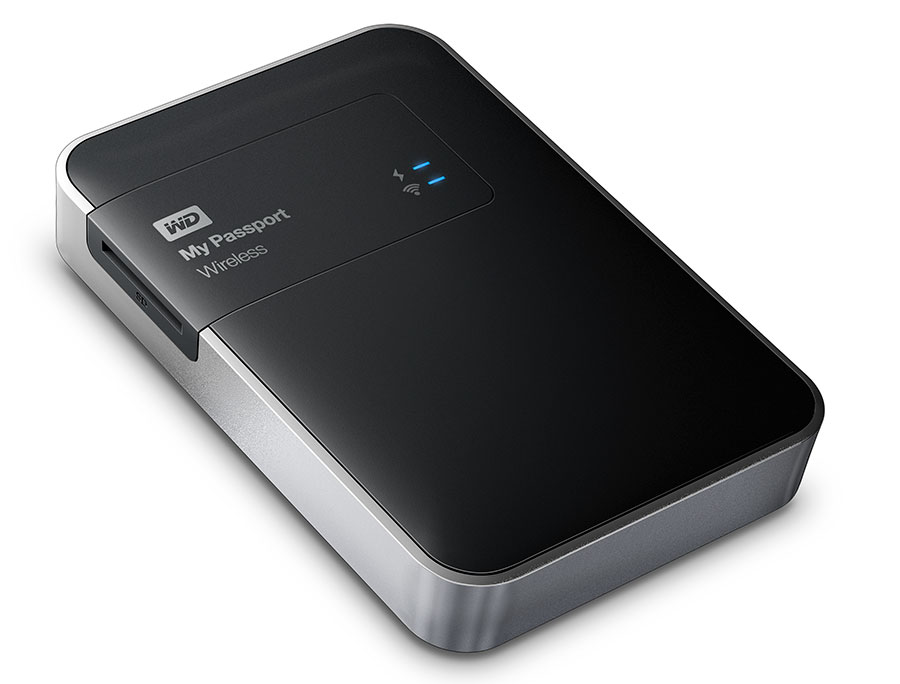 These include the WD My Passport wireless, which is an external USB 3.0 hard drive that can be used with a computer, but can also be connected to wirelessly with the WD MyCloud app.
The My Passport isn't alone in this capacity, joined by WD's My Cloud drives for the home network, but the My Cloud drives have to be plugged into the wall, while the My Passport Wireless does not, and can sit in your backpack and run off a small battery built into the unit.
Going a little smaller, there's SanDisk's Wireless Media Drive.
Resembling more of a flat square hockey puck of a thing — there's really no other way to explain this one — this includes a small battery, either 32 or 64GB of storage, and an SD card slot in case you want to bump the storage up a little or read files off the SD card.
There's an app for this one for the iPhone, iPad, Android, and even Amazon's Kindle Fire, and you can keep this one in your hand luggage without problems, and the battery charges through a microUSB port. Easy.
Or you can try for the pocket, with SanDisk releasing another product that does much the same thing but in a USB key, with the Connect Wireless Flash Drive.
For this product, SanDisk has taken much the same technology in its Wireless Media Drive, but made it smaller and pushed it into a USB key.
That means getting files to and from the drive can be as simple plugging the drive into a computer, and the wireless is switched on from a button on the drive.
You can't obviously do both at the same time, though, so make sure to disconnect the USB drive from the computer when you want to connect the wireless.
One thing of note on the SanDisk Connect, though, is where the memory comes from.
While other devices focus on storage built into the device, this one is based on a microSD card found inside the key.
That makes upgrading the storage size in the Connect Wireless Flash Drive an easy one, as you simply replace the microSD card with another one under the drive cover at the bottom of the unit.