Audiophile speaker brands are gradually getting in on the headphone world, and the latest brand to give it a try is Definitive Technology. Are its Symphony 1 headphones a masterpiece, or something else altogether?
Features and performance
New to the headphones space but sitting in audio for quite some time, Definitive Technology has certainly taken its time to bring its audiophile expertise to the world pop personal audio, and it is finally doing so with a pair of headphones, the Symphony 1.
Definitive says the pair of headphones "embodies the precision and purposeful engineering that Definitive Technology" is known for, so here's hoping that translates to floor-standing speaker excellence for your ears.
Certainly the design is interesting enough, with an aluminium frame covered in leather with more leather on the circumaural ear cups with some plastic blocks extruding from each. This plush design makes for a comfortable fit, though one that can also get a little hot if you go walking with them on.
Fashion sense on these is a little mixed for us — more on that later — and we're not thrilled by the controls, but the audio is what should matter most, so let's get right into that area.
Testing with the 2016 GadgetGuy Sound Test revealed a rather interesting personality for Definitive's Symphony 1, a pair of headphones named possibly due to how it handles some of the richer music as opposed to the highly engineered tracks.
Starting with electronic, there's no doubt that these cans are clear, though it's quite interesting to see how much priority has been given to the bottom end, which can end up making the Symphony 1 headphones warmer than other cans.
In Imogen Heap's "Headlock", the bottom end of her electronic tone playfulness was distinct, and the mood surrounding this section was never lost, even if the mids weren't as distinct or clear, lost in the middle.
Demi Lovato's "Cool for the Summer" continued this trend, revealing a solid punch for the bottom end with bright highs and a volume of sound that makes the cans feel warm.
That bottom end is where the priority is, at least from these ears, and it's a loud and booming soundscape, so much that the Symphony 1 cans almost have an ominous feel to them, which we felt in Lovato's track, as well as the modern R&B of The Weeknd, the latter of which offered detail without the fuzz in the especially booming bass.
Mark Ronson's "Uptown Funk" felt a little removed in comparison, while Michael Jackson's "Billie Jean" was clear and close to balanced with a slightly subdued bass and almost adaptive chorus.
In fact, Michael Jackson's track started to paint a picture of fairly flat sound for the Symphony 1 headphones, because the recreation we were getting was more like that of high-end speakers, and flat speakers at that, perhaps with a little more bass pushed on.
The little bit of Motown we listened through the Definitive headphones only cemented this, as did Radiohead's "Exit Music", which offered up a moody, wispy recreation, which is pretty much exactly where it needed to be.
Jazz and classical is, however, more or less where we expected the Definitive Technology Symphony 1 headphones to ring true, especially given the name.
Fortunately, that was exactly what we found, with a clear and solid balance in music that hasn't been overly engineered or heavily mastered to the point of losing its individuality.
In Dave Brubeck's "Take Five", you get the feeling of the drums performing nearby, and the bass doesn't push on past the keys in the mids or the horn in the highs. There's a sense of equilibrium here, and it remains in our other jazz test tracks, as well as the classical we push through.
Our final track in the list — Nigel Kennedy's 2015 edition of Vivaldi's Winter in "The Four Seasons" — is as clear as we'd ever want it, but also feels a little like you're listening to the music from a distance. It's not that there's a wall separating us from the players, but that we're a little further back than we'd like, rather than sitting next to them.
All up, not a bad experience, though one that definitely elicits its own personality, and one that really appears to come to life when listened to music that is engineered well.
One point worth noting here is we did most of our testing with noise cancellation switched on, which does a decent job of quelling most of the world, though does tend to push the sound a little differently. It's a minor thing, but you find the highs get picked up more with noise cancellation on.
Noise cancellation is also quite strong in that suction feeling you get across the skull, and this can lead to a little discomfort, though we found we got used to it as time wore on.
The design also grew on us, though they're not the best looking cans we've ever seen, we'll say that much.
We walked with them on through the streets of Sydney for a few weeks and we're not sure you'd call these stylish. They're black and heavy with metal rods connecting the cans to the band, and really, they look more like the sort of thing an audiophile geek might wear in the comfort of their own home or on an aircraft.
Out in public, they're a little odd, and given how easily they pick up scratches, probably not the best thing for going walkabout in.
Controls are likewise a littler cumbersome, because they're all located on the right side and more or less require you to remember locations. There are six buttons in total, with three at the back top of the right can and the other three on the bottom.
The three at the back are the more irritating, with a top and bottom volume button and a little dimple on the middle one for pause and playback.
There's no plus or minus etched into the buttons, though, even though the bottom buttons for power, Bluetooth, and active noise cancellation have a little imprint (though you can't feel these either).
Really, what it feels like Definitive needs to do is make the controls a little easier to work out. So many times upon wearing the Symphony 1, we felt the need to take off the headphones and look at the buttons, forgetting what each did and accidentally pressing the power when we meant to press the pause, or hitting the pause when we meant to fiddle with the volume.
More logical, human friendly controls would go a long way into making the Symphony 1 feel like it was made for everyone rather than just fans of audio gear that doesn't always think of the human component, beyond that of the ear.
Definitive's controls can also stick, with the buttons becoming lodged in place, something that happened to us more than once. Again, better controls would probably fix this, so it's just something else for version 2.0.
The other problem with the Symphony 1 headphones is the price, and at $699, you can't help but get the feeling you're paying for the brand, but not necessarily for the technology.
As a case in point, the Symphony 1 headphones cost $200 more than the list price of the Parrot Zik 2.0 and $50 less than the Bang & Olufsen H7, and both pairs are better designed, offering what feels like a more solid and dynamically impacting sound, and boast much more intuitive controls.
That's not to say the sound on the Symphony 1 is bad, because it is mostly certainly not. It's just far flatter than we're used to, and made for people who like to listen to the music the way the engineer intended it to be, which is a different way from the punch and sense of dimensionality most headphones try to deliver these days.
Over in the US where Definitive is from, the local price reads more like $399. Converted and with tax and shipping, you get the general feeling that the Symphony 1 should be closer to the $600 mark, and so that extra hundred might be more of that Australia tax, because shipping here is never easy, or so we're frequently told.
No neck sensor also doesn't help the value of the Symphony 1 headphones, because it's the sort of technology we'd expect to see in a pair of wireless cans costing this much. You should be able to take off your headphones and have the music stop, but you'll need to manually control that on these cans.
Beyond the price difference, both Bang & Olufsen and Parrot also offer something Definitive hasn't, and that is the traditional 3.5mm headset jack, something the Symphony 1 cans lack, replacing it with the less common 2.5mm port.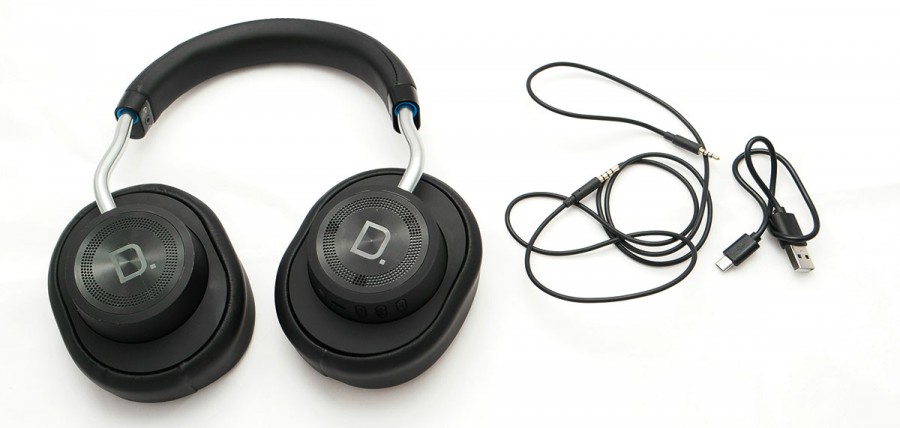 That is a little frustrating, and means you'll be needing a special cable if you ever (heaven forbid) lose the one that the Definitive cans arrive with.
At least it comes with a nice case with padding to protect the headphones and that cable, so that's something.
Conclusion
If you like your audio flat and the way it was made to be heard, there's definitely something to like in the Symphony 1 headphones, with a warm tonality that can also cut down on background noise. It's not all perfect, mind you, and given the price, we're surprised the design is what it is.
Still, if sound quality is key and you like volume and cancellation, Definitive Technology's first pair of cans is worth a look, though we'd probably wait for the second until we say go out and buy.
Comfortable; Fairly flat but warm sound; Loud; Supports noise cancellation; Rechargeable via microUSB;
Controls need a lot of work and can get stuck quite easily; No neck sensor; Bluetooth reception seems a little weak; Relies on a 2.5mm headset jack if you wish to go wired; Picks up dust and scratches really easily;