If that laptop of yours is looking a little long in the tooth, a new range from Dell could be just what's needed, and from what we're hearing, they should be relatively affordable too.
That's the news coming from the major computer show of Computex, where Dell has taken the stage to show off several lines of updated computers, with various sizes and generations of its Inspiron laptops.
These start with the Inspiron 11 3000, and this is what Dell claims will be a 2-in-1 hybrid laptop-tablet made for school and families, delivering colourful exteriors with Intel performance-friendly processors, USB 3.0 technology, a microSD card reader, and 1366×768 high definition display.
We're not expecting the Inspiron 11 3000 to be major performance powerhouses, but given that it will arrive with a starting price of $599, we're not terribly surprised.
Next up is the 13 inch variation, with the Inspiron 13 5000, another range of 2-in-1 hybrids that ups the screen size to 13 inches and the resolution to Full HD's 1920×1080, with more memory, solid-state drives, and the possibility for Windows Hello facial recognition using an infrared camera.
These will start at $999 and will be joined by 15 inch and 17 inch variations later, with pricing for these generations set to arrive later, too.
More interesting, however, is the Dell Inspiron 7000 series, with 13, 15, and 17 inch variations on this generation.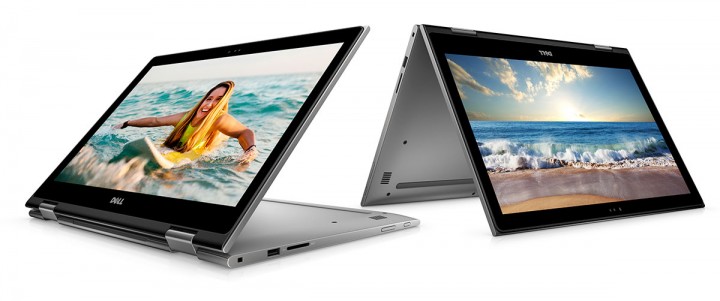 This one looks to be the premium Inspiron, with an aluminium body, Intel's sixth-generation Core processors, a 30 degree hinge, Full HD screens, backlit keyboards, and 802.11ac WiFi.
USB Type C is also on this laptop, with Dell suggesting battery life can make use off the Type C connect for Dell's battery "Power Companions" to extend the power.
Pricing on the Inspiron 7000 series starts at $1699 for the 13 and 15 inch variants, though pricing on the 17 is missing in action right now.
"With our new Inspiron 2-in-1 lineup, customers can work where they need to and play when they want to," said Ray Wah, Vice President of Dell for Consumer Product Marketing.
"Whatever you can create or imagine, you can achieve it with the 2-in-1 laptop best suited to your needs. Dell is thrilled that our innovative technology can help make your creation a reality. Our customers inspire us, and we keep on innovating for them."
Availability is quite literally right around the corner, so even though the machines have been announced at Computex in Taiwan, Dell has said they'll be available at Dell's website from June 3, with stores to follow.