This is the 2020 update on the Delonghi air purifier, heater and cooling fan model HFX85W20C. Its an oldie but a goodie and still one of the most versatile microzone units.
Times change and we wanted to see 2018 Delonghi air purifier (still current) fitted into the 2020 landscape of air purifiers.
On the plus side, it is one of the better fan/heater units for microzone heating. On the negative side, it has one of the smallest filters and lacks the activated charcoal to remove noxious gasses. But to its credit, I don't really think that matters.
Why a purifier and what to look for?
Most true air purifiers use a mix of filters – pre-filter (for larger visible particles or <PM10), HEPA (High-efficiency particulate air for micron-sized <PM2.5) and activated carbon (for noxious gas absorption). Some add UV and other sterilising light.
Currently, no filter traps more than 99.X% of everything, and we are extremely suspicious of any filter that claims it traps and kills COVID or a similar virus.
Filters generally quote a CADR (clean air delivery rate in m3/hr). For example, a typical bedroom 3x3x2.8m (about 25m3) has 25,000 litres of air to clean. Now if you can close the windows and doors, CADR is not such an issue as once cleaned it remains that way until more 'dirty air' enters the room.
Purifiers either have a directional fan or just vent the air back to the room.
And then we look at ongoing energy and maintenance costs.
Australian review: DeLonghi DeLonghi air purifier, heater and cooling fan HFX85W20C
Website here
Price: $449 from JB Hi-Fi and the Good Guys
Replacement filters – about $50
Rated for: up to 60m2 but practically 25m2
Warranty: 2-year ACL
Country of Manufacture: Unknown – probably China
DeLonghi is an "Italianity' brand est. 1902 and makes a huge range of coffee makers, kitchen appliances, air treatment, heaters and more. Its aim is that Every De'Longhi product comes with 'something special.'
First impression – EXCEED
Apart from its unusual lines, it is more a micro-climate unit creating about a 5x 5metre (25m2) 'zone' where it cleans the air and can either generate 5-10° extra heating (taking 10° to 20°) or a gentle fan effect.
It is tall and slim at It is 850 (tall) x 270m (round) and 7.4kg. Apart from a power indicator and hot/cold fan speed indicator that is it. There is a remote control too.
It is very easy to use – plug it in, turn it on auto and let it do its thing.
CADR – Fit for purpose – PASS
As it is more for a micro-zone of up to 25m2, there are no CADR figures.
DeLonghi state that it can serve up to 60m2 (8x8m) and maybe it can, but we felt 5 x 5 was more realistic.
Heater – EXCEED
You can set the temperature from 22-28°
The best part is that you can set it to ECO Mode at night to maintain a bedroom at a constant temperature.
Fan – PASS
A fan does not cool – that is a misnomer. It may induce an evaporative cooling effect if it blows on your sweaty body, but generally, it serves to move the air to provide some relief.
It has ten speeds. We tested these and associated noise levels. It ranged from 28dB (1) to 49dB (10). We found setting six the best for everyday use. The fan function uses between 5 and 35W per hour.
Filter efficiency – PASS
It has a single 360° EPA (not HEPA) filter. Delonghi claims it traps 99.9% of particle down to 2.5um – all that is missing is noxious gas removal, and that is not a big thing.
EPA filters can last years before replacement. The unit display will flash 'CF" (Clean Filter) when its time. De'Longhi state the CF warning occurs at about 2,000 hours (9 months x 8 hours a day).
Now we have had it since 2018, and all we do is vacuum the dust off and give it a good shake.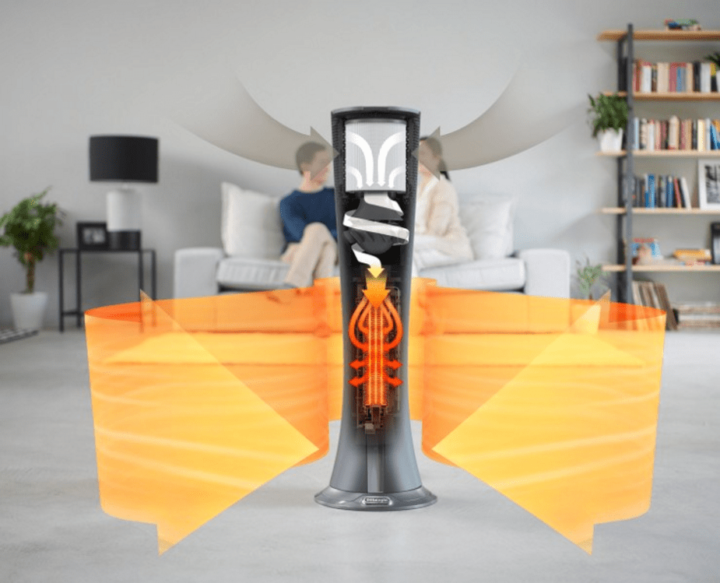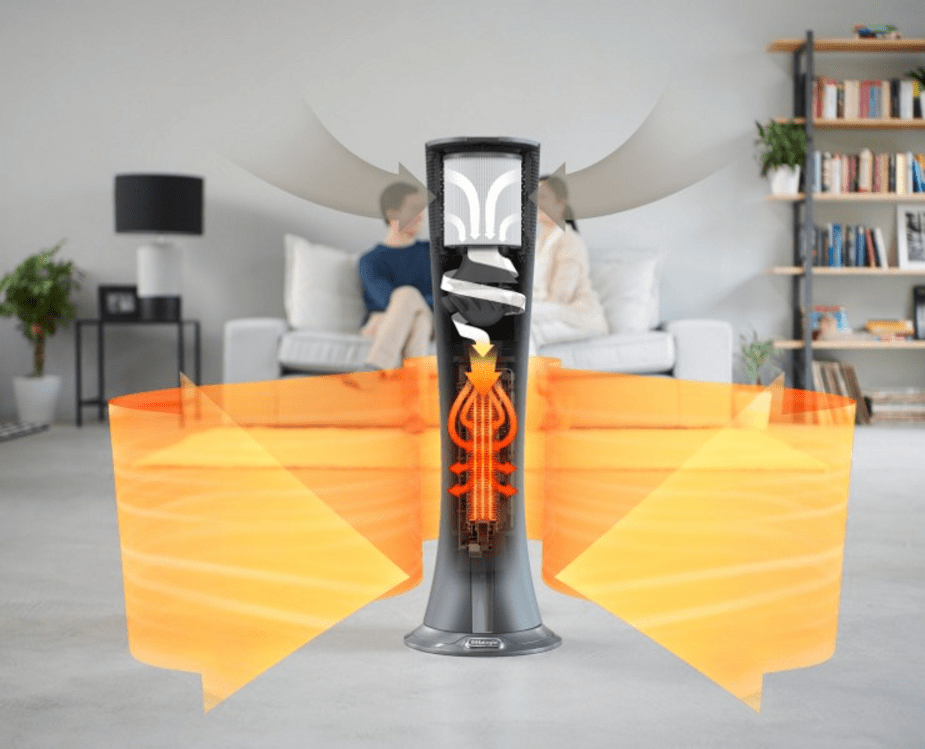 Airflow – Interesting and EXCEED
You wonder where the air comes out. Well here is the thing – there are no ugly louvres. Air is forced out the discrete rear 'slits' and focuses around the columns 'waist'.
This creates a Coanda effect where the air flowing out of the slits past the waist picks up additional air and spreads outwards. There is no draft blowing in your face. De'Longhi calls this a 3D Comfort Air technology.
You can set the unit to oscillate as well.
Sound – PASS
See Fan section but from 28-49dB – it is quiet.
Maintenance – PASS
Wipe down the grill occasionally and vacuum the filter.
Safety – PASS
The unit weighs 7.4kg and has a rear handle.
It does not get burning hot, and the base is weighted to keep it stable. However, like any cylinder, it is easy to tip over and should not be used around small children.
That said it is not heavy enough to do much damage should it fall on them.
Power – PASS
Maximum wattage is 2000W per hour for the heater. That is about 60 cents per hour, but in our tests, it ranged from 0-1800W. As you are not heating more than the zone, it saves money over a space heater.
On ECO mode it is about 23 cents per night.
GadgetGuy's take – DeLonghi air purifier, heater and fan is versatile
We included this because it is really the only competition to the Dyson range of fan/heater/purifiers. It is one of our favourites during winter when we want to heat the zone around the TV area. The ECO at night in a bedroom is excellent.
Its air purifier credentials don't stack up quite as well but frankly for smaller spaces they are pretty good.
You can check our Dyson and other air purifier reviews here
Positives
Easy to use
Very efficient for a microzone
Quiet
Recommended intimate spaces up to 25m2
Negatives
Needs a longer power cord as is best placed near you