The De'Longhi HFX85W20C Air purifier heater and fan is a terrific addition to any home. It is a fan, heater and air purifier all-in-one.
I wrote that precisely 12 months ago (11/08/18) and we ended up buying a De'Longhi HFX85W20C air purifier heater and fan for our Central Coast home.
The bottom line it has become an integral part of #stopping the energy rip-off. So, I decided to revisit this review and tell you why a $549 air purifier, heater and fan – the De'Longhi HFX85W20C – achieves that. It is far more useful than that description belies.
Why? Even if you have ducted or split-system air-conditioning using the De'Longhi HFX85W20C is far more economical because of two things.
First, it creates a micro-climate zone up to 5 x 5 metres. That is perfect for heating say, the TV viewing area in a large open space lounge/kitchen/dining area. While the temperature outside that micro-climate zone may plummet to 11-15°, inside the invisible zone it is a nice 20-22°. And the Coanda effect (explained later) means there is no direct blast of air on your face.
Sure you have to set it at 22-25° (max 28°) and put the fan setting on 4-5 (maximum 10) but even at this level it is not consuming the full 2000W – more around 1300-1800W and for a few hours pleasure it is worth it. And, you are not heating the rest of the unused area meaning big savings.
Second, and perhaps the most underrated feature is the Eco setting which is perfect for up to large, closed-in bedroom spaces. We set it at 19° (ideal sleeping temperature) and fan on 1 and Eco does the rest, ever so quietly coming on occasionally to top the temperature up. Cost – a measly few cents for a good sleep. And as it is a heater it does not dry the air out like AC can.
What is the De'Longhi HFX85W20C air purifier heater and fan?
Australian website here.
The best way to describe it is a somewhat modern looking column style device. It is 850 (tall) x 270m (round) and 7.4kg.
At first glance, you see the perforated top section. That is where the air is drawn in through the 360° EPA filter.
Next, you wonder where the air comes out. Well here is the thing – there are no ugly louvres. Air is forced out the discrete rear 'slits' and focuses around the columns 'waist'. This creates a Coanda effect where the air flowing out of the slits past the waist picks up additional air and spreads outwards. In simple terms, it does not have huge fan blades and louvres to achieve the same effect. There is no draft blowing in your face. De'Longhi calls this a 3D Comfort Air technology.
Finally, there is the remote control and control panel. It is straightforward. On/off, heat, temperature, cool, fan speed, timer (up to 12 hours), ECO, oscillation (where the column gently turns left/right and vice versa), and airflow direction (you can tilt airflow up or down without tilting the column.)
So how does it work?
This is a combined purifier/heater/fan. We will look at each function separately.
360° (round) EPA Filter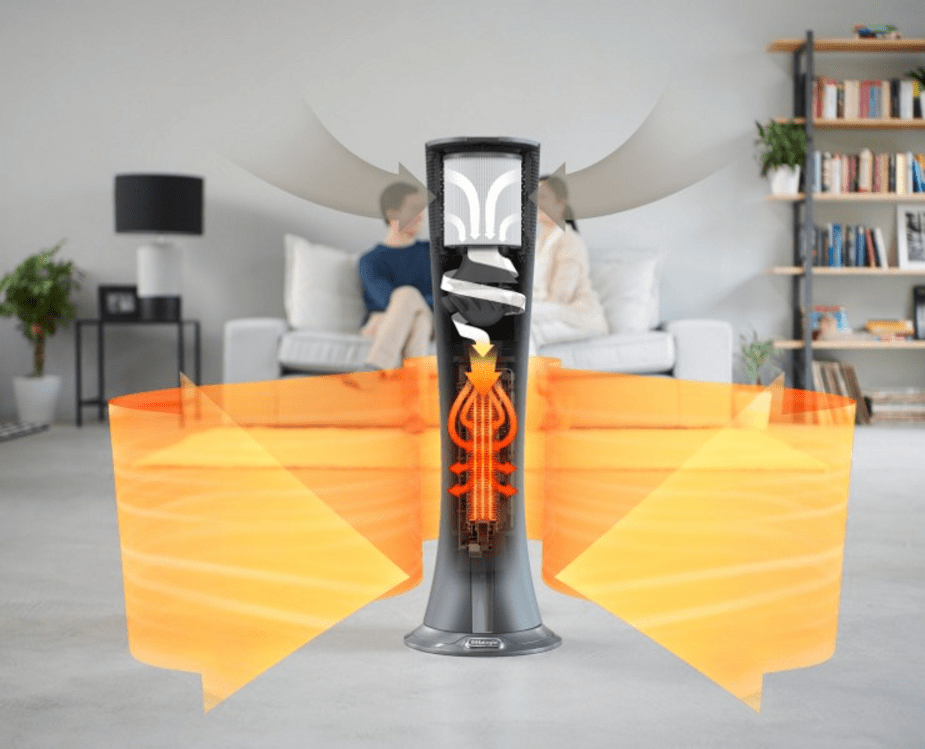 It traps up to 99.9% of particles down to 2.5µm (that is 0.0025mm – a human hair is 50-70µm). OK, it won't soak up volatile gasses – only activated carbon will. But it will catch fungal spores, bacteria, pet dander, hairspray, dust mite waste, pollen and even tobacco smoke. Hay fever sufferers should rejoice – 3µm or larger particles trigger attacks.
EPA filters can last years before replacement. The unit display will flash 'CF" (Clean Filter) when its time. De'Longhi state the CF warning occurs at about 2,000 hours (9 months x 8 hours a day).
A simple brush down and vacuum is all that you need. Similarly, remove any dust from the inlet holes or outlet grill slits. My advice is to buy a few spares – they should last for years. As this is a new product replacement filter price was not available. I estimate $30 based on other filters.
Our test was not long enough to measure its efficiency. But using another brand (OK it's a Dyson) we have noticed a marked reduction in dust over a three-month period. As a hay-fever sufferer, I appreciate that.
The purification works in either heating or cooling mode. If you want it to operate continuously, you can set the fan to Eco or level 1.
The Coanda effect
It's essential you understand the Coanda effect in both fan and heating mode.
First what it is NOT. You won't get a gale force wind blowing in your face. Too many reviewers have said if they can't feel it, then it's not working! Sorry, this is plain wrong.
Because the air blows around the waist, it is more focused on a 'precinct'. I call it a micro-climate zone. Yes, you can oscillate the fan about +/-10°, but it is not necessary. De'Longhi says the device is capable of servicing an area of 60m3. That is around 4.5 x 4.5 x 3m (ceiling).
Fan
A fan does not cool – that is a misnomer. It may induce an evaporative cooling effect if it blows on your sweaty body, but generally, it serves to move the air to provide some relief.
It has ten speeds. We tested these and associated noise levels. It ranged from 28dB (1) to 49dB (10). We found setting six the best for everyday use. The fan function uses between 5 and 35W per hour.
Heating
It has a ceramic element best known for quick heat up/down. Adjustment is from 10-28°. Noise levels range from 42-44dB.
We found it created a micro-climate zone up to 5 x 5 x 3 – slightly more with oscillation. Imagine that is a TV lounge area. Set at 22° on fan 3 (50%) it took about 20 minutes to raise the zone temperature from 18° to 22° and stayed rock solid after that.
ECO mode (heating only)
This is the best part of the unit. As ECO suggests, it calculates precisely the right amount of heat and fan required to economically heat a room.
We tested in a large 5 x 5m bedroom with an ambient temperature of 12°. Outside temperature was 9° going down to 4° in the wee smalls. I set the temperature to 19° which is the best temperature for sleep.
Initially, it ramps up the fan and power to bring the room to temperature. Then it very quietly keeps the room there all night. The thermostat is very accurate. It was within 2° of my Kestrel Drop Bluetooth environmental data logger.
The heater uses from 1300-2000W but is very efficient in ECO mode.
Energy use
Most Australians pay around 25-30 cents per kilowatt-hour – that is a 1000 Watts used for an hour.
A 100W light bulb costs 3 cents per hour.
A 2000W heater costs 60 cents per hour
However, a typical reverse-cycle air conditioning is about 25 cents an hour for heating and 60 cents for cooling (source Canstar Blue). The benefit of this unit is selective heating or fan, e.g. bedroom at night instead of the whole house.
De'Longhi pedigree
The De'Longhi family based in Treviso, Italy, started in 1902 as a small industrial parts manufacturing workshop.
Historically, it is a producer of portable heaters and air-conditioners. Its expansion has taken it into nearly every category of small domestic food preparation, cooking, household cleaning and ironing. It services 123 countries.
Design of most products is in Italy. It also makes Braun, Kenwood, and Ariete. Last year, five of its dehumidifiers/purifiers gained Asthma Friendly certification from the Asthma and Allergy Foundation of America and Allergy Standards Limited.
De'Longhi products are usually a safe buy.
GadgetGuy's take. Dis De'Longhi HFX85W20C belonghi in my home.
At $549 it is not cheap. Its direct competitor is the Dyson Pure Hot and Cool Link (GadgetGuy review here).
OK, you ask which to buy?
The 2019 Dyson is $899 (it may be cheaper during promotions), has a smart-phone app, has more expensive filter consumables, and is perhaps a little cuter in design. It is very good but you are paying more for a premium product that covers a smaller area.
De'Longhi is $549, larger and will heat a bigger space. They are so close and perform the same three tasks that I won't call it.
OK, I will. We purchased the Dyson in February (2018) for a one-bedroom city apartment. Used correctly it saves us the cost of air-conditioning the whole 65m2 apartment.
And we purchased the De'Longhi HFX85W20C air purifier heater and fan for our more expansive three-bedroom, open plan living, Central Coast home. It has more power. Both use the Coanda effect – no blades or louvres.
Excellent for larger areas - creates a micro-climate zone up to 60m3
ECO mode for perfect bedroom temperature at the lowest noise and cost
Purifier visibly reduces dust after a few weeks
Safer around children and pets – no exposed moving parts
Quieter than a blade or column fan that simply uses fan speed/velocity to push air
Needs a longer power cord