The name Dynabook may be familiar. It should be – it is one of the oldest global notebook brands with a long heritage from Toshiba. The Dynabook Portégé X30W-J – is one of the first Intel Project Evo ultra-light laptops and it is pretty special.
We'll tell you a little more about Dynabook later. For now, this review is about the 11th Generation, Intel processor-based Dynabook Portégé X30W-J model.
Intel calls it an 'Evo' Core with Iris Xe graphics (3x faster than Intel UHD), Wi-Fi 6 AX160, 9+ hours battery, < 1-second wake, Thunderbolt 4 – yes 4 and 40Gbps data transfer.
It has a 13.3" IGZO, Corning Gorilla Glass NBT protected screen, x360 hinge that you can use in clam-shell, tablet, presentation and flat modes. It is quite small at 303.9 x 197.4 x 17.9mm and light at .963kg due to its Magnesium Alloy and Polycarbonate/ABS chassis. And it is MIL-STD-810G for strength and durability.
Is it a winner – you bet! In fact, it is pretty perfect for executive use or those that want the best.
Dynabook Portégé X30W-J (review model PDA11A-01N003)
| | |
| --- | --- |
| AU Website | here |
| Price | from $2000 |
| From | Distribution via Dynabook's reseller network. It also has a large business fleet and education market. |
| Warranty | Purchases of genuine Australian models from authorised resellers – Portégé and Tecra models have a 3-year Australian Consumer Law compliant warranty, and Satellite Pro has one year. Extended service and support plans are available. International warranty also applies. Complimentary courier pick-up and return service is available in AU/NZ only. |
| Support | 1300 307 055 (business hours) |
| About | Dynabook started life as a Toshiba brand in 1989. Since 2019 it is 100% owned by Sharp Corporation, which Taiwanese OEM Foxconn owns. Sub-brands include Portégé (Ultrabook and Hybrid), Tecra (business), and Satellite/Pro (all-rounder), and has a range of accessories and has a range of accessories and Toshiba branded external storage. |
| More | You can read more GadgetGuy Dynabook news and reviews here |
Dynabook claims that the IP, technology, and manufacturing meet Toshiba's strict standards. It also offers managed services to enterprise that includes fleet management, configuration, deployment, warranty and decommissioning. This is a brand revival worth following. Before we get into the review, there is a truckload of variations and other Portégé X models.
Dynabook Portégé X30W-J model options
| | |
| --- | --- |
| Processor | i5-1135G7 or i7-1165G7 Intel 11th generation core processors |
| GPU | Intel Iris Xe graphics |
| Screen | 13.3" 10-point touch 1920×1080 |
| Hinge | x360 hinge style |
| Ram | 8, 16 or 32GB of memory |
| Storage | 256/512GB or 1TB SSD |
| Pen | Wacom AES 2.0 active pen |
| Security | Windows Hello, Fingerprint sensor |
There are also 11th Generation Intel X30L-J and X40-J 14" clamshells. There are some older 10th Generation Intel units available.
Intel Evo Certified
Evo-class devices with powerhouse 11th gen Intel Core processors are like a Porsche racing car in a VW body – a ridiculous power to weight ratio. This is currently the smallest, lightest, and fastest Evo certified x360.
Evo will replace the Intel term 'Athena' down the track. You can get Evo models from Acer, ASUS, Dell, HP, Lenovo, MSI, and Razer.
What is Thunderbolt 4 (TB4)?
We assume that you know a little about Thunderbolt 3 (TB3). TB4 offers all TB3 functionality plus:
High-speed 40Gbps (5000MBps) full-duplex (both ways) interface
Power upstream (100W to the device) and downstream (15W from the device)
Audio and video (DisplayPort mode for 2x4K or 1x8K display)
Supports USB-C 3.2 Gen 2 (10Gbps)
Has at least 8 PCIe lanes (think multi-lane highways to avoid congestion).
Intel VT-d DMA protection and support for accessories like docks with four Thunderbolt ports and can daisy chain TB3 devices.
The benefit of TB4 is that it is Intel Certified (guaranteed to work with TB3 and earlier docks) and supports more ports.
You may have heard of USB 4.0. It is a 'free' limited subset of TB4, and while some devices will support 40Gbps – most won't.
As it is Intel certified, AMD devices will likely only have USB 4.0. There is also a conundrum to be resolved for TB4 and Apple's future ARM Macs. The video below has more information about why this is a great thing to have on a notebook.
First impression
Mystic Blue Metallic is more corporate than sexy. Light – almost impossibly so at <963g, a light 210g charger (sans 240V cable). Small – 303.9 x 197.4 x 17.9mm.
Solid, well-made and very little flex in the screen. MIL-STD-810G compliant for ten tests – 76cm drop, -30 to +60° temperature, 96% humidity for ten days, altitude, vibration, shock, dust-proof (6-hour cycles) and more.
Regardless, you can be sure that this is one tough book (apologies, that is a Panasonic name). Here's a video that summarises Dynabook's testing.
13.3" touch and stylus Screen
It has a Sharp IGZO (Indium Gallium Zinc Oxide) 1920 x 1080p display under matte, low reflection Gorilla Glass NBT (high level of scratch and damage resistance). It is up to 10x more scratch-resistant than standard soda-lime toughened glass.
IGZO is superior to standard TFT screens, up to 50 times faster and far more power-efficient. The narrow bezels help make the body size (equal to a 12" footprint) smaller than other 13.3" laptops.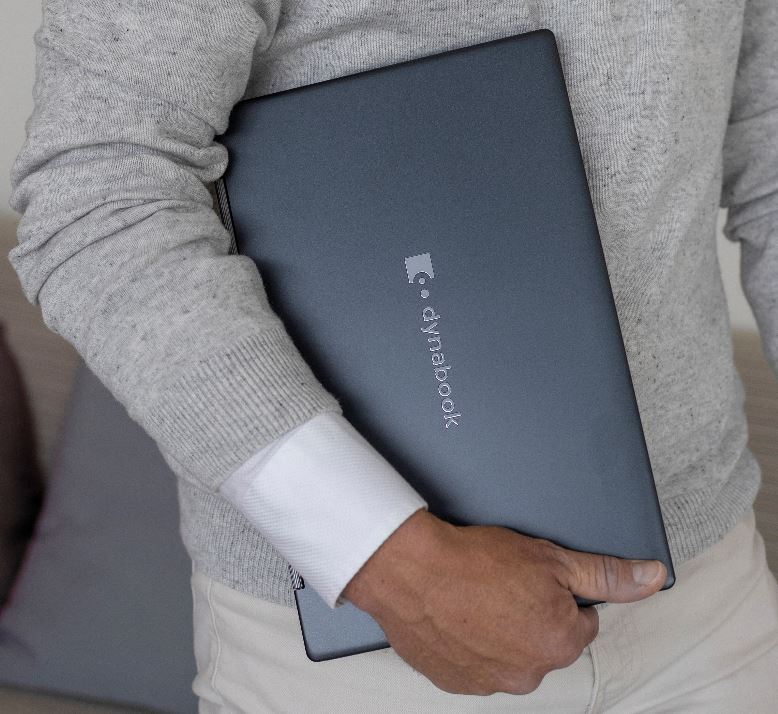 All that tech aside, it is a 400nit, 67Hz, 16:9 screen. Tests (on power) show from:
408 to 420 nits (very high level and reasonably even brightness)
1500:1 contrast
Delta E of 2.2 (good colour accuracy)
98.5% sRGB, 62% Adobe RGB (good for business use – DCI-P3 not measured)
G-T-G is 55ms – a little slow for games
Outdoor readability is fine due to the matte glass unless you are in direct sunlight
When running on battery instead of mains, expect about 80% of the above. For more details about the screen, check the video below.
In summary, this is a great matte screen that's suitable for x360 hinge use.
Digitiser
The screen has a WACOM AES 2.0 digitiser panel (AES is Active Electrostatic) and an active (uses a AAA battery) Multi-Protocol Stylus Pen. It is accurate and offers 4096 pressure levels. That also means you can use another WACOM stylus for different effects. We were impressed with its palm rejection.
Intel Iris Xe graphics
The Iris XE claims to deliver smooth full-HD 1080p gaming for most games. It is most comparable to an NVIDIA MX350. The Intel game compatibility page for the i5 version is here.
Processor
We used the term fastest before. Let's qualify that.
It refers to the current generation of low wattage, 12-28W laptop processors. The 10nm i5-11357G has a PassMark of 9,620, and the i7-1165G7 has 10,494. Desktop processors (with no wattage TPD constraints) can be twice as fast.
The processors have four cores and eight threads. The i5/i7 Geekbench 5 single/multi-core ratings are 1359/1410 and 5188/4658 – no slouch. We could not test the i7, but Geekbench confirms that the i5 is faster in multi-core.
You can read a comparison of the i5 and i7 here – the i5 seems to be the sweet spot.
We ran a stress test – 100% load (on power) for 15 minutes, and the processor temperature never exceeded 60°. A fan sat around 6300-6500 RPM, but there was little noise at <38dB.
We ran the same stress test on battery power, and it at once throttled at 80% – a Windows constraint that you can change at the expense of battery life.
And this supports the all-important PCIe 4.0 and 16 PCIe lanes.
Ram/storage
It has 16GB (two slots to 32GB, but it is not easy to access the slots).
Storage is via a single M.2 2280 slot – ditto to access.
Our test unit had a 256GB Samsung MZVLB256HBHQ-0007 with the new PM981A controller. This is a PCIe Gen 3 x 4 lane capable of 35000/3000MBps sequential read/write. There is a microSD slot as well. You can't ask for more.
Wi-Fi and BT
It uses the Intel Wi-Fi 6 AX201 adapter with 2×2 streams, MU-MIMO, OFDMA Uplink/Downlink, 1024QAM, VHT160 – in theory, it can reach 2.4Gbps data transfers. It is one of the better AX cards and achieves 2400Gbps (maximum) on our Netgear Nighthawk RAX200 tri-band AX11000, 12-stream reference router. Wi-Fi holds the data transfer well out to about 10 metres – excellent.
BT is 5.1 and is good to about 20 metres. It supports A2DP (2.0 audio) or HFP (mono plus a mic channel). Windows uses an SBC low-res codec.
Ports
It has more than you can expect for its size.
2 x Thunderbolt 4 (TB4) 40Gbps (backwards compatible with USB-C 3.2 Gen 2 10Gbps)
USB-A 3.1 Gen 1 5Gbps
HDMI 2.0 4K@60fps
3.5mm combo audio
We particularly like its HDMI 2.0 port showing that it can still fit into an ultra-slim body. And the USB-A is just so handy.
But the real test is the 2 x Thunderbolt 4 ports. Regrettably, we don't have any TB4 docks yet, but it performed flawlessly with the latest Plugable 60W powered TB3 dock using the latest Intel JHL7440 Titan Ridge Chipset supporting DP 1.4 and dual 4K@60Hz monitors. Belkin also has an 85W Titan Ridge Dock, but it uses a Display Port and the remaining downstream TB3 port to run dual monitors.
Battery
It comes with a 5V/3A, 9V/3A, 15V/3A and 20V/3.25A (65W) USB-C 3.1 PD 3.0 charger. The battery is 4-cell, 53Wh, capable of up to 16 hours use.
We used it for about two weeks in a variety of office productivity conditions. Invariably, it would last about two full days with the usual sleep mode settings when we broke for lunch etc.
The video loop test (1080p), 50% screen and aeroplane mode hit just nine hours. And on a power use day with all tests, it maxed out at eight hours.
Charge time is variable depending on the state of the battery and Windows settings (best battery life or best performance). When the battery is exhausted (estimates using a Power-Z meter), 20V/3.25A kicks in for the first 40% (about 30 minutes) and then scales back to lower volt/amperages. It then drops to 15V/3A for the next 30-40% and then back to 9V/3A and 5V/3A to top-up to 100%. In practice, a full charge takes well under two hours from 0-100% (Notebook off).
But, being USB-C, it is perfect to mate with the new breed of USB-C PD power banks. We tested it with the SuperTank Pro 100W 26800mAh, and it charged it two times at about 70% of the wall charger speed. We also tried with a ZMI 65W 20000mAh, and it kept up with the drain and provided about 1.7 charges. It was about the same charge speed as Supertank.
We also tried with the new Belkin 68W GaN Dual charger (use a suitably wattage rated USB-C cable), which was perfect.
Keyboard and trackpad
One of the best keyboards we have used with the perfect 1.5mm throw and 45g actuation. It has injection moulded letters (won't wear off like decals), well-spaced and placed keys, and three-level (plus off) motion backlit to save battery. There are a few different key placements, but you quickly get used to that.
The 100 x 55mm trackpad is responsive. It will traverse about 2/3rds of the screen in one swipe. It has two-finger touch – tap, drag and pinch. That means heavy mouse users may want a BT mouse as well.
Camera 1 – selfie and Windows Hello
The .9MP, 1280×720 screen-top camera has a privacy shutter slide and dual mics. It has IR for Windows Hello face authentication. It has a second 8MP, 3280 x 2464 camera above the keyboard for use in presentation mode. All are fixed focus and perfect for group chats.
Camera 2 – deck
Just above the keyboard is an 8MP camera capable of HDR 1080p@30fps. What is it for. Well, when you fold the x360 hinge to tablet or tent presentation form it enables video conferencing. And at 8MP with HDR it takes a pretty good photo – think whiteboards etc.
Sound
The Harman Kardon stereo speakers are down-firing from under the front of the keyboard. This is its one design weakness as they lose some 'oomph' when used in tablet or tent presentation style.
The maximum volume is 75dB with no noticeable distortion – it is quite pleasant.
Dolby Atmos (a most used and abused term) means decoding and downmixing Atmos content and metadata to its two speakers. It does not add 3D spatial sound nor increase the fairly narrow stereo sound stage. The good news is that no other so-called Dolby Atmos laptop does either.
It helps to select Dynamic, Movie, Music, Game, voice and make personalised EQs (equalisers) with +/- 12dB from 240Hz to 14kHz.
Sound-wise, on the default Dolby Atmos settings (no customisation), it is remarkably composed. Good mid-bass from 100Hzm rising to flat (good) right up to nearly 20kHz. This is excellent as it allows the Dolby EQ to do its job from balanced, warm and sweet, bright vocal to bass. You can read more about sound signature here.
BT 5.1 is purely the SBC codec, so you get plenty of volume and clear two channels. Dolby Atmos, as per the speakers, does not give you an enhanced sound stage in headphones.
Software/Bloatware
It comes with Windows 10 Pro for commercial use, e.g. it can join a network domain. Apart from the usual Windows bloatware, it has Dynabook Settings that allow you to customise USB charging, keyboard and more or reset to default settings. One setting that deserves accolade is the eco Utility, where you can fine-tune power use to your usage.
The Dynabook service station is for software and driver updates outside the Windows Update service. It also has hardware diagnostic tools, troubleshooters and other options.
Overall, these add value bringing together settings that you would otherwise have to hunt for in Windows.
Security
Given its focus is for business use (why should they have all the fun), it offers a range of Windows and Dynabook tools. We will list these for convenience.
BitLocker Encryption Drive, Device Access Control, Device Guard for Win 10, Execute Disable Bit, Hard Disk password prevents unauthorised access to the Hard Drive, Slim Security cable lock slot for optional theft protection devices (right side), Trusted Platform Module 2.0 (TPM) for authentication (i.e., encryption), User and supervisor password prevents unauthorised access to startup the Notebook at the BIOS level.
Magnets and accessories
Magnets secure the screen to the base. While they should not affect mag stripe cards, keeping them away from the keyboard palm rest is wise.
There is a range of Dynabook accessories here, but our strongest advice is to wait for a TB4 dock. Otherwise, all the existing TB3 and USB-C accessories from any vendor will work fine.
GadgetGuy's take:
The Dynabook Portégé X30W-J is wonderfully light, powerful and pretty perfect.
As the evolution (Evo) from 2020 Athena notebooks (that we also considered pretty perfect), it has everything you could want. Plus, something uniquely Dynabook – no marketing hype.
We have never seen a more subdued website, no outrageous claims, a full set of specifications, and plain good information- ten points to Dynabook.
There are many 11th Gen Intel Core Portégé models, too, so you can get what you want. The PDA11A-01N003 (as tested) i5 with 16GB of RAM at $2299 is perfect for most users. The top specified i7/16/512GB is $2574. But remember, you will only see these at approved, specialist resellers – these are not CE retail products.
Rating this is easy – it is a clear 10/10. But it is the first Evo format we have reviewed, and we may revisit that score after we see HP, Lenovo, Dell, ASUS efforts.
Note on review ratings
The original review of 5 January 2021 was an early production sample. Dynabook sent a production model in late August to 'revisit'. We stand by our perfect score review.
Dynabook Portégé X30W-J, Dynabook Portégé X30W-J, Dynabook Portégé X30W-J, Dynabook Portégé X30W-J, Dynabook Portégé X30W-J
Dynabook Portégé X30W-J – Intel's Project Evo begins (updated review)
The Dynabook Portégé X30W-J is an ultra-light weight 13.3" Intel 11th Generation notebook. It exceeds the new Project EVO specifications.
Positives
Intel Evo standard sets new highs for laptops
Battery life is solid – a full workday plus
Gorilla Glass NBT screen beats soda glass every time
Good honest specifications – not full of marketing hype
Negatives
None really – perhaps a tad conservative-looking