No review of air purifiers would be complete if we did not include Dyson. The Dyson 2020 air purifier range is, in fact, still the Dyson 2019 range due to COVID issues.
Our Dyson 2020 air purifier range reviews, sorry 2019 reviews are here. To give credit where its due Dyson single-handedly renewed interest in air purifiers well before it was a 'must-have' product.
His approach is science-based. It sets out to improve the solution by application of other Dyson inventions. Things like the Coanda effect (Dyson calls this an Air Multiplier), his quiet DC high-efficiency RPM motors (like in his vacuum cleaners) and Dyson research into air science seen in the app.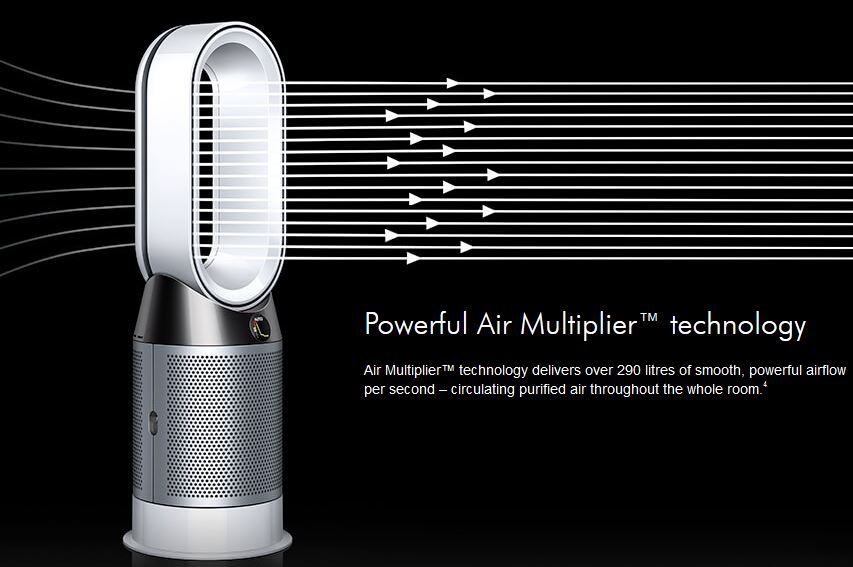 So what you have are products that do an excellent job, cost a motza, and are very hard to categorise.
By that, I mean a typical air purifier can be rated on CADR or filtration efficiency (see below). Dyson re-wrote the book, went his own way and, well makes distinctive products that often defy the principles of CADR.
Why defy the principle of CADR?
I have seen even the smallest Dyson air purifier clear the smoke from a 25m3 test room in a matter of minutes. This indicates that the forward-facing fan and Coanda effect are more efficient than standard purifiers and draw the air to the unit.
Why a purifier and what we look for?
Most true air purifiers use a mix of filters – pre-filter (for larger visible particles or <PM10), HEPA (High-efficiency particulate air for micron-sized <PM2.5) and activated carbon (for noxious gas absorption). Some add UV and other sterilising light.
Currently, no filter traps more than 99.XX% of everything and we are extremely suspicious of any filter that claims it traps and kills COVID or a similar virus.
Filters generally quote a CADR (clean air delivery rate in m3/hr). For example, a typical bedroom 3x3x2.8m (about 25m3) has 25,000 litres of air to clean. Now if you can close the windows and doors, CADR is not such an issue as once cleaned it remains that way until more 'dirty air' enters the room.
Purifiers either have a directional fan or just vent the air back to the room.
And then we look at ongoing energy and maintenance costs.
Australian review: Dyson 2020 air purifier range
This review uses the new format we are using for all 2020 air purifiers and covers Dyson Pure
hot+cold HP04 in white/silver and black/nickel purification to 81m3 and heating to 35m3 $899
hot+cool Link HP03 colours as above RRP $799 and runout $599
cool TP04 white/silver $799 purification to 65m3
coolme BP01 white/silver and gunmetal/copper purification to approx. 25m3 $499
Obviously, a combined review requires ratings for each, so we have compiled an average.
Website here
Warranty: 2 years ACL and Dyson pays the freight both ways
Country of Manufacture: Malaysia
Dyson is a British technology company established in the United Kingdom by Sir James Dyson in 1991. It designs and manufactures household appliances such as vacuum cleaners, air purifiers, hand dryers, bladeless fans, heaters, hairdryers, and lights. As of February 2018, Dyson had more than 12,000 employees worldwide. In January 2019 it moved its headquarters to Singapore.
Remember that this covers all four types. We use FAIL, PASS and EXCEED against all test paradigms.
First impression – EXCEED
Most people love Dyson products. It is almost an irrational cult thing where the price is immaterial – a bit like the status that cult Apple used to enjoy.
Our household has tested pretty well all its products over the past few years and ended up buying them too. Doesn't matter if its fan/purifiers, hair dryers/stylers, vacuums, work lights etc. Somehow my Scottish 'Shop at Kmart' ethos has been smashed!
In part it is because the products are so well designed, packaged, marketed and supported. And when you have a problem (pretty rare) support is phenomenal! They already have a database of all sales, will send you a shipping carton to return the product and then ship it back. All very pleasant support staff dedicated to helping you – 10 points.
And I think those pleasant staff represent all that is right with Dyson. It's a great British company that does not give a rats backside about what other me-too companies do. It sets impossibly high standards and delivers.
Enough of the Dyson fan club.
The Dyson 2020 air purifier range has a tall-tower, a mid-tower and a baby tower. They are all
Cylindrical
Have Dyson air multiplier technology (in brief it expels up to 10X the air it sucks in)
Share same design traits of a perforated metal base over patented filters, remote controls etc
The mid and tall tower has front and rear air dispersal, customisable oscillation, colour readouts and an app
Baby tower achieves the air multiplier effect by blowing over a convex surface. It is for personal use
CADR – How do you measure what does not conform to typical CADR
In our 2019 reviews, we got so hung up on trying to slot these into CADR holes that we confused readers. So here is our best estimate
HP04 – 314 Litres/second 10X multiplier 113,040 L/hr or CADR of 113m3/hr
HP03 – similar to above
TP04 – 290 Litres/second or CADR of 104m3/hr
BP01 – 281 Litres/second or CARD of 101m3/hr
Now, these are on maximum fan speeds so half this for 50% fan speed. Even so, a bedroom is approx 25m3, and a lounge is around 60m3.
Depending on model Dyson turns over the air about two to three times per hour. This is fine as long as you can control your dirty air intake. And the HP04/03 are pretty similar to the DeLonghi air purifier fan/heater review here.
So, logic says that these are more micro-zone devices, but the HP04/04 and TP04 are more than capable of working in larger areas.
Filter efficiency – EXCEED
All HEPA and Carbon filters will remove 99.X%, and no one needs stress if it is 99.95% like Dyson!
The units with a colour readout use a two-part Glass HEPA and Activated Carbon Filter. These are $99, and the machine tells you when to change. Life is about 4000 hours, depending on the air quality.
The BP01 uses the same filter materials in a single filter at $99.
The lifespan and prices are reasonably comparable with other filters.
Dyson purifiers are certified asthma and allergy friendly by Allergy Standard Limited.
Airflow – EXCEED
This is where Dyson wins hands down.
Out the front with a Conanda Effect moving quite a lot of air in a gentle fan motion – not a gale
Out the back – diffused and no Coanda
350° oscillation programable in 45° steps
Tilt adjustment
Night-time mode
Yes, you can use these as a fan, and they are quite effective
BP01 has approx. 90° oscillation and up/down airflow adjustment
Sound levels – PASS+
Sound depends on fan speeds and to some degree the surface it sits on.
Our tests were (average over three units)
| | |
| --- | --- |
| Auto | dB at 1m |
| 1 | 20.1 |
| 2 | 26.3 |
| 3 | 28.3 |
| 4 | 30.6 |
| 5 | 37.9 |
| 6 | 40.4 |
| 7 | 41.4 |
| 8 | 46.1 |
| 9 | 48.2 |
| 10 | 51.6 |
As the fan oscillates through 90°, the dB level can increase up to 3dB. In all up to fan speed, five is fairly quiet.
Indicator – EXCEED
The colour screen is extremely informative, and perhaps you don't need it.
It tells you PM110m VOC, NO2 and a graph of air quality over the past few hours. Also, it shows current room temperature, humidity, Wi-Fi setup, filter life, and fan/airflow speed. Just what a techy wants.
The information is also in the Dyson app. It is also a remote control. If you like to know about your environment, there is no better app. There is one caveat – you need to enable continuous monitoring.
Maintenance – PASS as long as you are aware of the future costs
The 360° intake grill is removable for cleaning. Simply wipe the rest over.
The filter is not washable and has an estimated life of 4000 hours for $99.
Safety – PASS
HP04 is 763 x 248mm round and 5.71kg. You use the tower as the lifting handle
HP03 is 105.4 x 223mm round and 4.94kg – ditto
BP01 is 401 x 195mm x 2.8kg. Lift holding the sides as the top slips off
They are ultra-safe around children as they have no fan blades or hot surfaces. But the towers present a tripping hazard to small children although the weight is probably insufficient to do any damage.
Power use – EXCEED
Dyson uses an AC to DC wall plug and running costs as a purifier and fan are extremely low.
The heater can go between 500W to as high as 2500W. If you use it on Auto and select 21° power use is negligible. Full power tests are here in our original review/.
GadgetGuy's take – Dyson 2020 air purifiers have a place in the home.
Once we techy types get over the apparent CADR disparity between Dyson and other standard air purifiers you begin to see that its all about design and efficiency.
For larger open areas we would opt for Samsung, Coway and Philips with 400m3/hr of more CADR that are probably going to be better in larger areas.
But for your bedroom the small BP01 Coolme is perfect.
And for 60-80m3 rooms the HP04 fan/heater or HP03 fan are perfect.
Dyson is one of the products that work better than specified.
Ratings
These are an aggregate of ratings. If something PASSes we start at 4/5. It if EXCEEDs we add points etc. In the right environment these average 4.5/5.
You can check other air purifier reviews here
Positives
High tech – use with and without an app
Very efficient – forget about CADR
Recommended for a smaller home and closed spaces
Negatives
Depending on use filters need replacing every 12-24 months