The Dyson Pure Cool is its latest air purifier – sorry, air treatment product. And, in typical Dyson style, everything is over-engineered including the price!
That is not to say the Dyson Pure Cool is not worth it, but you must be prepared to join the Dyson clan, and all that entails. What next? A $500 hair dryer or a $1000 vacuum cleaner. These have a $649 and $799 price tag for what effectively is a fan/filter combination that can remove up to 99.95% of airborne fine particles and pollutants.
Why do you need an air purifier?
The air we breathe carries pollutants including sulphur dioxide, carbon monoxide, nitrogen dioxide, ozone, and large (PM10) to small (PM2.5) particulate matter. You can view this on an hourly basis at the NSW Air Quality Data website (or the equivalent site in your state).
I live in the Sydney coast area, and overall its air quality ranges from very good to fair most of the year. In spring PM10 particles kick up as little (causing hay fever and eye irritation) and you have the occasional bushfire that can take the air to very poor or hazardous.
Air pollution is a 21st-century health problem due to traffic, tunnels, construction and local environmental issues. That is where an air purifier can be handy, and there are many fan/filter products – each has a 'sweet spot' for use. That may be coverage (measured in CADR – clean air delivery rate), filter types, running costs or even air movement capability (as a fan).
Review: Dyson Pure Cool Desk Fan
There are two Dyson Pure Cool fans – the desk type ($649) as reviewed or the tower style ($799). Apart from the doughnut style desktop (air amplifier in Dyson speak) or flattened oval tower, they do the same. I suspect that most will favour the tower ascetics over the desktop model.
How it purifies
It has a Glass HEPA (high-efficiency particulate air) that captures down to PM2.5 particles. Inside that is an activated carbon filter that can absorb many noxious gasses. Replacement filters are $99 for the pair. There are no specifications for the quantity of active carbon nor both the filters surface areas, so we cannot comment on the efficiency. In comparison to other brands, they appear smaller.
What we can say is that after four weeks of use the test room has noticeably less dust on the furniture.
Maintenance
Dyson recommends the replacement of both filters every 12 months based on 12 hours per day use. If you select continuous monitoring, it can shorten the filter life to 6 months. In practice, the machine will indicate replacement based on air quality and hours of use.
Room capacity
While the Coandă effect means a 'blown' air volume of 290 litres per second (maximum fan speed 10) the filtration rate appears to be 10 litres per second – a CADR of 36m3 per hour. That is low, and the impression from the website is that it is for use in a larger area. To do a large open space lounge, you need a CADR of more like 10x – over 300m3 per hour. Website images may lead you to over-estimate its capabilities.
To put that in perspective a smallish bedroom of 3 x 3 x 2.4M is 21.6m3 or 21,600 litres of air. Both devices can turn over the air in about 36 minutes, so it is suited to single rooms where you can close doors and windows.
PS – Dyson are welcome to provide CADR rates for both devices, and we will update this estimate.
Still, in a typical bedroom, it will clean the air and provide enough fan volume for that space.
Fan speed and noise
It has ten speeds. Speed from 1 to 4 are quiet enough to sleep with (use the Auto setting), but from 5 to 10 it ramps up from 55dB to over 65dB (far too loud for sleep)
The unit silently oscillates up to 350°, and you can set it for 45° increments – handy to stop air blowing over your sleeping partner.
Both devices have a forward projection (fan style) and a diffuse projection (blows air back – not at you). It has a timer for up to 9 hours.
Warning: A fan cannot cool.
Whatever the ambient air temperature is, that is what it blows out. A fan can provide a minor cooling effect via evaporation if you sweat – that is all.
The biggest complaint on Dyson customer reviews is that it does not cool as per its name.
Power
It uses a 20V/2.5A, 50W power adaptor with a 2m cable. We found the cable a little short, and the adaptor is a largish rectangle that could pose a trip hazard when used with an extension cable. It would have been good if Dyson sold an extension cable.
Size
The round desktop version is 352mm at the air loop and 691mm high. The tower is 206mm at the air loop and 1054mm high.
LCD colour screen
The screen can display air quality index (analogous with the NSW website), PM2.5 and PM10 volumes, NO2, VOC, Indoor temperature and humidity (at the fan intake). Missing is a CO2 measurement that would be handy for closed rooms.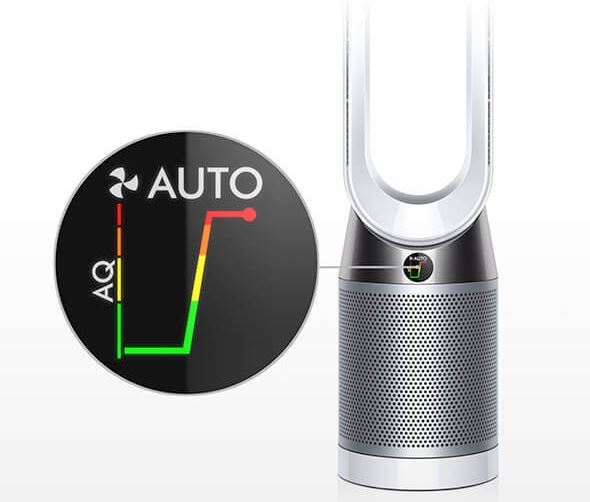 Dyson App
The app is for all Dyson air treatment products. It allows customisation of machine settings, shows historical data, set continuous monitoring (can shorten the filter life to 6 months), advises filter replacement time and more.
It can also enable Amazon Alexa Voice skill. What this means is that any request starts with "Alexa, ask Dyson Purifier to …". Given that Google Assistant is winning the home automation race in Australia three-to-one over Alexa we trust that OK Google will come too (no response from Dyson on this question). It also does not support IFTTT commands – for example, if AQI is over 50, then start the machine etc.
The app failed to complete set-up when the unit was more than 10 metres from the router. At three metres from the router, it was fine but when back in the bedroom it failed again. App performance (even when using a Samsung Galaxy Note 9 with one of the strongest antenna setups) was patchy.
It uses Wi-Fi N 2.4GHz and a Google Home Hub placed even further away works fine.
After the initial app and Alexa novelty wore off, we found the remote far more convenient.
GadgetGuy's take: Dyson Pure Cool
Please don't get me wrong – Dyson sees products and makes them better. The gear is well designed, well made, and fit for purpose.

However, I am becoming increasingly critical of the marketing direction of the company that bears the name of such an esteemed engineer as Sir James Dyson.
It's marketing now relies on a lack of facts and its dependence on inexact science is troubling. For example, all air purifiers should have a CADR rating and clear specifications for filter capacity etc. Dyson instead uses a highly misleading Coandă effect. Please, Sir James – return to your roots and bury us in specs. Stop trying to be the Apple of the appliance world where everything is glossy and dumbed down!
Bottom line: This is a very expensive, single small room purifier that is well made and will do the job. Filter replacement costs are above the price of comparable brands of air purifiers.
Positives
Well-designed, well made
Kid safe – no blades
Effective for a bedroom sized space
Quiet for sleep use when set to Auto
2year warranty and excellent after sales support
Negatives
Not for larger or open spaces
Website is too short on detail and too long onm marketing hype