Cleaning is my most detested household chore. Its combination of repetitious monotony drives my brain up the wall – who wants to spend hours cleaning, only to have to do it again a short while later? Thankfully, trialling a robot vacuum for the first time has considerably eased the load. A capable mid-range device, the Ecovacs Deebot Neo satisfyingly cleans your floors, saving you time and tedium.
In recent months, I've been recovering from major knee surgery, and my partner is chronically ill, which means cleaning is low on our list of priorities. We either don't have the time or energy needed to vacuum the house as regularly as we'd like. Previously, I'd viewed robot vacuums as a novelty, something that looks cool but surely couldn't reliably clean a home. After testing the Ecovacs Deebot Neo for a while, I'm pleased with how wrong my misguided preconceptions were.
Ecovacs Deebot Neo first impressions
As with most modern technology, much of the initial setup happens within an app. After installing each individual component (mainly its brushes) to the circular robot vacuum, which was quick and easy, the Ecovacs app guides you through the startup process. As part of this, it prompts you to remove as much clutter from the floor as possible. However, it's important to leave furniture where it normally sits, as the robot learns how to navigate around fixed objects during the mapping process. It's also a good motivator to keep the floor relatively clear so you get the most out of the device.
To map your house, the Deebot Neo – which my partner named Betsy – rolls around the floor on its wheels, scanning the surroundings using a laser-based sensor technology referred to as TrueMapping. This generates a floor layout of your home in the app. It's fairly good at sensing objects and furniture in the way, and even when it does collide with something, it's only a gentle tap before rerouting. I followed the robot around the house for about an hour during the mapping run and only had to help it once after it got stuck on a rogue piece of cardboard.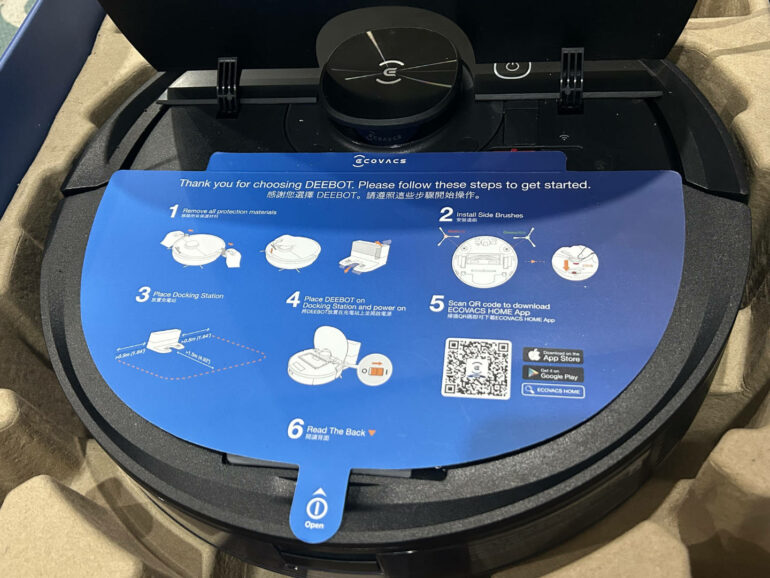 When preparing the Deebot Neo for its first genuine cleaning run, I couldn't figure out how to disable mopping mode, as I wanted to primarily test its vacuuming efficiency. As it turns out, there's no app function to swap between vacuum and mop: you instead need to remove the mop plate and water compartment housed on the rear, which is simple enough.
To say I was impressed with how much stuff the robot vacuum picked up off the floor would be an understatement. Dust, hair, fur, and kitty litter kicked around by our playful cat – the Deebot Neo sucked it all up. Aside from the guilt caused by how dirty the floor was, I cursed myself for not using a robot vacuum sooner.
Specifications
Ecovacs Deebot Neo performance
Hard floor vs carpet
Our place has mainly tiled flooring, which I'm told is where robot vacuums truly shine. Using its spinning side brushes to collect dust and small debris, the Deebot Neo easily took care of anything on the tiles. On the other hand, our carpeted bedroom provided more of a challenge. To be fair, this carpet is dreadful to vacuum at the best of times, catching anything that falls to the floor and refusing to let go. Surprisingly, the robot vacuum performed satisfyingly well on the more challenging surface. The carpet looked noticeably cleaner, and the vacuum's small bin compartment collected more than I expected.
To see how much I could get the Deebot Neo to pick up off our notoriously difficult-to-clean carpet, I adjusted some settings in the Ecovacs app. During the mapping process, it cleverly identifies different rooms – which you can adjust if it gets things wrong – and you can change settings per room. For our bedroom, I cranked the vacuum power level from the default medium setting up to high. On its next cleaning run, the robot vacuum audibly powered up to a higher setting after entering the bedroom. This time around, it picked up even more stuff trapped in the carpet.
A hairy situation
What it picked up a lot of, was my partner's hair. She has a long and thick mane, of which many strands found their way into the Deebot Neo. Semi-frequently, I received notifications – via the app and the device's robot voice – that the vacuum's main brush was tangled, requiring manual intervention.
Fortunately, the main brush is easy to remove and clean. Included within the Neo's top flip compartment is a small multi-cleaning tool. It has a mini blade housed within a hook that's both safe and makes cutting and untangling hair super simple. Ideally, you wouldn't have to manually fuss around with untangling hair, but it's a minor nuisance in the grand scheme of things. Plus, my partner's hair is infamous for claiming every corner of the house.
Another small annoyance is that the Deebot Neo doesn't notify you when its bin is full. At this price point, it doesn't include an auto-empty dock, only the base charging station (although you can purchase a dock separately). It's not an issue whatsoever, given that removing the bin, emptying it, and placing it back in is effortless. This being said, if you forget to empty the small container between vacuums, it will keep going and leave bits behind instead of shouting at you to clean the bin.
Conversely, the idea is that if you set the robot vacuum to do daily cleaning runs and routinely empty its bin, you shouldn't need to stress about filling it up. Double conversely, people (like me) are sometimes forgetful, which is where notifications help.
Smart navigation
Back to the Ecovacs app, aside from room-based settings, you can also set schedules, including a do not disturb mode between set hours. This means you can set the Deebot Neo to clean during hours that suit you, and it won't start any routines when you don't want interruptions. You can also tell it to just clean specific rooms, which is handy if you want to do a quick once-over before guests arrive or make an area extra tidy.
One of the most helpful uses of the app is its geofencing functions. If you have areas you don't want the Deebot Neo to go, it's as simple as drawing a rectangle in the app. We have a silicon mat on the floor near the kitchen where our cat's water dish sits, which the robot vacuum tried to drag along, spilling water everywhere.
After designating a no-go zone in the app, we've never had a repeat incident. My only negative experience with the Ecovacs app so far is that it encounters occasional dropouts with the paired device. However, I found that by navigating to the app home page and then selecting the Deebot Neo again, it reconnected and updated almost immediately.
Can it mop?
Although the Deebot Neo's vacuuming and smart features impressed me, its mopping did not. However, especially in the sub-$1,000 range, I'd view any mop functionality as a bonus to a robot vacuum's vacuuming capabilities. By filling its reservoir with water and attaching a mop pad, the Neo wipes over your floor, albeit without enough downward scrubbing force to remove scuff marks and the like. It left a small trail of water behind and some streaks as well, but I also found that it didn't cover as much surface area as it does during vacuuming.
Even when vacuuming, there are crevices and corners the Deebot Neo simply can't fit into. It's not going to contort itself behind the TV cabinet and pick up long-forgotten dust, so some manual dusting and hand vacuuming are still needed. What this device does do, is wonderfully complement whatever cleaning system you currently have, saving you time on daily maintenance.
Would I buy the Ecovacs Deebot Neo?
As a newcomer to the world of robot vacuums, I would absolutely buy one of these. It vacuums well, smartly navigates around the house, and is easy to maintain. Even though I wouldn't use its mop, the Deebot Neo's general vacuuming and tidying prowess has already proven a winner in our household.
You can also find Ecovacs devices regularly discounted across various retailers. At $799, the Deebot Neo is worth it – any sale you find makes it an absolute bargain for what is an immensely helpful household appliance.
Positives
Good vacuuming performance
Easy to set up and adjust settings via the Ecovacs app
Smart features work as intended
Negatives
Streaky mopping performance
Semi-frequent hair tangles
No full bin notifications