These days, most Bluetooth speakers are cylinders. Some are long. Some are short and stubby. Perhaps one reason why I so enjoyed the Ecoxgear EcoEdge+ waterproof Bluetooth LED lit speaker was that it's a flattish square. A very, very colourful flattish square.
Review: Ecoxgear EcoEdge+ waterproof Bluetooth LED lit speaker
Manual and Support pages here.
Price: A$149.99
From: Legitimate retailers and direct
Warranty: Three years
Country of Manufacture: China
About: Ecoxgear is an American company based in San Diego.
About the Ecoxgear EcoEdge+ waterproof Bluetooth LED lit speaker
First, let me remind you of our previous play with an Ecoxgear speaker. It was the wheeled-baggage-like Ecoboulder+ speaker. Without taking formal measurements, I'm going to estimate that the Ecoboulder+ could handily accommodate about sixty Ecoxgear EcoEdge+ speakers. But like the (much) larger speaker, this one is rated for outdoors. Specifically, it has an IP67 rating, which means you can drop it in the drink for up to half an hour … so long as it doesn't go more than a metre deep. But it won't, because it floats.
As that may suggest, this is pretty much a party speaker. After all, one of its rubberised corners has an inset bottle opener.
The speaker presents a square face to the world, about 140mm by 140mm, and it's about 56mm deep. Weight? Some 484 grams according to my scales. On the front is what I'd estimate to be a 65mm driver underneath a sturdy grille. At the back is a passive radiator to enhance bass.
It's available in orange and a dark grey.
Ecoxgear EcoEdge+ power
Ecoxgear says that the speaker produces up to 20 watts of power.
The 3.7 volt, 3200mAh battery is rated at 20+ hours of operation. Twenty hours of operation would suggest an average draw of a bit under 0.6 watts, which seems about right.
On one side are a bunch of buttons for on/off, volume, play/pause, track skipping, LED light control (more on that later) and even for combining with another speaker from the same stable to operate as a stereo pair.
On the bottom is a quarter-inch camera mount. Ecoxgear sells some not unreasonably priced suction mounts, plus one for the handlebars of your pushbike!
Ecoxgear claims a 30 metre Bluetooth range. Underneath a waterproof silicone panel, alongside the Micro-B USB port for charging, is a 3.5mm analogue input. Useful.
Using the Ecoxgear EcoEdge+ speaker
It's a bit ridiculous, really. As I'm sitting here in my office, I'm right in front of a pair of (presently silent) $2,000+ speakers, compact models driven by 125-watt per channel amplifier, with an $800 subwoofer under my desk to fill in the bass solidly down to 30 hertz. They are sitting to the left and right of my computer monitor, on Isoacoustics stands. Over to the left at the front of my office is a $5,000 audiophile amplifier attached to a pair of 70Kg, 1.5-metre floorstanding loudspeakers which are perfectly happy delivering bass all the way down to 20 hertz. Over to the right is a 7 x 105 watts Denon home theatre receiver with, well, seven speakers attached, plus a 15-inch subwoofer with a response I've measured flat to 16 hertz.
As I said, it's ridiculous. Because I'm tapping my foot to music being delivered by the Ecoxgear EcoEdge+. It's sitting about 2.5 metres away on a bench to my right. Okay, there are clear limitations. Obviously, the bass isn't strong. But there's enough there to be reasonably satisfying. For example, the brief bass solo towards the end of "I Am One" on Smashing Pumpkins' album Gish was clean and suggested more than enough to allow one to hear/imagine the full performance. The kick drum was evident only in its upper harmonics. But again, that suggested enough for the brain to work out what was going on.
A bit of volume
I'm not going to rave about the sound. Well, not too much. But what I will say is that it goes surprisingly loud, surprisingly cleanly. Especially for a Bluetooth speaker priced at under $90. It does have something of a treble-forwards character. Since it has that in common with the larger Ecoboulder+, I'm figuring this is intentional design. If a speaker is designed for outdoors, a bit more treble is usually a good thing.
The connection was sure and reliable. Things like the play/pause control worked perfectly well. You can invoke your phone's smart assistant by holding down one of the buttons for two seconds. It works perfectly well, but it turns out that two seconds it quite a long time to be holding down a stiffly sprung button.
Going back to the 1980s
There are voice prompts. Here's the note I wrote about the female voice that announces status from the speaker: "8-bit 'power on, connection successful' voice, sounds like 11kHz sampling, too." It would be silly to measure such a thing … but, well, the question nagged at me a little. Was I right? I recorded the power off announcement and found that I'd been too generous. The sound output cut off hard at around 4kHz, suggesting just 8kHz sampling. And the signal to noise ratio was around 34dB, suggesting 6-bit sound. In the real world, that means 8-bits.
Sorry about that. It has no impact on performance, other than noisy, bandwidth-constrained status announcements. But sometimes I find myself compelled to follow that rabbit down into its hole. Having done so, I might as well report the results.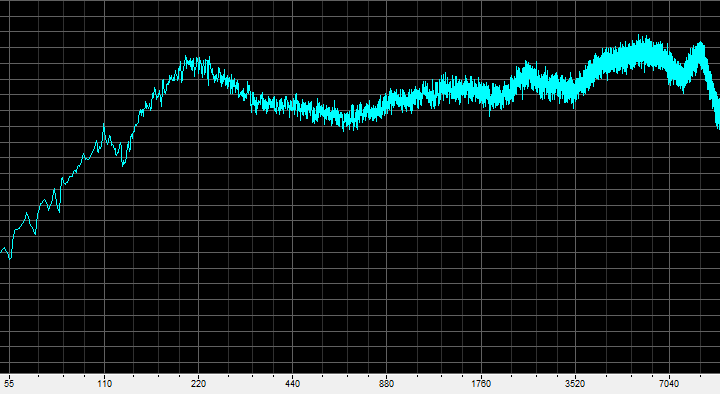 Since I had the Behringer ECM-800 measurement microphone deployed, I checked the frequency response using pink noise (rebalanced after the measurement.) At the front, the speaker reached up a little beyond 16kHz, while at the bottom it peaked at just over 200 hertz, then fell away quite sharply to be down by 10dB at 140 hertz. But measuring at the back – that's where the passive radiator is – there was a modest contribution down to 120 hertz. Again, the output fell steeply below that to be -10dB at 102 hertz.
After perhaps five hours or use, I finally discovered what the four green LEDs were on the top of the unit: battery level. All four had been glowing persistently. Now, as I'm doing a final edit on this review, we're down to three LEDs. There's still plenty of power. You won't run out in any party.
Musicolor
Back when I was in high school – a very, very long time ago – my friends and I were kind of tech support for the school socials. By which I mean, we built gadgets to enhance the experience. They were kits from Dick Smith Electronics, which brought to life designs from Electronics Australia. (Digression: DSE eventually decided to become just another consumer electronics retailer … and disappeared within a few years. Electronics Australia decided to become just another magazine about consumer electronics, and after about two issues it also was gone. Stay in your lane guys!)
The two main things in demand were strobe lights and Musicolor kits. (This was before uppercase letters in the middle of a word were invented.) If I recall correctly, the strobe light used a curved light tube with a high tension wire wound around it … exposed to the outside world. The Musicolor kits took an audio input and used it to control three 240-volt output sockets. You'd plug a blue, red and yellow floodlight into those sockets, and you'd have a pulsing, colourful backlight keyed to the music.
Danger, danger!
(The superpower of nerds is that regular people have no understanding of what they're doing. Which is why we students could make potentially lethal main's powered equipment. I suspect that would be less true these days. Not because regular people have any greater understanding, but just higher levels of suspicion.)
Coming back to the Ecoxgear EcoEdge+ speaker, that "LED lit" thing in the product name is kind of like the Musicolor. The cone of the speaker driver seems to be somewhat translucent. Behind it are RGB LEDs. By default they're off. But press the button on top of the Ecoxgear EcoEdge+ and you can cycle through a red backlight, a green one, one that fades from colour to colour and a Musicolor one that flashes and switches shade in time with the music. Heh, it's just a bit of fun. The video on this page shows it in action.
Gadgetguy's Take – the Ecoxgear EcoEdge+ is a fun, listenable and remarkably robust Bluetooth speaker
And at $89.99, it's great value for money.
Very good value for money
Waterproof and it floats
Bottle opener!