The EPOS ADAPT 660 BT, ANC headset is Sennheiser's design for premium UC (unified communications) use. It is also a damned good BT, ANC over-the-ear headphone as well.
The EPOS ADAPT 660 BT, ANC is based on our favourite Sennheiser travel headphone – the ultralight 227g PXC-550 II with some tweaks for business UC use.
BTW EPOS is the new name for Sennheiser's UC and Gaming divisions (GadgetGuy announcement here), so it has a 75-year sound heritage that is very hard to beat. You will see more of EPOS as a brand but remember it is from one of the best.
And don't be put off by the term UC – it simply means that you need the best possible sound to deal with remote customers.
EPOS ads its secret sauce – EPOS AI to the PXC-550 II so we will try to show the differences.
Australian review: EPOS ADAPT 660 BT, ANC headset
Australian website here
Price: $640 but shop around
From: Authorised dealers but also check online as you may bag a bargain. Beware online may not come with ACL warranty.
Warranty: 2-years ACL and covers commercial use (no consumer brands/models do not cover this)
Country of manufacture: China
EPOS is the commercial division of Sennheiser. Its products have Danish design. It has solutions for call centres, business and more.
We use the terms FAIL, PASS and EXCEED against all review parameters for this type of device.
What is the EPOS ADAPT 660?
Over-the-ear, Bluetooth 5.0, Adaptive Noise Cancelling headphones with up to 30-hour battery. Its base is the excellent Sennheiser PXC-550 II.
The key difference is that it is UC Certified. That means it works with almost all teleconference apps and even has a 'purple' button to initiate (among several things) a Microsoft Teams session, place a call and record it. At present, the purple button is MS Teams specific, but I understand that an app will adapt it for Zoom, Webex, Skype etc.
It comes with a USB BT dongle BTD 800 in case your UC device does not have it. The theoretical range is 25 metres but if you wander around the office limit that to about 10 metres.
It has a 1.2m USB-A to micro-USB cable and a 1.4m 3.5-2.5mm audio cable. The pièce de resistance is that it all folds down into a compact hard-sided carry case.
BTW – It is one of the few headsets (headphones) that has a built-in USB DAC. What that means is that it can charge via USB and play music at the same time. Not even or Sony reference WH-1000xM4 can do that. It is reason enough to buy Sennheiser headphones.
EPOS AI – EXCEED
EPOS says its AI is for crystal clear calls, adaptive ANC and superior stereo sound. Adaptive ANC means it monitors outside noise and adjusts noise reduction as needed. It also reduces wind noise.
What we can find is that it has three AI voice mics and four ANC mics. That is seven – quite a lot.
There is a white paper on EPOS AI here (it is a PDF so check downloads folder) but here is a summary
Machine learning identifies use, voice and noise patterns. It can extract voice from the other noises like ringing phones, chatter, traffic, barking dogs and much more.
The hard yards are put in at the EPOS sound lab and downloaded to the headset with firmware updates.
It also runs on the headset – AI at the edge. It can discriminate between your voice and the callers – both sides of the call
We were able to test both the PXC-550 II and the ADAPT 660, and you can hear the difference in UC use. The ADAPT has several levels more 'quietness' and better mic pickup, but we will come to the one trade-off later.
ANC – EXCEED
Generic noise cancelling is about taking external noise and generating anti-noise inside the headset to counter it.
EPOS anti-noise focuses on frequencies between 20-800Hz and volume – 60-65dB in an open office and 60-85dB on public transport or planes.
BTW passive noise cancellation a.k.a. sound isolation only works above 800Hz and 85dB. It requires thicker and heavier earpads and closed-back headphones.
The more anti-noise it needs, the more 'pressure' it has to generate and the more it affects sound 'fidelity'. The higher the level of ANC, the more the frequency response compresses.
Sennheiser is all about the sound first and has traditionally taken a lighter approach. That is why you see many ill-educated non-audiophile media saying Bose or Sony is the gold standard in noise cancelling. It is why audiophiles appreciate Sennheiser's approach – better sound.
The ADAPT AI ANC is adaptive. In a nanosecond, it can compensate for a plane taking off to a safety announcement.
But there is more to EPOS ANC
Most ANC uses either feedforward (external mic) or feedback (internal mic). EPOS ADAPT 660 (and 400/500 series) uses a hybrid approach. It has both an external and internal mic or Hybrid ANC – a total of four ANC mics.
EPOS/Sennheiser is one of the few that publish real stats on their ANC.
Use – EXCEED
These are light – 227g and the leatherette pads are deep and comfortable Unless you have cauliflower ears, they should fit. The pads, closed-back cups, and headband 'clamp' weight provides the first layer – noise isolation for those >85dB sounds.
I usually wear PXC-550 II for about 2 hours at a time on the train and over 12 hours on a plane with no discomfort.
Touch controls on the right cup are intuitive
ANC EFFECTIVENESS – EXCEED
We tested with a white noise generator (ANC on/off/adaptive) and compared it to the PXC-550 II. It was more effective for the higher frequencies – no more crying babies or screaming kids on the train!
Lag – EXCEED
There was no noticeable lag over BT or using the dongle. Perfect lip-sync. The dongle works with Mac and Windows.
Volume – EXCEED
Most devices have an 80dB cap to prevent hearing damage. We tried on a Surface Pro 7 (SBC) and Samsung Galaxy S20 Ultra (aptX/LL) with a 3.5mm cable (71dB), USB cable/dongle (83dB) and BT 5.0 (80dB).
We tested several other audio devices. It has excellent amplifier gain so it will work with a wide range of impedances up to 490 ohms. And we ramped it up to 100dB – very loud.
EPOS Connect – Interesting EXCEED
Unlike the Sennheiser PXC-550 II, there is no smartphone app. There is a Windows app called EPOS connect. It personalises your device settings to suit your working situation and to choose a default softphone and headset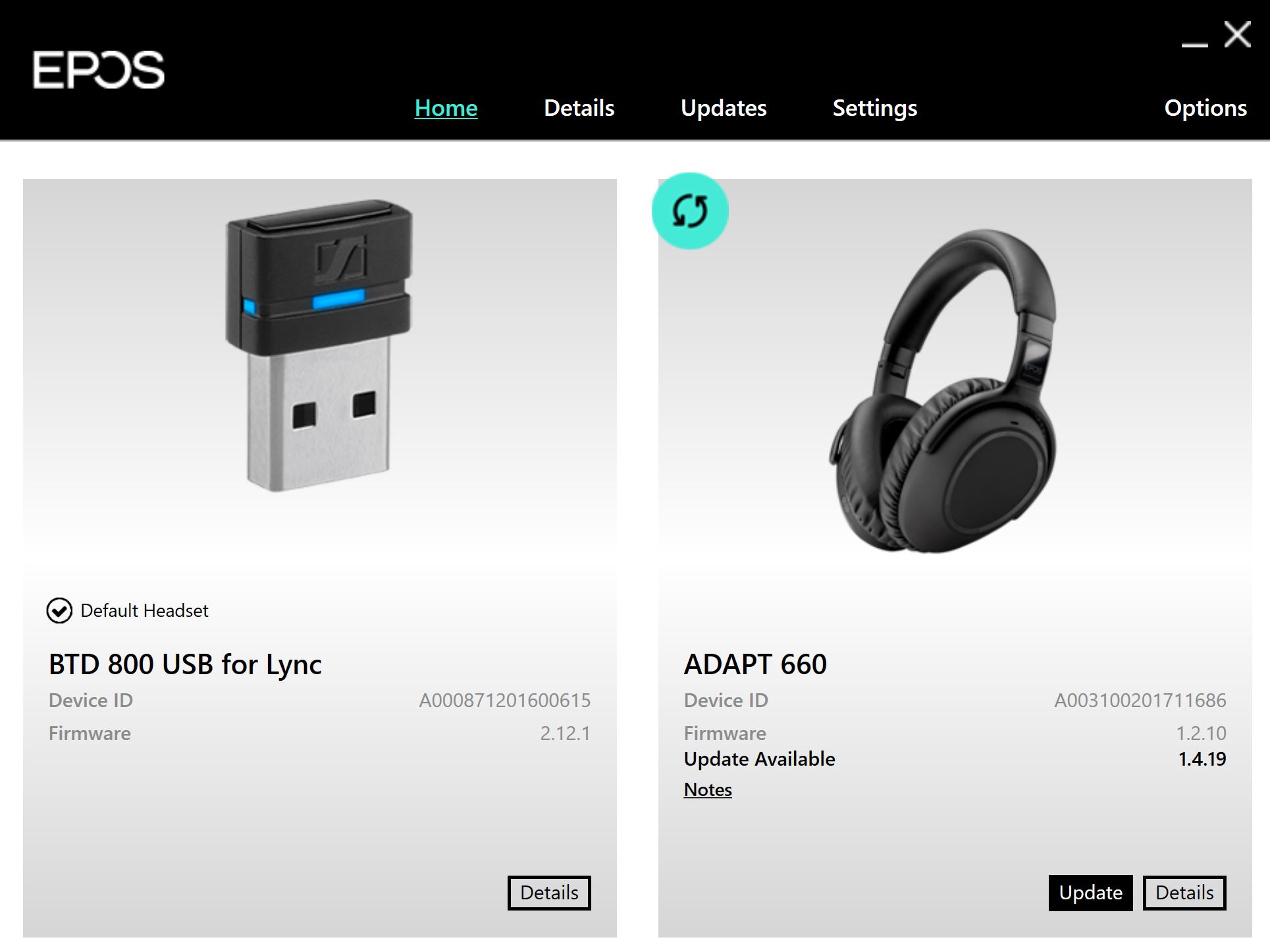 It covers all EPOS USB/dongle connected devices and has softphone support for 3CX, Alcatel-Lucent, Avaya, BroadSoft, Cisco, Counterpath, Microsoft (Lync, Teams, Skype), Mitel, Octopus, ShoreTel, STARFACE, Swyxlt!, Unify and Zylinc. It supports Zoom, Amazon Connect, Miralix and Genesys as well.
Part of the EPOS commitment is to continual improvement and firmware updates for new UC standards.
But the Sennheiser PXC-550 II Smart Control app (Android or iOS) found them and gave me access to pre-sets, including neutral, Club, movie, clear speech and Director (custom). The Custom mode includes far more than bass and treble. It has
Thump, Rumble and Voice
Spatial settings – near, medium, and far
Reverb – low, medium, and high
DLC – on/off (we think this is Dynamic Loudness Control to even out volume differences in tracks)
The Sennheiser app also gives you control over smart pause (stops the music when taken off), sidetone (how much of your voice do you hear in the headphones), BT Multi-point connect, Alexa assist, and factory reset. Look at is as a bonus that allows you to use this as an audiophile device as well.
Frequency response – EXCEED
EPOS claim 17Hz to 20kHz and THD of <.5%
Deep Bass: 20-40Hz – gently building
Middle Bass: 40-100Hz – building to quite strong
High Bass: 100 to 200Hz – flat (that means good)
Low-mid: 200-400Hz – flat
Mid: 400-1000Hz – flat
High-mid: 1-2kHz – flat
Low-treble: 2-4kHz – flat
Treble:4-6kHz – flat
High Treble: 6-10kHz – a slight decline to avoid treble harshness
Dog whistle: 10-20 – flat to over 20kHz
This is amazing, but then it is based on my favourite PXC-550 II, it should be. It is the nirvana for headphones neither adding nor subtracting from the sound yet it covers from very low bass to very high treble. My preferred pre-set is Club that is perfect for the Blues Brothers showing heavy bass to sky-high trumpets.
Microphone – voice – EXCEED
Microphone frequency response is 150 – 6,800 Hz. We tested this with a noise generator and it it far wider than consumer headphone mic ranges.
BT Codecs – EXCEED
It uses SBC, AAC, aptX and apt/LL (low latency).
Battery life – EXCEED
The ADAPT 660 does not have a power-off switch. You simply take them off and fold flat. It can also detect when you are not wearing them (via the Sennheiser app).
Over five days at four hours a day (20 hours) with 70% volume and ANC on it had 10% remaining. Indicators show up to 20%, 40%, 80% and 80%+. The BT connection also reports the battery percentage.
Based on this, the claim of 20 hours (ANC) and 30 hours (ANC off) are reasonable.
Charge time 0-100% is about 3 hours using a 5V/500mA USB port or charger (you can use up to 2A, but it does not reduce the time). If you turn them off, it reduces the overall time a little but enables quick charge – 10 minutes for 1.5 hours use.
Standby time is up to 15 days if you forget to turn them off.
But remember these are one of the very few that will charge and play via USB at the same time – 10-points.
Maintenance – EXCEED
Sennheiser makes parts available for far longer than most. You can get replacement ear pads, headband and importantly a battery should you need it. These are a keeper.
GadgetGuy's take – EPOS ADAPT 660 is a terrific executive UC BT, ANC headset by day and a dammed good travelling companion after hours or on holidays.
This is a deep-dive review testing every aspect of the ADAPT 660 hardware. In every case, it exceeds our parameters for both a BT ANC device and from what we can see for UC use.
Terrific sound, great battery life, the purple Teams button, Adaptive noise cancellation, crystal clear voice (without a boom mic). What more could you want?
If you want to use it at the office or home office, the improvements are all focused on UC. If you don't use UC, then the PCX-550 II (4.9/5) is the bargain pick.
I don't want to knock Sony WH-1000XM3 (4.9/5 and M4 on review soon) or Bose 700 (4.8/5) or even the Sennheiser Momentum 3 (5/5) as these are great contenders in the consumer space
But ADAPT 660 takes the wonderful travellers PXC-550 II headset and improves it for business. It has the right noise cancelling for the job. Not too heavy, not too light- just right.
Positives
Wearing comfort over long periods
Neutral sound signature – very rare but the nirvana
USB-A BT dongle if you need it
UC and MS Teams certified
Fast Multi-point BT connectivty
For home and work - not home or work
Negatives
Micro-USB is so yesterday
No smartphone app (use the Sennheiser smart control app instead)