Google's Glasses may not have been the success the search giant had hoped for, but the next generation of augmented reality tech may come from a company more known for printers.
Over the past few years, Epson — maker of printers and projectors — has reportedly been finessing a technology that could change the way we view the world.
Not just figuratively, but literally.
Called the "Moverio", they are essentially an evolution in augmented reality, that is a computer-assisted representation of the world as applied through a pair of glasses.
Almost as if you were a computer or had one embedded in that skull of yours, augmented reality transposes information through what you see allowing to get more information at once.
In many ways, augmented reality or "AR" is the embodiment of a world going digital, where instead of needing to check our phones or even our smartwatches for information, augmented reality glasses like Epson's Moverio are about delivering this information to your eyes as you walk, as you move, and as you traverse the physical world.
This week, Epson has announced an update to the platform that aims to make them faster, lighter, and better than the previous two generations, and for the first time, they should even make their way out to regular people, though that won't happen for a while yet.
The new generation is the third version, now called the Moverio BT-300, and these will rely on an OLED screen based technology devised by Epson, allowing the glasses to be what Epson calls the "lightest see-through binocular smartglasses" currently available on the market, decreasing weight by a good 20 percent from the original.
There's also some improvements in the specs, with an Intel Atom quad-core chip going inside to make things faster and a better resolution display jumping up from quarter-HD's 960×540 to a more relevant High Definition (HD) 720p with 1280×720.
Wireless and Bluetooth has also been upgraded to faster versions of the same, and there's still a processing unit needed for this, running Android 5.1 making it fairly up to date, even if it's not the Android 6.0 "Marshmallow" that is getting rolled out gradually to all Android devices.
But the specs that let you run the apps for the Moverio glasses isn't the pivotal part here.
Rather, it's the glasses and their ability to transpose information in real time over what you see, allowing the wearer to take in more information at once.
"Moverio is distinct from other smartglasses on the market where form often supersedes function, to the detriment of the product's usability," said Atsunari Tsuda, General Manager for Epson's Moverio range.
"Every design decision we make is driven by consideration for the product's ultimate usage scenarios and our Si-OLED (Silicone Organic Light Emitting Diode) technology opens a new world for us in binocular see-through smart eyewear development."
While the majority of uses for this technology sit in education and commercial applications — with the previous generations of the technology being used by the CSIRO and several universities — one company giving the concept a good test drive is Mercedes AMG Petronas, the F1 racing team from Mercedes running with drivers Nico Rosberg and Lewis Hamilton.
In fact, this week, Mercedes and Epson let GadgetGuy have a good test with a special setup at the back of the Mercedes pits at Albert Park in Melbourne for the starting race of the Formula One Grand Prix, demonstrating some of the visuals through glasses that members of the team might see when wearing them.
Our demo was very different from what engineers would see, with the information sent through our Moverio glasses more like a visual history of the Mercedes team and how the car technology works, but it did provide an interesting experience to how the Moverio glasses work, and the possibilities they could provide.
Engineers could, for instance, track the car telemetry as it comes in, watching television screens in the pit and listening to the radio chatter while also watching the telemetry roll in through the glasses, essentially appearing on top of their own sight, but just out of reach. It's always there and always providing information, but isn't really in the way, as such.
Seeing someone with the Moverio glasses on is still a little strange, that said, with these augmented reality glasses hardly a fashion item, especially when worn en masse.
In fact, at one point Mercedes driver Nico Rosberg wandered up, smiling and hiding back a bit of a laugh, telling us that he should post this to social media, which would provide an image not unlike Samsung's own virtual reality en masse image from Mobile World Congress last month.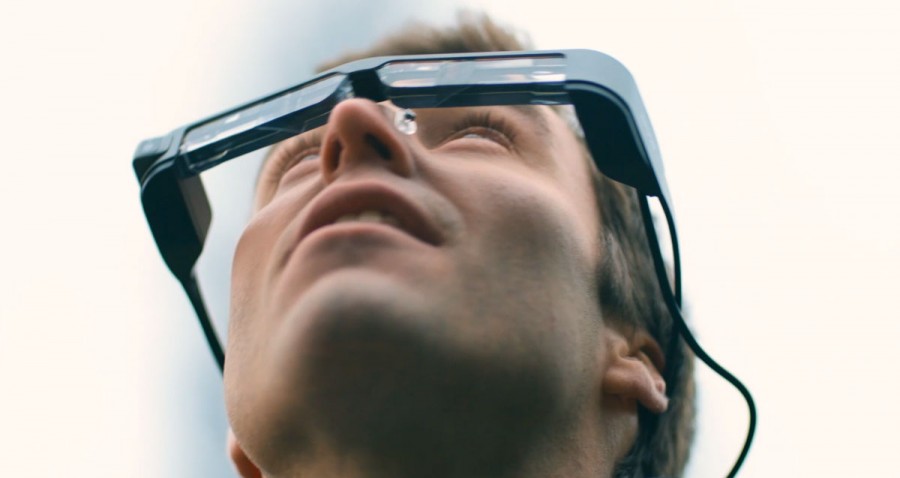 But looking good isn't really the point here, and Epson's Moverio glasses don't look bad, merely geeky, which is totally acceptable given what they do is the point.
And what do they do?
Why they give us a vision of the future, before contact lenses doing the same thing come along and wow the last remaining parts of eyes off long before we start integrating the circuit into our bodies.
Epson's Moverio BT-300 will arrive later this year, though price is yet to be confirmed.