Facebook's CEO Mark Elliot Zuckerberg killed a goat and ate it. Dinner guest, Jack Dorsey, CEO of Twitter says, "I just ate my salad."
In his defence, it is not illegal to eat goat. Dorsey explained 'Zuck's' odd behaviour, "There was a year when he was only eating what he was killing. He killed the goat with a laser gun and a knife and cooked it for dinner."
And we don't mean to impugn goat eaters either but use this bizarre example as a preamble to Facebook's erratic behaviour since Zuckerberg's robot-like performance in the US Senate last April. It seems Zuckerberg cannot stay out of the headlines despite the calibre of his PR team.
By the way, Zuckerberg was told to promote the nickname 'Zuck' by his global PR team headed by former UK Deputy Prime Minister Nick Clegg. Why? To soften his nerdy image and ethnicity – a German-Jewish name meaning 'Sugar Mountain'.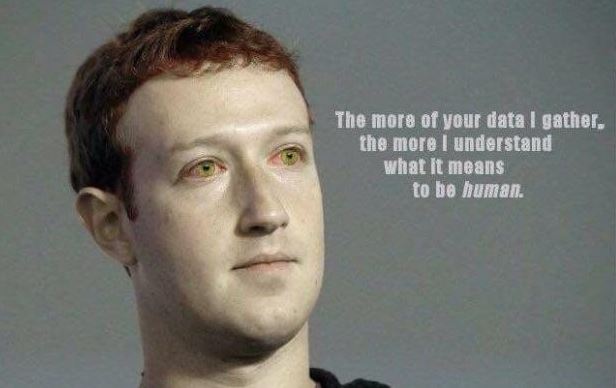 Read on for events of the past six months – this is a train wreck waiting to happen!
All is not well at Facebook's Disney-Land inspired campus at 1 Hacker Way, Menlo Park, CA.
Zuckerberg has exposed his carnivorous behaviour, and 'the acorn does not fall far from the oak'. Interestingly Facebook has devoured Instagram, WhatsApp, Onavo VPN, Oculus VR and more than 70 other companies since 2005. Zuckerberg has a habit of chewing them up and spitting them out when done. In Facebook's case, it is not growth by acquisition but growth by attrition [of your competitors].
Just ask WhatsApp founders Brian Acton and Jan Koum who both recently left Facebook after disagreements over its business practices. Acton even tweeted #DeleteFacebook over the company's privacy issues, and Koum announced his departure due to clashes over the privacy of user data.
Or look at Instagram founders Kevin Systrom and Mike Krieger who for years were able to 'amicably' resist certain Facebook product initiatives that they felt went against their vision. They are out too.
Facebook may face the mother of all fines
The U.S. Federal Trade Commission (FTC) has come out stating it has been investigating Facebook's privacy practices since March 2018. It is nearing the investigation's end and is hinting at what may be a "record-setting fine".
How big a fine? Perhaps billions of dollars although the FTC goal is not to put Facebook out of business but make it work inside a regulated environment that protects user's privacy.
The FTC feels Facebook may have violated several of its undertakings to better protect people's privacy. Those undertakings, called a consent decree made in 2011, are valid for 20 years. Facebook agreeing to them was it's "Get out of jail card for free'. Whatever it had done to date was forgiven, but what it does moving forward carries the full weight of the law.
In the past few months alone it has changed the privacy settings of as many as 14 million users without knowledge or consent; unblocked people that hundreds of thousands of users had blocked; exposed up to 90 million user's data to hackers (GadgetGuy article here); and explosive revelations that it shared personal data with 60 major device companies.
Zuckerberg and the team are tight-lipped – solidarity is paramount, or you are out
Investors and major advertisers are publicly saying Zuckerberg, and the C-suite have made a big mess and its time to clean it up. Starting with him stepping down as Chairman and his number two, Sheryl Sandberg to leave. Zuckerberg says no – it is his company and as the largest shareholder he can do what he wishes!
Staff must sign a comprehensive contract to protect the company's secrets and business practices.
Facebook, long thought of as a "cool" place to work is no longer. The avalanche of negative press has aspiring software engineers re-thinking whether they want to be associated with a company so many now rightly revile. According to CNBC, "Several former employees likened the culture to a 'cult' where "employees are discouraged from voicing dissent."
BuzzFeed reported, "A former senior employee noted a growing sense of paranoia among current employees. Now, people now have burner phones to talk shit about the company— not even to reporters, just to other employees." FaceBook is leaking faster than the Titanic.
Advocacy groups are pressuring the FTC to break up Facebook
Last week respected advocacy groups wrote to the FTC exasperated that the FTC had not acted over the past eight years. The letter is an interesting read.
"Remarkably, the Commission has not imposed a single fine against Facebook, nor has the Commission suggested that additional authority was needed. In fact, four previous chairs of the FTC held out the Facebook consent order as an example of the agency's robust enforcement authority to Congressional committees and European officials."
"Given that Facebook's violations are so numerous in scale, severe in nature, impactful for such a large portion of the American public and central to the company's business model and given the company's massive size and influence over American consumers, penalties and remedies that go far beyond the Commission's recent actions are called for."
One thing is for sure – Facebook could be so much more operating in a regulated environment.
Meanwhile, Facebook announces Instagram, Messenger and WhatsApp will face Borg-like assimilation into Facebook. Resistance is futile.
Zuckerberg has said a WhatsApp user would be able to text an Instagram user without needing to switch applications.
The announcement is worrisome for two reasons. First, integrating the three would make it impossible to undo, and spin-off should legislators want to break up Facebook into its constituent parts. You cannot unmake an omelette.
Second is WhatApp's founder's fears that its metadata would become part of Facebook's database. I guess you can do that when you don't have any ethical opposition left.
Matthew Green, a cryptography professor at Johns Hopkins University, said,
"Given recent history and financial motivations of Facebook, I wouldn't bet my lunch money on 'good'. Now is a great time to start moving important conversations off those services."
Friendly fraud reaching epic proportions
Facebook has just quietly settled a U.S. class action started in 2012 over allowing family members, or what Facebook calls "whales" (high-spending children) to use the account holders credit card for unchecked spending.
Parental permission is not needed to use credit cards linked to the accounts, and some had run up thousands of dollars of in-game purchases.
Facebook euphemistically describes the problem as 'friendly fraud'. At the time it said it would force players to re-enter some card details before they could buy the in-game items. Sorry – never done.
A Facebook staff member in charge of a project to increase the company's game revenues, said it was particularly bad with a few games, including PetVille, Happy Aquarium, Wild Ones, Barn Buddy and any Ninja game.
The issue gets worse as Facebook's policy is no cash refunds. Facebook made parents angrier by handing out free 'virtual items', not by refunding the charges – because 'virtual goods bear no cost'.
Facebook to close Moments – photo spying tech
Moments launched in 2015 uses Facebook's in-house developed facial recognition software that also recognises locations, sentiments, occasions (birthday, wedding, celebration), other people, animals, buildings, device used and more. That metadata all goes in your profile to better target advertising.
Facebook says it is shutting it down due to lack of adoption. But a Facebook employee in the know said, "We can get all that information from Instagram and elsewhere."
If you have used Moments go to the site and download your photos now.
Facebook shares data with 60 device makers
Facebook has 60 agreements with device makers (computer and smartphones mainly) to 'deeply integrate' its app into the device. The device makers include Apple, Amazon, TCL (Alcatel, Blackberry), HTC, Microsoft, Huawei, OPPO, Samsung and many more. A better list is here.
What does deeply integrate mean? Facebook has declined to comment past, "To recreate Facebook-like experiences for their individual devices or operating systems."
Investigators have found it means to access all device data – messages, contacts, photos, phone ID, GPS and tower location, time and more. Further, they found that explicit consent to share the user's contacts to add them to Facebook profiles had not been clear.
A former FTC official said,
"Facebook has not really explained how it obtained consent for the sharing of this data. It may be it sees device makers as first parties, but they're plainly not under the consent decree."
New York state Attorney General Barbara Underwood will investigate as well,
"Consumers have the right to know how their personal information is used, and the companies we trust with our information have a critical responsibility to protect it."
In response to mounting pressure, Facebook claims it has 'wound down' more than half the partnerships including Huawei and other Chinese firms.
Facebook stalks you regardless
More information has come to light about how Facebook can stalk you. The aim is to build a profile on you that knows more about you than you or your mother does. Facebook gets initial user data from user account setup – gender, age, date of birth, email, mobile number, address.
Every time you click on an ad, read a post, visit a group, anything in the portal it updates the profile
Facebook's free ONAVO VPN tracks all your movements over the internet. It may encrypt traffic from its servers to the websites you visit, but it still knows which ones they are. It adds this data to your profile. Never use a free VPN and never ask the fox to guard the chickens.
Like or dislike something. Clicking on thumbs up and down symbols alert Facebook to what sites you are visiting or posts you are reading. Never click a Thumb again.
Using Facebook as a single sign-on to a third-party app or website. Facebook knows you are there! What is worse is that you may passively agree to the app or website privacy agreement (accept cookies) and that allows it to share Facebook data
Facebook places invisible pixels and cookies on your device that track your every movement
Facebook collects sales beacon (Bluetooth) location information. It can cross-reference any web searching you do while in that store
From the device, it can gain your location, time, and even the stores you visit. It does this by cross-referencing telco carrier signals, GPS and store beacons
It also knows your IP address (desktop, tablet, smartphone, work) and ties those together
There is a rumour that it can use the device microphone and camera under certain circumstances. It can also collect data about what TV shows you are watching or music you are listening to. The camera could be used to conduct sentiment analysis. Facebook has applied for patents to do all of this and more
And the Facebook login is persistent – meaning a token on your device is as good as being logged in
Facebook also collects data from non-users – a shadow profile – and it usually starts with you being in a user's contact list. Your friends are not aware that giving Facebook access to their contacts is a gift that keeps giving. That data is less valuable as cannot deliver targeted advertising so why does Facebook collect it?
Facebook claims these profiles help identify bad actors (no not Kevin Spacey) – 'bots'.
The reality is that it uses it to create links to users. Facebook goes beyond matching you directly with someone else. It does contact chaining that indicates the six degrees of separation. Creepy!
So even if you turn location access off it still knows where you are and what you are doing.
Programs like Ghostery and Privacy Badger can help, but a paid VPN is the best way. But Facebook has you over a barrel – if you use privacy tools you often cannot access Facebook pages.
High profile companies abandoning FaceBook – its just creepy
Elon Musk's companies — Tesla and SpaceX — along with Firefox creator Mozilla, speaker maker Sonos, German bank Commerzbank and Playboy magazine are among the brands that say they are pulling advertising or deactivating their Facebook pages, spurred by the #DeleteFacebook campaign.
Musk said,
It's not a political statement and I didn't do this because someone dared me to do it. Just don't like Facebook. Gives me the willies. Sorry.
Several top marketers were openly critical of Facebook giant, a day after The New York Times published an investigation detailing how Facebook's top executives — Mark Zuckerberg and Sheryl Sandberg — made the company's growth a priority while ignoring and hiding warning signs over how its data and power were being exploited to disrupt elections and spread toxic content. The article also spotlighted a lobbying campaign overseen by Ms. Sandberg, who also oversees advertising, that sought to shift public anger to Facebook's critics and rival tech firms.
Rishad Tobaccowala, chief growth officer for the Publicis Groupe, one of the world's biggest ad companies said,
"The New York Times revelations may be 'the straw that breaks the camel's back' now we know Facebook will do whatever it takes to make money. They have absolutely no morals."
How accurate is that profile?
Pew Research has a new survey that is more than a bit concerning.
A typical Facebook profile is around 1GB, and longer and frequent users can be 10-20-30-40GB – it is endless.
This includes every message, file or audio message you've ever sent or received and all the contacts in your phone.
You can view your profile here.
To be fair, other companies (Amazon, Apple, Google and Microsoft) also have profiles, but we have never seen such a comprehensive amount of personal information as we have in a Facebook profile.
Pew says 74% did not know Facebook was doing this! Of that, 51% were not comfortable at all and should (but probably won't) #DeleteFacebook.
More concerning was that 27% found their profiles were not very, or at all accurate representations. And the extent of the profile was disturbing recording race and ethnicity (and attitudes), hobbies and interests, political affiliations (or propensity to vote) and religious beliefs.
Facebook built on a lie – half its accounts are fake
Aaron Greenspan admits his arch nemesis is the lying, cheating son-of-a-b*&$h Zuckerberg. He, like the Winklevoss brothers and several other Harvard classmates from the 2003-2005 years claim that Zuckerberg stole their idea. Unlike the others, he got a confidential settlement in 2009 from Zuckerberg after years of legal battles.
Let's just say Greenspan knows more about the Facebook process than others. This week he has come out publicly with replicable data stating that half of Facebook's two billion user accounts are fake.
"Facebook has been lying to the public about the scale of its problem with fake accounts, which likely exceed 50% of its network," Greenspan posits in a damning 70-page research report entitled Reality Check.
"The truth is that at this point, Mark Zuckerberg may, in fact, be the greatest con man in history, having pulled off a complex fraud at one point valued at approximately ten times the scale of convicted financier Bernard Madoff's historic and epic Ponzi scheme."
Greenspan said Zuckerberg had ignored his warnings and instead designed the platform to be as addictive as tobacco to recruit and keep users.
"Facebook's addictive qualities may not kill anyone directly as cigarettes do every day, but the site has undeniably led to countless deaths."
Is the kid in the hoodie for real – a toddler CEO at best?
The Washington Post has published an excellent article, "14 years of Mark Zuckerberg saying sorry, not sorry." He has mea culpa'ed so many times (it's over 16 on public record), possibly due to his mantras, "Done is better than perfect' and 'Move fast and break things.'
His management style is, "I decide what to do with the product, and everyone has to figure out how it will affect them. It is not a discussion."
From Day One he has done things that no serious programmer or company executive would have including writing Facebook in PHP which is easy to use and notoriously easy to hack. You must question his competency.
Greenspan says,
"Mark has gone from being an 'unethical jerk' (his own words) with barely the maturity level of a bratty teenager to national security threat who does not understand and literally cannot control his own creation. Nor does he understand the large and often unwieldy geopolitical forces that he and his company have such an impact on.
Facebook Syndrome – Stockholm Syndrome has nothing on this!
Stockholm syndrome is a condition that causes hostages to develop a psychological alliance with their captors as a survival strategy during captivity.
Facebook Syndrome is now a recognised mental health issue and a disorder (Facebook Addiction Disorder – FAD). If you use it more than once a day (many use it 20 to 30 times a day) you are hooked. The syndrome is "I need Facebook regardless of how shoddily it treats me and my data. I can't walk away."
Symptoms include
Unrealistic perceptions of your "friends" levels of happiness (in comparison to yours) and resentment if they are happier
Obsessing on others daily activities instead of your own
Constantly comparing the quality of your life with the lives of your friends
Reduction in normal socialising relying on Facebook for your thrills – dehumanisation
Frequently changing your profile picture to gain attention
Measuring success by the number of fake friends
Having separate Facebook pages for your pet
Experiencing anxiety if you cannot check Facebook at regular intervals – withdrawal symptoms
Wracking your brain and scouring the internet for funny quotes, status updates, posts and articles that create the illusion that you are hip, happening, happy and humorous
Continued and increasing use despite knowing it is no good for you
Impact on job or studies
Huge smartphone data bills or plans – economic disorder
Facebook plays to your insecurities and self-esteem. It is addictive. If you answer yes to more than four of the above, you are addicted and need to seek help.
A psychologist is the best place to start because it is a mental, not a chemical dependence. Its just like gambling, sex obsessions, depression, OCD and more.
You can read more at Psychology Today
GadgetGuy's take: Facebook is a FAD – or should be
This update to the Facebook issues we reported on in 2018 is the result of personal experience.
My 30-something son and his partner announced via Facebook they are expecting a son in April 2019. Within hours Facebook was serving them ads for everything 'baby' even narrowed down to a boy child. Suddenly, he was getting life and death insurance offers, income protection schemes and the sobering realisation he was to be a parent. It is like his life is over!
Within days his friends were getting baby gift ads at the expense of the usual ads promoting alcohol, holidays, cafes, and other hedonistic pursuits. My wife receives copious ads for boy child baby gifts and articles or offers about grandparenting. She is also getting, for the first time, retirement village ads – as if all nannas need that!
Me – I have never had a Facebook account and my only axe to grind is about privacy – whether its Facebook, Apple, Microsoft, Google or the thousands of loyalty cards, banks, comparison websites, and businesses that collect data simply to sell you more of their wares. As a tech-savvy user, I have successfully turned off most 'anti-privacy' measures, use ad blockers and lead a peaceful online life free of ad-crap.
It comes down to who can you trust? If Facebook were about only using data in a 'closed loop' (e.g. it serves advertisements – not sells personal data) then I would not need to call it out. The Cambridge Analytica scandal/debacle and the deluge of bad publicity proves Facebook cannot ever be trusted.
I could also write copious words about the other major companies but they use a closed loop – granular (personally identifiable information – PII) data is never shared. If I want to advertise to all the left-handed golfers earning more than $100,000, then Google serves ads via the Ad Manager, Microsoft via Ad Mediation, and Apple via its Advertising Platform. I never get to see these users PII.
These companies do not sell or otherwise transmit any PII to third parties. There are other ad platforms that do share data, especially those that want programmers to add apps to its ecosystems – watch out!
And there is no truth in the rumour that Facebook's new dating app will be called F'U?
Greenspan concludes
Nothing Zuckerberg says can be trusted, from the claim that he invented the site in his dorm room in Kirkland House as 'a Mark Zuckerberg production' to the nominal 'fact' that Facebook serves two billion active users, which its own flawed disclosures show it does not. Yet, his role as the company's CEO appears to be fixed in place with the cement of stock ownership.
There are at present too many tragic messes with Facebook's obnoxious thumbprints all over them. The evidence suggests that these affairs were neither inevitable nor pre-ordained. Rather, they are the follow-on effects of one of the greatest sustained frauds the world has ever seen: an innocuous, insecure student-run project hijacked and perverted by a pathologically ambitious student who used his uncanny ability to deceive to blow an unparalleled technology bubble whose riches literally attracted everyone from American Presidents to the KGB's successor organisations, and seemingly every criminal and scam artist in between.
Zuckerberg does not deserve his billions. He deserves a jail sentence. He is unfit to lead a publicly traded corporation. Time and again he has shown that he cannot be trusted. His product, a growth-optimised variant of the original Facebook, is unsustainable and already collapsing under the weight of the unprecedented fraud it enables. Investors no longer have any excuse for supporting his enterprise.