In the age of COVID-19, more people are taking better care of themselves to prevent the spread. The Fiora UV-C sterilising Qi charge station is effective at killing 99.97% of E. coli and other harmful bacteria but will it kill COVID?
Now we are all sceptical, but the science is that UV-C 253.7nm LEDs can kill bacteria and pathogens on phones, keys, wallets, earphones, and more given sufficient exposure time. The Fiora UV-C sterilising Qi charge station has two modes – 5 and 10 minutes.
But will it stop COVID-19? Fiora sensibly makes no claims about COVID, but studies have shown that it can live up to 96 hours on a phone screen at room temperature. Given enough UV-C exposure time, it can kill it.
What is the Fiora UV-C sterilising Qi charge station?
Apart from a UV-C steriliser, it is a 15V QC 3.0 Qi charger suitable for Samsung S10/20 and Note 10/20 as well as any other Qi-certified device like an Apple iPhone. It also works with Qi earphones.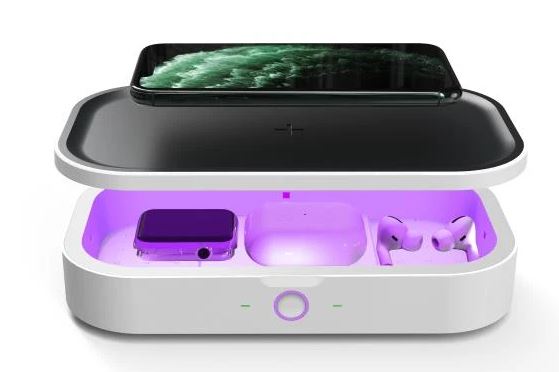 It comes with a Qualcomm certified QC 3.0 wall charger (5V/3A/15W, 9V/2A/18W and 12V/1.5A/18W) and a USB-C to USB-A 18W cable. Our only gripe is the US pins on the charger, but the adapters are cheap.
It is a Qi fast charge also outputting 5W, 7.5W, 10W and 15W. The Qi charger efficiency is about 80% – consistent for these devices – so it will take about 20% longer than a 15W USB-C charger.
And its large at 220 x 120 x 44mm x 360g.
The four LED lamps use 3W.
And as we have come to expect from Fiora, it is has
Over Charging and Surge Protection
Foreign object detection
Heat Protection and Temperature Control
Certified Safe with CE, FCC, RoHS International Product Safety Certification
Is this a gimmick or do we have dirty phones?
No sorry, phones are dirtier than a toilet seat. The US Institute of Health tested 27 mobiles owned by teenagers.
It found that all had potentially pathogenic microbes (Staphylococcus aureus, Acinetobacter spp., Pseudomonas spp., Bacillus cereus and Neisseria flavescens) with a higher percentage of E. faecalis in total bacterial 16S rRNA on phones.
It is hard to clean a phone with traditional 70% alcohol-based wipes – this does it without liquid that can damage plastic and painted surfaces.
We don't have the lab test equipment to prove it cleans – but we trust it does.
Charging Tests – Exceed
Samsung S20 Ultra charged at 12V/1.25A/15W
Wireless earphones charged at 5V/1A/5W
iPhone 10 charged at 5V/1.5A
Fiora fast charge is one of the best
GadgetGuy's take – The Fiora UV-C sterilising Qi charge station adds peace of mind
I know I am cleaner than a secondary student, but I do suffer hay fever and allergies. I often loan my phone to my wife and would hate to think I am spreading harmful bacteria. So, on that basis, after using it daily for a couple of weeks I am sold.
Interestingly Samsung has a UV-C Qi steriliser (not sold here) that charges as it sterilises. It has two LEDs versus four, and the price does not include a QC Charger.
Website here
Price: US$69.95 plus $10 shipping (approx. $110 but GST may apply)
Warranty: 12 months
You can read other Fiora reviews here
Quality build
Good audio and visual cues
Has a magnetic lid and LED cutouts to avoid human exposure to UV-C
Currently only online from Fiora (no eBay or Amazon)
American pins on supplied wall charger – order AU pins
Largeish