It's almost the middle of the year, and almost every phone that is going to come out before September is probably out now. That means if you're looking for a new phone, your selection is likely in stone before that point.
For those unaware, September is the likely month where we can expect a new iPhone, with the iPhone 7 expected around this time likely bringing a new design as well as a host of other features.
But if you need to buy a phone now or don't care about the iPhone, what should you buy?
For that, we turn to our reviews, because we've been spending a lot of time looking at and analysing the phones out today, including a few from last year that may be worth your time.
Compact hands (screens below 4.7 inches)
Phone sizes have changed a lot over the years, but if you like your phones small, you'll want a screen below 4.7 inches.
Apple iPhone SE
Screen size: 4 inches
Price: starting from $679
One of the surprises for 2016, the iPhone SE is a genuinely impressive product, with Apple taking much of the tech from its iPhone 6S and throwing it into a smaller body, using the template of the iPhone 5S and basically upgrading the entire thing.
Let's just get this out there: the iPhone SE is not a tiny version of the iPhone 6S, or even a "normal" sized version for people used to the smaller size. This is a different phone, and it even arrives in two storage options, with only 16GB and 64GB.
But with an excellent camera — hey, the same one from the iPhone 6S — as well as a great set of system innards, solid build, and a battery that lasts a full day, it's an update to the form-factor that made the iPhone famous. Highly recommended.
Sony Xperia Z5 Compact
Screen size: 4.6 inches
Price: $859
If there's one company that gets small phones, it's Sony.
For a few years now, Sony has been dabbling in the idea of compact handsets, and in its Z series, Sony has found success in getting the power of the big models into a smaller body when the screen isn't necessarily as schmick.
That is still the idea in the Xperia Z5 Compact, with a 4.6 inch 720p display being used with Triluminos technology for better colours to improve the package even if the resolution isn't smash bang awesome.
Despite this, the phone is a winner, with the guts of the bigger phones stuffed into a smaller body that is just as upgradeable, just as well built, and just as water-resistant as Sony's bigger phones.
Why it even includes a fingerprint sensor and support for a PlayStation 4. Neato.
What we'd pick
With only two phones in this category, it's a pretty easy pick. If you like Android, get the Xperia Z5 Compact. If you prefer Apple's iOS, get the iPhone SE. Pretty simple.
There are other small-sized handsets, that said, but these are the best of the bunch that we've seen, and we review a lot of phones.
Normal sized phones (4.7 to 5.3 inches)
From the 4.7 inch mark to around 5.3 to inches, you'll find what generally passes for a phone for regular hands. You can thank our love and need for larger screen sizes for this one, with a relatively spacious screen and a body that fits comfortable in most hands.
Apple iPhone 6S
Price: starting from $1079
Screen size: 4.7 inches
The new "normal size" for iPhone owners, Apple's iPhone 6S is normal because it's close to a 5 inch phone, but still isn't.
The latest "normal" iPhone delivers a new processor, new graphics abilities, and a camera capable of grabbing 4K video.
The best trick, however, comes from the screen which can let you control it using a deeper touch, a more three-dimensional touch.
Battery life is about the only thing missing from this phone, so make sure to keep a battery brick in your bag if you want to make it through a full day.
Motorola Moto G
Screen size: 5 inches
Price: $369
A good solid middle ground for people who need a phone that can deliver more than a day of life as well as a bit of water-resistance, the Moto G is a different phone than most of what you'll see in this list, and that is primarily because it isn't a flagship.
No, this is a phone that basically sits in the middle ground offering a good rounding up of features for a price point just above $300 while bringing a resistance to the elements.
The camera could be a little better, but overall, it's still not a bad phone, and thanks to its supporting two SIMs, could be idea for the next trip you take.
Oppo F1
Screen size: 5 inches
Price: $299
A little cheaper again, Oppo's F1 cuts out the water-resistance and exchanges it for a body that feels so nice, you'd swear it was metal.
And you'd be right, with the Oppo F1 bringing a metal body and upgradeable storage to a sub-$300 price point.
We'll admit that the camera needs work and the screen viewing angles aren't the best, but if you fancy a good and well-rounded normal sized phone without spending too much that feels great in the hands, Oppo's F1 is definitely worth a look. If you can handle only one SIM and want to use the Optus network, you can even find it for a little less.
Samsung Galaxy S7
Screen size: 5.1 inches
Price: $1149
It may not have the edge when it comes to screens, but this curve-less phone has a sharper display than its brother, and pretty much identical hardware to boot.
Easily as good as the larger 5.5 inch phone, the Galaxy S7 standard (or "Galaxy S7 Flat" as some people call it) offers the same hardware inside of a smaller body, meaning it has a great Samsung-made processor, some of the fastest 4G access you can find, and a screen that is just absolutely lovely to set your eyes upon.
It's also made for normal hands, and thanks to there being a standard screen, you'll find this one fits in your hands very, very well.
This is highly recommended, and easily one of the best phones all year.
Sony Xperia Z5
Screen size: 5.2 inches
Price: $999
The latest entry in Sony's flagship "Z" range is all about packing as much into a normal sized phone and improving the experience.
Unfortunately, at the time we reviewed the phone, the device had its share of bugs, with heating and battery issues that may (and probably) have been fixed by now.
Still, the feature set was definitely there, was a great camera, lovely Full HD screen, solid build, and a resistance to water.
Before Samsung rocked up with its water-resistant Galaxy S7, Sony was there with a Z series, and provided it has been patched, it's a phone you'll want to look at.
Google Nexus 5X (made by LG)
Screen size: 5.2 inches
Price: starting at $659
Google's attempt to bring back all the love and respect for its Nexus 5 wasn't quite the grand slam the company expected, appealing to owners of the Nexus 5 with a slight upgrade in the new variant.
If they were to dive in, they'd find a new processor, some better tech, a fingerprint sensor, and some cool cameras, but the original great $399 price of the Nexus 5 had almost been doubled to $659 in the 5X limiting its appeal.
It's a nice phone, but it's sure not the best phone so far.
HTC 10
Screen size: 5.2 inches
Price: TBA
Exactly what last year's HTC flagship should have been, the 2016 HTC "10" is a lovely phone crafted from metal delivering with it one of the most interesting evolutions of design, as well as a plethora of multimedia features that will excite anyone who likes audio or visual or just plain both.
There's a lot to like here, even with the few bugs it arrives with, as the camera offers lovely imagery, the speakers are loud, and the phone can tailor make a profile so that it sounds better to your ears over headphones.
Definitely worth a look.
Microsoft Lumia 950
Screen size: 5.2 inches
Price: $999
Microsoft's first official flagship now that it has taken over from Nokia, the Lumia 950 is a curious beast.
For this phone, Microsoft has pulled together some solid hardware in a body that probably should be made from something other than plastic.
That said, the iris-based biometric security is very cool and Windows 10 looks and feels great on the phone, with the only issues we have with the Lumia 950 being a sub-par battery life and an app ecosystem that desperately needs work.
If you love Windows and everything about it, Microsoft's Lumia 950 could be ideal, though the bigger battery of the larger 950XL could be the one to go for, unless you need a "normal" sized phone.
LG G5
Screen size: 5.3 inches
Price: $1099
One of the more curious phones on the list, the LG G5 is a pretty big departure from the phones we've seen from the brand for the past few years.
After dabbling with rear power and volume keys, LG has scaled back what sits on the rear to a power button with an embedded fingerprint sensor, while delivering an experimental two-camera system on the back and a rather intriguing accessory system whereby you remove the bottom of the phone and add functionality.
It won't be for everyone, but there are definitely some cool features to be had here.
What we'd pick
The normal phones for 2016 (and late 2015) are all pretty good, but we'd probably look at Samsung's Galaxy S7 for this category, with the iPhone 6S, HTC 10, and LG G5 all hitting the mark for a close second.
Interestingly, if you have to buy the iPhone, we'd actually recommend the older iPhone 6 over the 6S, if only because the battery on the 6 is just better. Sure, the camera and underlying tech in the 6S wins, but the battery life on the still available 6 makes it a great option still.
And those of you on budgets should consider the Oppo F1, simply because at $299, it's the best value in this list.
Big phones (above 5.5 inches)
Finally there's the big phone, also known as the "phablet", a term that is thankfully used less these days, but which indicates that the phone is close to being both a phone and a tablet.
Whatever it is, it's one less device you'll need to carry around, because with a big phone, you don't necessarily need a tablet.
Apple iPhone 6S Plus
Screen size: 5.5 inches
Price: starting from $1229
Out of the two phones released by Apple in the second half of 2015, the iPhone 6S Plus is the one we'd probably buy, not just because it's a solid phone, but because it even packs in more technology.
Essentially, the iPhone 6S Plus is exactly what you think it is: a larger iPhone, delivering access to Apple's apps, a high quality mobile experience, and a pair of those white in-earpods.
But Apple has made this more than just an iPhone 6S, with a camera supporting optical image stabilisation for sharper photos, a bigger and clearer screen, and a battery life that will take you through one day and over to the next.
If you need an iPhone bigger than the 4 inch model, the 5.5 inch iPhone 6S Plus is the one you should go for.
Sony Xperia Z5 Premium
Screen size: 5.5 inches
Price: $1149
The last of the three Xperia phones Sony released at the end of last year is also the best, bringing the same technology under a world-first, with the smallest 4K Ultra HD screen.
Sure, most people still don't have 4K TVs, but why let that stop you from seeing what 4K is like in a smartphone?
As a point, most of the time Sony's Xperia Z5 Platinum runs at Full HD, providing 4K imagery and video only when the source is set to an equal resolution, but that doesn't matter because the phone still looks excellent.
Beyond how it looks, the Z5 Premium is a solid performer, boasting a full day of life without any issues, a decent camera, high-resolution audio support, and water-resistance.
Definitely worth a look.
Samsung Galaxy S7 Edge
Screen size: 5.5 inches
Price: $1249
One of the priciest phones out there, Samsung's Galaxy S7 Edge is also one of the best, delivering the same best in class performance as its S7 sibling, but with a screen that curves on each side.
Without doubt, this is the phone that sets Samsung apart from its competitors, and from anyone that says the company might be imitating or copying off other players, because the screen is sexy, the curve is lovely, and the whole thing has this top-notch elegant design that feels wonderful to touch, even if it is a bit slippery.
You'll also find a full day of battery life, upgradeable storage, an always-on screen if you so choose, a great camera, and support for virtual reality headset.
This is our favourite phone of 2016 so far.
Motorola Moto X Play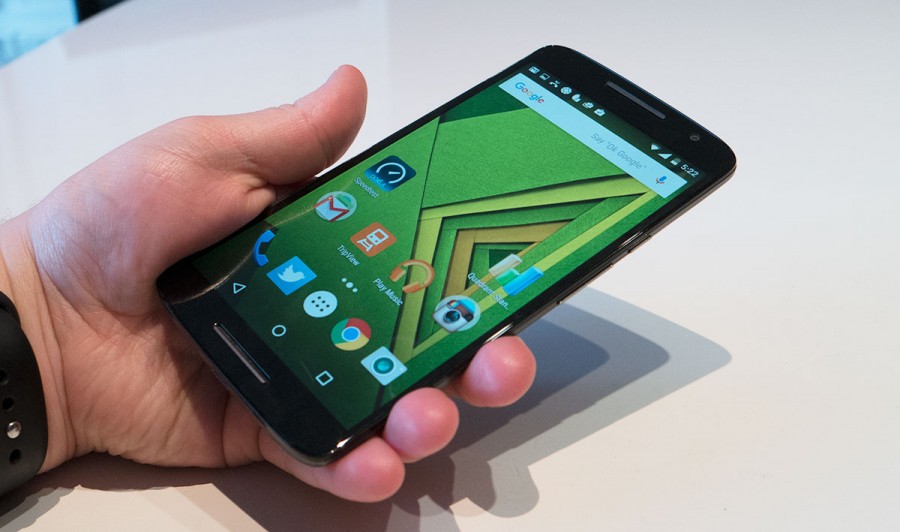 Screen size: 5.5 inches
Price: No outright pricing: available on Vodafone;
Designed to be used, the X Play is one of those phones that isn't afraid of a full day's work. In fact, it can handle that day of work and then some.
One of two flagships released by Motorola last year, the X Play won't win awards for its camera performance nor will it impress anyone with its meaty thickness, but it could grab you because its battery just keeps going.
Worth it if you need the battery life, but if cameras aren't a big deal.
Oppo R7s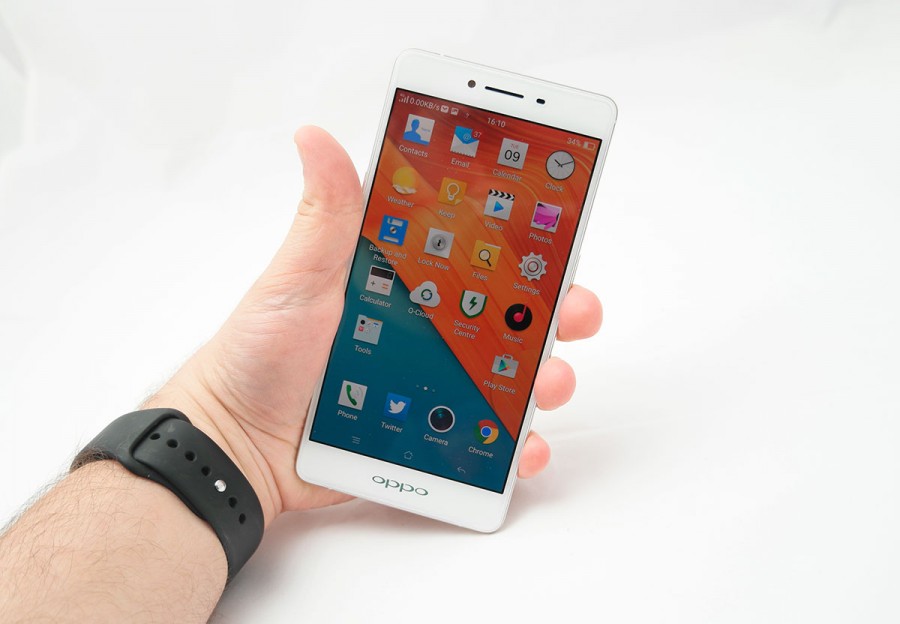 Screen size: 5.5 inches
Price: $529
As close to a "bargain" as a phablet gets, Oppo's R7s is a surprisingly well made product delivering a metal body, 5.5 inch Full HD AMOLED screen, and an eight-core chip with the option for either two SIMs or a microSD and a single microSIM.
The package is strangely alluring, and outside of the lack of a fingerprint sensor, it's a smashingly great phone, bringing solid performance and a big screen to a mid-range price point.
We wish it didn't try to be so much like an iPhone and just stuck with standard Android, but if you want an iPhone 6S without paying the same high price, this is the phone to check out.
Microsoft Lumia 950XL
Screen size: 5.7 inches
Price: $1129
One of the few Lumia phones we haven't had the opportunity to review, Microsoft's 950XL basically takes everything about the smaller standard Lumia 950 and supersizes it, meaning a bigger screen and a bigger battery life.
It still won't change the lack of an ecosystem for the phone, but if you love Windows and want it on a phone — possibly to match the Surface in your life — the bigger 950XL is the one to consider.
Samsung Galaxy Note 5
Screen size: 5.7 inches
Price: $1099
Before the S7 and S7 Edge rocked up this year, Samsung's Galaxy Note 5 was the best phone Samsung had made, and even though it has two better siblings, we still think the Galaxy Note 5 is a great option.
Granted, the hardware is a little different and there's no upgradeable storage, but you still get an excellent screen with a great note-taking pen, an excellent set of cameras, and some of the fastest 4G speeds in Australia.
Couple that with a lovely curved back (curved on one side, anyway) and you have what works as a great phone. We hope this year's variant brings back upgradeable storage.
Google Nexus 6P (made by Huawei)
Screen size: 5.7 inches
Price: starting from $899
One of the few phones from last year we never finished the review of, this one suffered from errors during the review process that made it prone to crashes, so we never got to finish the job.
We've since heard that Huawei and Google have both spent time finessing the product to result in phone that is essentially the iPhone 6S Plus of the Android world, and while that does mean good things, it also means the storage is fixed to the device with no way of upgrading it.
We weren't fans of that on the S6 or Note 5 models, and we're sure not fans of it from Google's point of view, but if you want a phone the way Google says Android should be done, we'd probably pick the Nexus 6P over its 5X sibling.
What we'd pick
Our favourite of this category is easily the Samsung Galaxy S7 Edge, as it just brings so much to the table, but the Apple iPhone 6S Plus is not far behind tying with the Sony's Xperia Z5 Platinum.
All three of these are great options, and you'd be hard pressed to be dissatisfied with either of them.