As Chapter 3 drew to an explosive close, destroying the map of the past year, a new location formed, setting the scene for Fortnite Chapter 4 Season 1, the latest update to the popular battle royale game.
More than just a season update, a brand-new chapter means there's plenty to unpack: a fresh map, plenty of character skins to unlock, in addition to guns and items galore to master. Appearances from famous video game characters like Doom Slayer and The Witcher's Geralt of Rivia, plus added game systems make this update a big one. Here's everything you need to know before boarding the Battle Bus.
A new island formation headlines Fortnite Chapter 4 Season 1
Arguably one of the biggest changes with the latest update is a completely different map to play on. Now, you have the likes of Brutal Bastion, Frenzy Fields, and Slappy Shores to explore. They're a cross-section of vibrant scenery and menacing fortresses that undoubtedly house all manner of tactical potential.
To help you navigate the new map, the Trail Thrasher is Fortnite's latest vehicular addition, a dirt bike perfect for tricks and taking out folks in equal measure. Another neat traversal update is that you now hurdle over objects when sprinting at them. Combine this with new items Slap Berries and Slap Juice – consumables that regenerate both health and energy – and fast movement has never been easier.
Fortnite Chapter 4 Season 1 includes a star-studded roster
As Fortnite is free-to-play, much of its revenue comes from seasonal Battle Passes. A Battle Pass costs 950 V-Bucks (roughly AU$12), the in-game currency also used for purchasing cosmetic items and emotes to customise your character. In exchange, you unlock more cosmetics for levelling up during a season.
For Fortnite Chapter 4 Season 1, Doom Slayer – from the acclaimed Doom franchise – unlocks as a playable skin approximately halfway through the current Battle Pass. This should come as a relief to many players, considering Darth Vader and Spider-Gwen were level 100 rewards in recent seasons. Geralt unlocks separately to the core Battle Pass, available "later on in the season". The colourfully dressed Selene, a Fortnite original character, immediately unlocks after buying the current pass.
Also, as seen in the season launch trailer, The Incredible Hulk and Izuku Midoriya from the popular anime My Hero Academia appear to be coming too.
Reality Augments will change your late-game strategy
Despite the ever-shrinking storm to contend with, Fortnite's late-game occasionally drags a bit. Reality Augments look like developer Epic Games' solution for dynamic match conclusions, offering passive attributes to encourage different play styles. Throughout a match at intervals, you get to choose from two randomised Reality Augments. It's a reward of sorts for surviving: the longer you last, the more power-ups you'll accumulate.
As of the start of the new season, there are 22 Reality Augments in the pool, including the following handful:
Light Fingers: makes your weapons using Light Ammo reload faster
Mechanical Archer: gives you a Mechanical Explosive Blow & Mechanical Shockwave Bow
Aerialist: grants you Glider redeploy for the rest of the match
Supercharged: your vehicles won't consume fuel and they'll have increased Health
Soaring Sprints: while sprinting, you'll be able to jump much higher – and jump with lower gravity
Shockwave Hammer looks like the ultimate weapon
Of course, it wouldn't be a new season without new weapons to wield. Included with Fortnite Chapter 4 Season 1 is the Shockwave Hammer, demonstrated in the gameplay trailer by none other than Geralt himself. It deals massive damage to opponents and knocks them away while acting as a launch pad for you and your squad.
Alongside the menacing melee weapon are the following new weapons:
Ex-Caliber Rifle
Thunder Shotgun
Maven Auto Shotgun
Red-Eye Assault Rifle
Twin Mag SMG
Tactical Pistol
Shockwave Hammer
Plus, there are additional methods of obtaining loot. One way involves taking out airborne drones to secure rare weapon drops. Additionally, Capture Points let your squad identify nearby chests and opponents, which adds territorial strategy to proceedings.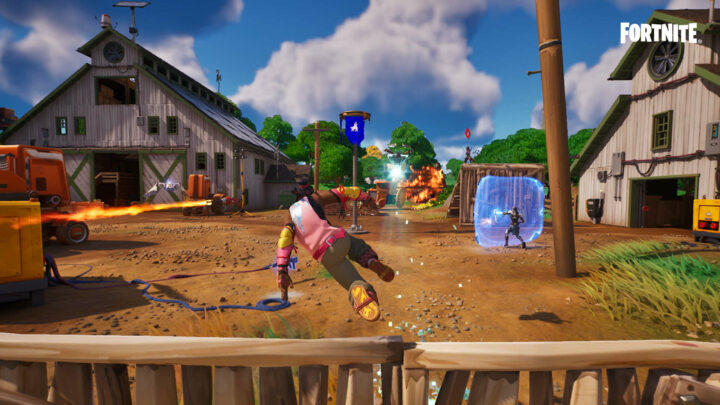 Fortnite goes next-gen with Unreal Engine 5
Although playable on just about every current platform in some capacity, Epic Games has some exclusive perks for playing on PlayStation 5, Xbox Series X|S, PC, and cloud platforms. Through Unreal Engine 5.1 – the development software used to make Fortnite – several visual enhancements make the game look prettier than ever.
These enhancements range from more detailed building and landscape renders, to more accurate lighting with ray tracing, better shadows, and the capacity for high-quality visuals at a high frame rate. There's also a detailed explanation of how to get the most out of the enhanced visual settings.
How long will Fortnite Chapter 4 Season 1 last?
According to the Battle Pass web page, the current season runs from now until 10 March 2023, so there's plenty of time to check out the new content.
A massive update across all aspects of the game, Fortnite's latest season looks to be absolutely packed with things to see and do. No doubt like many of you, I can't wait to unlock Geralt and wreak havoc.