iPhone owners already get the apps ahead of other operating systems, but now they might even get a chance at discounted movies, provided Fox has made them.
This week, Fox has clued us into an app it has made available for iPhone and iPad owners telling them when movies have dropped in price for purchase, not for rent. Called "Movie of the Day", it isn't so much an app that will tell you about a movie — facts, actors, etc — but rather that it's on sale, highlighting one specific thing about it: the price, which is temporarily cut for 24 hours.
We're told this is here to let people gain a bigger digital library at a discounted price, which sounds a little like a way of moulding us to stop buying optical media like DVDs and Blu-ray discs, instead shifting to the digitally owned copy.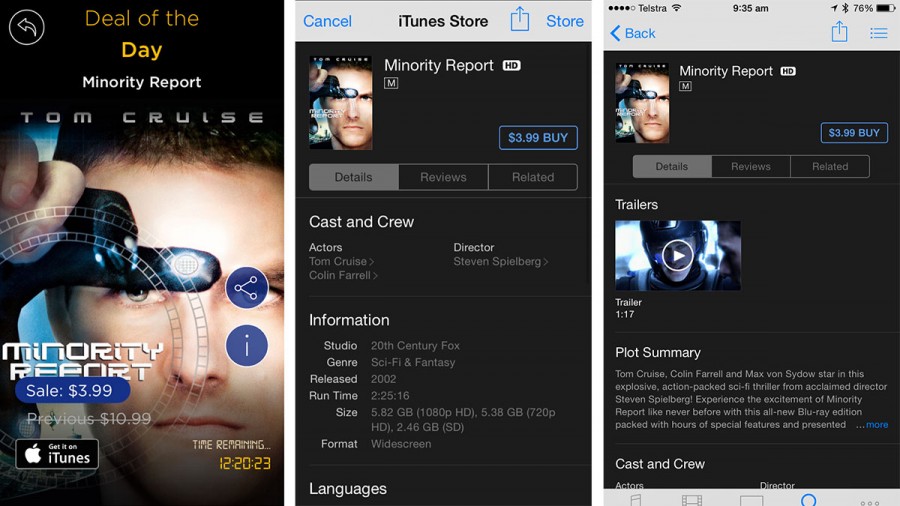 "The Movie of the Day app is a super convenient way for consumers to access the movies they love at the touch of a button," said Fox's Mary Daily. "The app gives movie lovers access to an amazing array of movies every day at a great price."
Movies found through this service aren't technically being bought through it, and all of these transactions appear to go through the iTunes store.
In fact, all Fox's "Movie of the Day" app really does is act as a 24 hour alert service, pointing you to a movie the company has temporarily cut the price of, which you could see if you searched for it on iTunes, too.
In essence, you don't actually need the app to buy the movies, and all it technically does is point it out.
We're not sure how you'd get this information without the app, that said, because while we've found a website that could find it, the information for Australia is missing. That said, the deals seem to be set to a pretty consistent price, with $3.99 being the price Fox is sticking to, seen as the UK charges £3.99 and the US grabbing $3.99.
Given our dollar, that could suggest Aussies are technically saving a little more, though you'll obviously want to wait for a movie you want to buy, unless you think each one is worth it.
There's also a possibility you could see the prices rise, as we're sure Fox doesn't have to stick to this consistent $3.99 price if it doesn't want to.
As for how you get the deals, the app is obviously the easy indicator, though it's only for iOS customers.
Google Android customers sadly won't likely be a part of this, and it's looking dim for Windows people, too, because when we asked Fox if either Windows users would see discounted Fox movies via the Xbox video store or Android customers would see cut price flicks via Google's Play store, we were told that "at the moment, Fox don't have any plans" for the expansion of the service.