Some people just don't log off. We know because, well, that's us, but if you know someone like us and they just can't take a break, here are some suggestions that will work on their wish list.
Apple iPad Air 2
Price: from $619
Without a doubt, one of the best tablets you can find, and even better than last year's thanks to an improved screen which provides faster touch accuracy, meaning typing is even better on it. There's now a fingerprint reader included on the tablet, and it's still a well built and very pretty tablet.
Belkin Ultimate Keyboard Case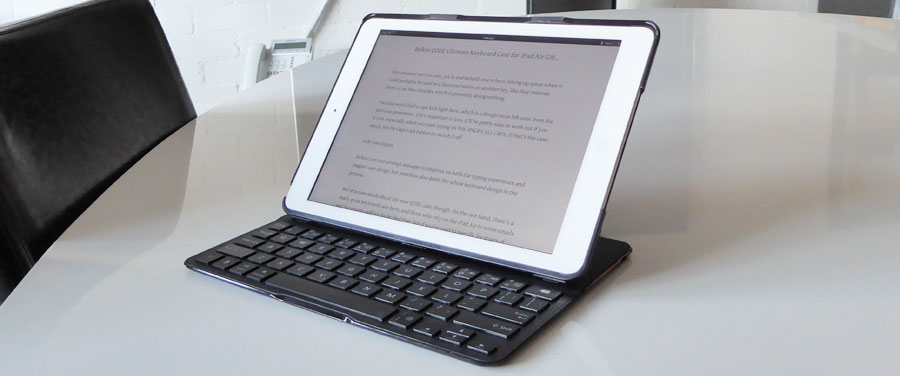 Price: $170
The iPad Air 2 is better for typing thanks to an updated and faster screen, but that doesn't mean it'll be as fast as using an actual keyboard, and one of our favourites this year is the Belkin Ultimate Keyboard Case, a product that Belkin keeps refining to make it better each year.
Microsoft Surface 3 Pro
Price: from $979
Easily one of the best computers we've played with all year, the Surface 3 Pro gets close to perfecting Microsoft's reinvention of the tablet as more than just a content consumption product, allowing you to sketch out your ideas, work on them, and complete things on the best incarnation of Windows 8.
Simply put, the Surface 3 Pro makes Windows 8 a joy to use. Really.
Apple MacBook Air
Price: from $1099
Don't like Windows? It's ok, we get it, and there's always a thin and light Mac if the person you're buying for prefers that sort of thing. Last year's MacBook Air received a minor bump this year, jumping a bit in chip speed and a slightly less expensive starting price, but still including the same metal body and Apple OS.
G-Technology GDrive Mobile
Price: $250
There's very little that is "sexy" about a hard drive, and certainly receiving one as a present is a touch ho-hum, except when that drive is super-speedy, relatively big (1TB), and supports both Mac and PC with Thunderbolt and USB 3.0. Hey, we'd be excited, but we're geeks!
Osprey Portal Cyber Port
Price: $110
If anyone needs a new backpack, Osprey's Cyber Port is a neat concept allowing someone to bring a laptop and a tablet, and have that tablet usable through a transparent window in a small section of the backpack. It'll keep the tablet clean and protected, while the pack will hold a few more things, too.
LG G Watch R
Price: $350
The next big thing is wearables, and if you want to surprise someone with a piece of the future, here's how you start: LG's G Watch R is one of the most watch-like smartwatches we've seen all year, with a circular screen, aluminium body, and a feeling like that of a proper watch.
Belkin Travel Surge Protector
Price: $70
Finally, a gadget you might need if you're going on holiday or a work trip, with a travel adaptor capable of not just converting power from different international standards, and not just providing a charge to two USB ports, but also working as a surge protector, because helping your gadgets not to blow up is important too, you know.