Getting better all the time
If the person you're buying for is no longer dabbling, consider something that could help them make music like a pro, like a portable sound card, digital instruments, or a great pair of cans.
Or, if none of that made sense to you, just check out what we've written below, because it's all in plain English with product names, too.
IK Multimedia iRig Duo
Price: $330
Generally, audio engineering is something done at a desk, but in the case of the iRig Duo, you can go mobile.
This little gadget is a small battery powered sound card capable of bringing in a feed from either two instruments, an instrument and a microphone, or two microphones, and then sending it to another device, say a computer, or perhaps a mobile phone or tablet.
It's one of those neat little concepts ideal for people who don't want to be stuck to the desk, as it means they can get out in the world and make their music anywhere and everywhere they go.
Roland TD-1K
Price: $699
A real drum kit can be a hassle to store, and then to play simply because of how loud they are, but an electronic drum kit can be folded up and makes very little noise at all.
Those two features alone make it a great alternative to a real kit, but then there's the other side: instruments.
In theory, a drum kit will sound like one style of instrument, but with an electronic drum kit, you can get it to sound like something completely different, and if you plug it into a computer, well, the sky is the limit.
Native Instruments Komplete Kontrol S49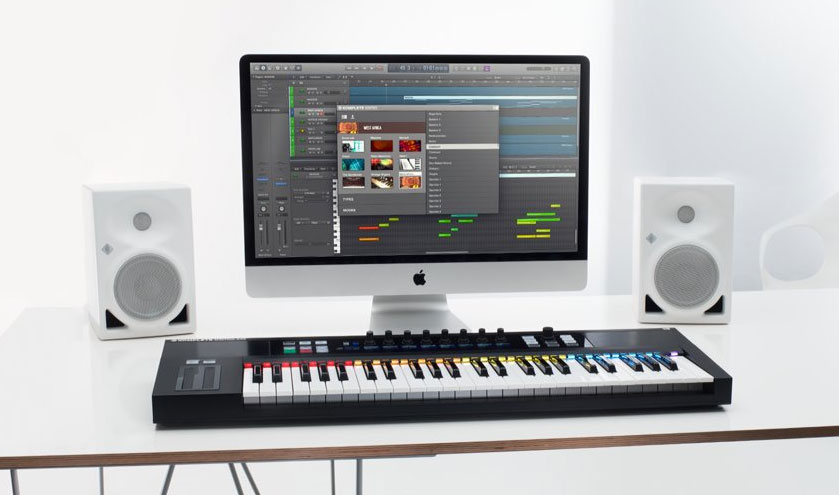 Price: $849
A large piano or keyboard isn't going to cut it for everyone, so now that one of our favourite sound card companies has produced its own keyboard, you can bet we're taking notice.
Here at GadgetGuy, much of the audio work we do (and previously did for the Naked Geeks podcast) was handled through a solid Native Instruments Komplete sound card, and the S49 keyboard takes much of that technology and throws it into a 49 key digital piano.
Guide LEDs are part of this package, telling you where sounds are, while a "Smart Play" feature will let you map the keyboard to create scales and melodies with one key stroke.
And there is software… so much software.
Logic Pro X
Price: $320
Pretty much the industry standard for audio capture and engineering, this will let you record real instruments, virtual instruments, add effects, and create music the way the professionals do in the real world.
You can also score films, compose music with notation, and even grab an iPad for an external mixer and controller for the music, making it possible to do some pretty advanced sound controlling if you have a lot of instruments or a particularly large recording space.
A Mac is needed for Logic Pro to work, though, so if the person you're buying for doesn't have one, well…
Apple MacBook Pro 15 with Retina
Price: from $2799
If that someone doesn't have a Mac yet and yet you want to deliver the industry standard for audio editing, well, you might want to get them a laptop.
Granted, a MacBook Pro 15 is not a cheap present, not by a long shop, but it should last the next few years, so until they're making platinum record after platinum record and can afford the computers they need themselves, it could well be a long term present.
This year's generation of MacBook Pro isn't just an incremental one, either, offering that same excellent high-res screen and fantastic keyboard, while updating the trackpad to be button-less and introduce a deeper secondary press, and bringing in a new faster Intel processor.
RHA T20
Price: $379
One of the last pairs of headphones we've received for the year, the RHA T20i are a rather special pair, taking a style that you don't see very often.
Essentially, these are in-earphones designed as metal pieces you keep in your ear, and they even offer customisable tuning. Think of this idea as a notion of "if you don't like the sound of your earphones", you actually can change it. Not enough bass? Switch to the bass tuning filters. Prefer it high pop and treble-intensive? Move to those filters.
We reviewed the original generation of these (T10) earlier in the year and found them to be a little too bass heavy, but early impressions of the T20 are very good, with the reference tuning reminding us of the most balanced headphones we've ever heard.
Focal XS Book Wireless
Price: $549
Two channel speakers aren't talked about much anymore, especially when they're small, but the Focal XS Book Wireless are worth singing about, delivering some clear and accurate sound in a fairly tall casing.
Bluetooth is provided for connecting, but you'll probably want to go the route of wired, delivering audio the good ol' fashioned way to the 20 watts of power found in each speaker.
Granted, these aren't professional monitors, so if you need something totally flat, these may not be it. What the Focal XS Book are, however, is a pair of well engineered and beautiful sounding speakers, and totally worth checking out.