Computers
Consoles aren't the only way to get in the game, and if you know someone in need of a new computer, it might be an idea to grab either that, or even something small and unexpected.
Alienware Alpha
Price: from $799
One part PC, another part console, Alienware's "Alpha" is what happens when a company decides to make its own system. While Valve certainly took its time to devise what to do regarding its Steam Boxes — which, by the way, still aren't out in Australia — Dell and Alienate decided to make something for the crowd of gamers keen on them.
That product is the Alienware Alpha, a unique PC that runs a combination of Windows and Dell's Steam loader to create a next-gen style gaming device that looks and feels like a console, but is all PC.
Oh, and if you were wondering if you needed a keyboard for this, sure, you can use one, but an Xbox 360 controller is included in the box. Cool, huh?
HP Omen 15
Price: from $2199
HP's first crack at a gaming laptop arrives with one of the sleeker designs we've seen and some solid specs made just for gaming, not to mention a massive trackpad that is actually usable.
Port locations on the back are solid, and six mappable keys can even be found. Generally, the entire thing is actually a ripper of a gaming laptop, if it weren't for the fact that it's a fingerprint magnets with mediocre battery life.
Other than that, though, it's a top little lappy.
Apple MacBook Pro 15
Price: from $2799
A surprisingly capable machine, it's worth noting that while there aren't a lot of options for Mac gamers, the MBP 15 with discrete graphics can handle its own in this department.
Ideal for work and play, it's one of those laptops that is definitely worth looking into, provided you have the cash to spend.
Acer Predator 17
Price: from $3299
Acer's latest gaming box is a bit of a beast, featuring a top-end GeForce GTX 980M graphics card with 4GB RAM, while the box itself features an Intel Core i7 quad-core 2.6GHz processor, 16GB RAM, and a 1TB hard drive alongside some solid state storage.
Some neat technologies accompany this computer, such as multiple fans working together to keep the machine cooler, a dust protection system, lighting zones, and a new networking technology that lets the computer talk to both wired and wireless networks at the same time.
Toys
The last area that constitutes "play", these days the word "toy" can mean all sorts of things. It can mean "action figure" or "doll" or "board game", or it can even mean some of the things on this list.
View-Master
Price: $50 and a phone (not included)
Not quite the old retro View-Master you had when you were a kid, the modern interpretation of the View-Master is to mix augmented reality and a premium Google Cardboard headset.
With the two of these combined, the reinvention of View-Master can begin, letting a smartphone see a virtual object and explore it in 3D sitting on top of a View-Master disc. There's no film here, and this is pure digital exploration of a virtual item.
It's not quite virtual reality, but it gets close.
Samsung Gear VR
Price: $159 and a Samsung 2015 Galaxy phone (not included)
But if you want real virtual reality, why not start with a device that at least purports to offer it.
Samsung's Gear VR is one such product, and when you couple it with a Galaxy S6, S6 Edge, S6 Edge+, or Note 5 handset, it can deliver virtual worlds with ease to your eyes.
You do need one of those phones to play, so if you don't have one or the person you're buying for doesn't have one, factor that into the cost. Once you do, though, you're good to go.
Lego Dimensions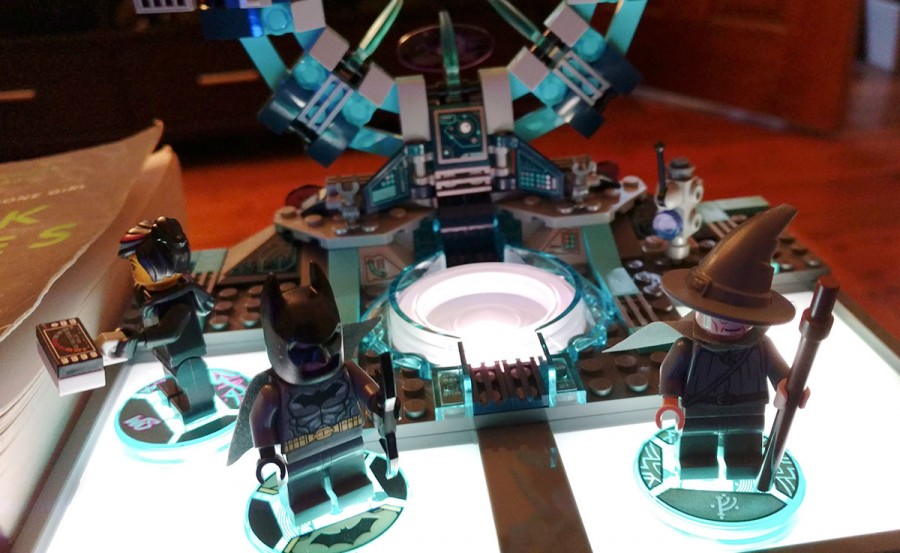 Price: $179
Part of the "toys to life" part of the market, Lego Dimensions is a great game for the Xbox 360, Xbox One, PlayStation 3, PlayStation 4, or Wii U that doesn't just get you to play a video game, but also gets you to build stuff.
Think of it as the realisation of your Lego-based imagination as a kid turned into a video game, with the actual game requiring you to assemble Lego people and vehicles, and then place them on a special game pad to play a game.
Surprisingly, this kid-friendly game has a lot there for parents, too, so if you're looking for a game to get the kids playing with you, this is it.
Sphero BB-8
Price: $249
Without doubt the "must have" toy of the year, Sphero's BB-8 is basically the R2D2 robot you could never have as a child made modern.
With the new Star Wars movie out shortly, you may already know that there is a new robot in the movie. Shaped like a Sphere, he rolls around to and from places using his body, and much like R2D2 in the original movies, you can see that he/she/it is likely to be the good companion and slight comic relief that R2 was.
So many of us wanted an actual droid like R2 when we were kids, but the tech was just never there. Fortunately, it is now.
As such, Sphero has rebuilt its spherical robot into something right out of the Star Wars movie with BB-8, providing a remote control robot that can walk around and do its own thing, as well as play not-quite-holographic messages from the films.
3D Printers
Price: from $600
And if none of what we've suggested makes sense for you or the person you're buying for, why not a gadget that can make toys.
There's always a hammer, a saw, or why not a 3D printer?
While not quite ready for primetime and every home, 3D printers can print figures and parts of toys, allowing you to make your own, even if they do take a bit of time.
Even Mattel is joining forces with a 3D printer maker, and there are plenty of places you can find 3D models to print out. Why, you could even take a 3D scan of yourself and print it for someone. Now that's a toy they'll never find in stores.