Some people are just so into their work that it's hard to shake it from them, so why not give them the gift of something that's all work and no play.
Allocacoc PowerCube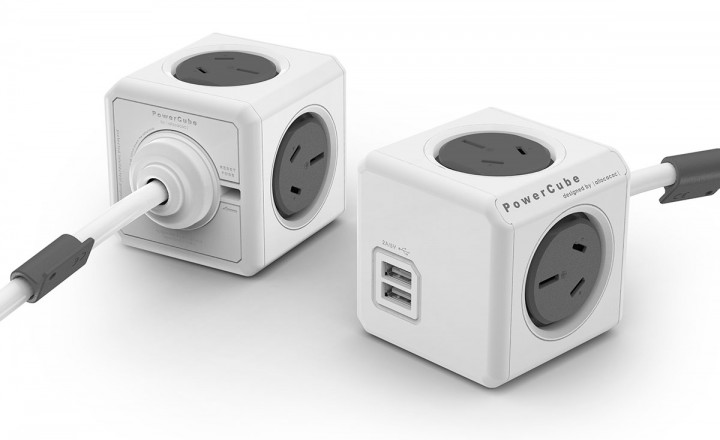 Price: $30 without USB, $40 with USB
Power strips have power boards have looked the same for yonks, but the PowerCube from Allocacoc takes the power formula and entwines it in a small box of a thing, which is where it gets that "cube" name from.
It's not the most perfect design, we'll be honest, and it needs some surge protection, but if you're after a random present for someone that can't stop working, an extra cube of power could help, especially when space is at an absolute minimum.
Logitech MX Anywhere 2
Price: $130
A tiny bit of power made to go with a tiny laptop, this little beast is based off its MX Master sibling released earlier in the year, delivering several buttons, a free spinning scroll wheel, and a new laser system that can be modified to work in various resolutions, meaning the mouse can be super sharp and well defined or just plain ol' regular.
The MX Anywhere 2 also works with both Bluetooth and a Logitech Unifying USB key, making it a mouse you can take with you, usable at home on the desktop or port replicator at work, and then back on the road over Bluetooth on the laptop.
Oh, and forget the batteries because this thing is charged over microUSB.
Apple Magic Trackpad 2
Price: $199
Know a Mac user stuck to their desk?
Apple's second edition Magic Trackpad could suit, bringing the button-less trackpad concept from the laptops to a desktop with the whole "force touch" idea.
The trackpad does arrive with some neat tricks, such as definable button depth, a silent mode that is very hard to hear, and like other wireless mice Apple has caught up with a rechargeable battery, but that battery also hides the other bonus with the Trackpad 2: an extra Lightning plug is included in the box.
That means if the person owns an iPhone, they'll also inherit a spare charge cable for their iPhone. Handy.
HP DeskJet 3630
Price: $69
HP has been making printers longer than most companies, and for its latest not-totally-expensive desktop printer, it has been listening to customer feedback.
Everyone has suffered through a printer's vocal complaints about not having enough ink in cyan or yellow and refusing to print a black and white document — seriously, what does a colour ink tank have to do with a black and white scrap of text? — but HP's DeskJet 3630 is among the first to say it's cool.
Yes, it's cool that you don't have enough ink to print in colour, because you're only printing in black and white. That's the idea behind the DeskJet 3630 with the box able to print even when an ink is out, bypassing colour or black altogether when you need it.
It seems so simple — and it is — but this printer also packs in a scanner, copier, and WiFi over 802.11b/g/n, making it ideal for someone who needs something, anything, to give them a bit of printing power.
Epson EcoTank printer
Price: $499 to $699
You may not find printers interesting, but with the above HP, you can acknowledge that the innovation in printers is happening at the ink level, or more specifically, at the saving of ink level.
While HP's take on this is to let you keep printing when the ink has run out, Epson's idea this year was to make it rather difficult to run out, designing a printer series that includes up to two years worth of ink with the printer.
Factor that into your coffers.
Called the "EcoTank" series, these printers start at $499 and stretch all the way to $699 if you need to get out the big guns, which is the one we're testing.
Our review isn't ready yet, but we've printed easily almost 200 glossy cards on the thing and haven't even nudged the colour tanks down a notch. Given that the replacement ink tanks start at $17, we suspect we won't need to buy anything for a while, and that's fine by us.
D-Link Taipan AC3200 Modem Router
Price: $580
One of the weirdest pieces of tech your going to set your eyes on this year, D-Link's Taipan is a beast of a modem router, packing in enough high speed goodness that you'll be able to ditch one of the extra routers that was keeping your home or office alive with.
There is loads of bandwidth in this thing, with two 5GHz networks and one 2.4GHz making up the 3.2Gbps on offer, and there's even a modem here, too. Convergence FTW!
WD MyCloud EX2100 4TB
Price: $800
In any business, and even at home, backups are essential. And not just backups, but backups made for redundancy.
Specifically, we're talking about mirroring. That means taking your data and backing it up to one drive, which in turn backs it up to another, providing a sense of security in case a hard drive fails, which we all know can happen.
Not every business or household is doing this year, and that means there's a spot for a gift idea for the worker struggling to work out how.
WD's MyCloud EX2100 seems suited for this person not just because it's equipped with two 2TB drives from the get go, but because replacing them is as easy as pulling on the tabs at the front of the unit and unlocking the hard drive, with the person able to slide them out and add a new one if it ever gets to that point.
This isn't a sexy product, that said, but it's definitely a useful one, and with two Gigabit Ethernet ports on the back, it's a fast product, at that.
Dell UltraSharp 34 Curved Monitor
Price: $1499
The more space you have for your desktop, the easier it is to get stuff done. That's our philosophy, anyway, and it's something that works for us in the ridiculous amount of writing ad reviewing that we do.
Getting more space is a hassle without width, and that's why the 21:9 monitors are such a big deal these days, delivering the true widescreen resolution of 21:9 and an ultra-wide 3440×1440 picture on screen.
Dell's U3415W caters to this, but also brings in a slight curve, allowing you to be drawn in ever so slightly and so your eye has less distance to travel to take in that massive width.
Apple MacBook
Price: from $1799
Thin computing has a new name, and it's one made by Apple.
The name may not be as impressive as the MacBook Pro or the MacBook Air, but the regular ol' MacBook has returned as a super slim and very light machine that makes working a joy.
The keyboard may take some getting used to, but this example of the future will go a long way into making anyone look more professional.
Lenovo ThinkPad X1 Carbon
Price: from $1899
If thin and light is what they want, but they're not set on the whole Mac thing, and the tablet idea just gives them the willies, look into one of the best laptops we've seen all year hands down.
IBM's old ThinkPad range has always been a staple in solid PCs, and even though Lenovo has had the series for ages, it is still doing wonders with it, pushing it into the new era of computing and not letting up.
The new ThinkPad is the X1 Carbon, and carrying solid-state storage, recent Intel processors, support for touch, and the optional to include a 4G modem, it's a real beast.
But what really impresses us? It's rated to military specification and yet is still light, easy to hold, and offers great battery life.
Oh, and it's most certainly not a tablet. So there.