Know someone keen on being a writer? Believe it or not, technology can help them out, and you'll even find a couple of pressie ideas if that's where their mind is focused.
Pen to paper
Some writers haven't made the transition from pen to keyboard, and that's totally fine. There's something to be said for the emotion that nib to paper elicits, almost like the words are the art form and the pen is letting you carve them out of the paper.
Beyond the emotional reaction, there is a real cognitive benefit to writing by hand, allowing your brain to flex more of the muscle and come up with doodles and drawings as you conceive the words, the story, and bring it to life.
The digital world does have a few solutions if you know someone who still loves to use an analogue writing mechanism, and that's where we'll start.
Livescribe 3
Price: $199
One of our favourite little gadgets over the years, Livescribe relies on a pen with a special camera at the base that reads the carbon imprint your pen strokes make across a specialty type of paper, which many now just call "dot paper".
The name isn't just a fun moniker, either, because dot paper is made of little tiny green dots mathematically arranged so that when you make your pen strokes, the arrangement of these dots is tracked so it knows where you made them. This allows them to be stored digitally and connected with the audio you were listening to at the time, ideal if you were speaking or listening to someone and taking notes.
That's been the general idea of Livescribe over the years, and in the third iteration, Livescribe is about sending these notes to an Android phone or tablet, or even an iPhone or iPad, all of this happening in the background.
Basically, you can take notes or write a story and expect it to appear on a phone or tablet afterwards.
Wacom Bamboo Spark
Price: $200
If recording the audio doesn't matter much to you, but instead you are far more keen on skipping specialised paper and bringing your own with you, Wacom has something that is now hitting our stores.
Yes, the very people that practically engineered the digital pen and stylus as we know it today — and still provide some of the technology for big companies like Samsung and HP — has digital paper, and you can bring your own to the package.
It's called the Bamboo Spark, and we're literally just getting ours now, which is why we don't have much written about it.
Essentially, the Spark is a combination of a wirelessly powered real-ink pen and an electro-magnetic resonance board able to pick up on the strokes you're making to paper on the board and also power that pen, kind of like Wacom's other graphic tablet pens which haven't needed power and instead grabbed it from the board.
When you write or draw on the special board, which is built into a folio for both the paper and either your phone or tablet (Android or iOS is fine), the information can be transferred to that phone or tablet into image or PDF format.
We're not sure if transcription is provided — our guess is no — though other applications can probably take care of that, and at least you're not stuck trying to find specialised paper.
HP Pro Slate 8
Price: $649, plus $69 for the folio
If the previous ideas sounded like amazeballs concepts, but you didn't have a tablet to link them to, why not try a full-on combination.
Earlier in the year, we checked out the HP Pro Slate 8, an idea that basically blended everything you've read thus far, but packaged a specialised tablet and a specialised pen inside the box, pretty much all ready to go.
This one arrives with an 8 inch Android tablet that can be used for more than just scribble capture, but primarily, that's what it's here for, and the technology is a little different.
Rather than rely on carbon capture or electro-magnetic movement, HP's relies on location, because the tablet is in a specific position — to the right of the paper in the folio — for a specific reason, and that is it will capture anything written or drawn on the size-matched paper in that spot.
The pen itself can be used as both a pen and a stylus, which is something few actual pens can do, so if you decide to scribble notes on the tablet because you're out of paper, well, you can do that, too.
Forget the paper
Paper is a little passe for so many people, so we get to turn to computers and tablets. Don't get us wrong, we love to write using our hands and pens — it's like carving the words out of the medium! — but we're faster typists than we are scribblers.
Most people probably are, actually, since we're all growing up in a world dominated by computers, so if you think the person you're buying for would be better suited for something digital, try these options.
Asus Transformer Book Flip TP200S
Price: $499
If you know someone keen to write without a computer, there's always that as a gift.
The Asus Transformer Book Flip TP200S doesn't have the easiest to say name — take a breath, people — and it's not the highest end product out there, but given that it's one of the first budget machines with a decent screen, a totally acceptable and comfortable-to-use keyboard, even supports USB Type C out of the box ready for a world that's about to change for the format, it's hard to find a lot wrong with it.
What does it have going against it?
Well, you see, it's not a particularly fast computer, and the Type C isn't being used to charge the machine, but as far as budget computers go with decent keyboards, it's definitely worth looking at, and hey, Office 365 is included in the box for one year. Just what a young writer would dig.
Incipio ClamCase Pro
Price: $199
Perhaps you don't need to buy that special someone a computer, because perhaps they rely on a tablet that they always carry around with them, and perhaps — just perhaps — it's an iPad.
Awesome. Let's work with that.
One of the best keyboard cases we've ever reviewed (and not just this year), Incipio's ClamCase Pro is definitely worth looking into. Hell, this gift guide was typed on one.
Essentially, it's one of the more solid and better designed keyboard cases we've ever used, with a keyboard arrangement that feels more like Apple's own MacBook Pro computers, while offering the sort of hinge modern 360 degree laptops provide, meaning you can lie it flat or use the iPad just like the tablet it was meant to be used at.
Granted, it does add some weight to the package — about 500 grams — which means an iPad Air 2, for instance, will feel more like it weighs 1.2 kilograms, but it is the best keyboard you'll find for an iPad device.
Apple MacBook (2015)
Price: from $1799
Now if the person you're buying for doesn't own a computer or an iPad or anything digital and they're serious about their writing (and we have no idea what they've been using up to this point… stone maybe?), let's try something that won't stop them from writing in any location.
Apple's attempt at a super slim writing machine, the MacBook — no Pro, no Air, no nothing, nada — is a tiny laptop that weighs under a kilogram and is marginally thicker than even its own iPad Air 2.
Inside is a processor made to get work done, though not do too much more, a set of fixed storage just like Apple's other laptops, and a screen that is among the company's best yet. We wish this sort of tech would come to the Air, which now looks meh in comparison to this little thing.
And then you have the keyboard, which is interesting because it relies on a new mechanism created to let Apple get the most out of the small space without compromising the keys considerably.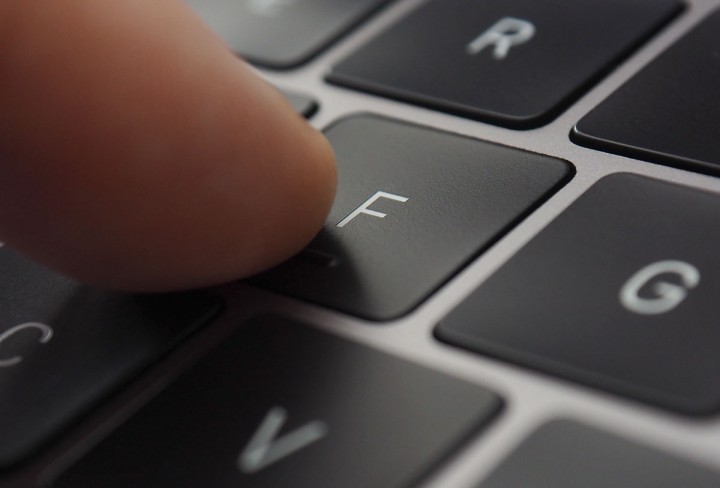 We'll be honest and say this is going to be one of those things you either love or hate. After extended use on it, we love it, and it didn't take long for our fingers to find something to adhere to. When we placed it on a surface like a wooden table, we felt it almost picked up on the qualities of the wood, feeling more like that hard and inflexible material, while on our lap or our bed, the keys felt soft and almost pillow-like.
Amongst the reviewer community, it's a pretty solid division, too: some like it, some don't.
We think people who don't may want to shift their writing surface to see if it matches what they do better, and if they are someone who likes writing whenever inspiration strikes them — a coffee shop, a park, whatever — the light weight and tiny size will certainly make that possible, too.
Oh, and we had more to say about that keyboard, which was worth a whole separate article just because of how controversial it was.