We've seen cameras built into navigation units before, but Garmin's first inclusion of one will do more than just record the road, with some neato tracking to warn you of problems and help you find your destination.
"You have reached your destination."
Those are the words we all yearn to hear when we take to the road with a GPS navigation device switched on, following the advice of a computer assisted system to help us get to that destination, and while the tech has worked for ages, it can still be improved.
Even Garmin thinks so, and after building automotive turn-by-turn navigation systems for over a decade, has decided to throw in a camera to help the customer viewing the device, as opposed to merely the device by itself.
The inclusion will allow one specific GPS, the NüviCam LMT to do a little more than just record what's on the road and when something hits you, which is the primary reason cameras have been built into other GPS units from other manufacturers in the past.
Rather, Garmin's take on the included camera option is to get the GPS to look at what the camera is seeing, with some software smarts doing the work to alert the driver of things.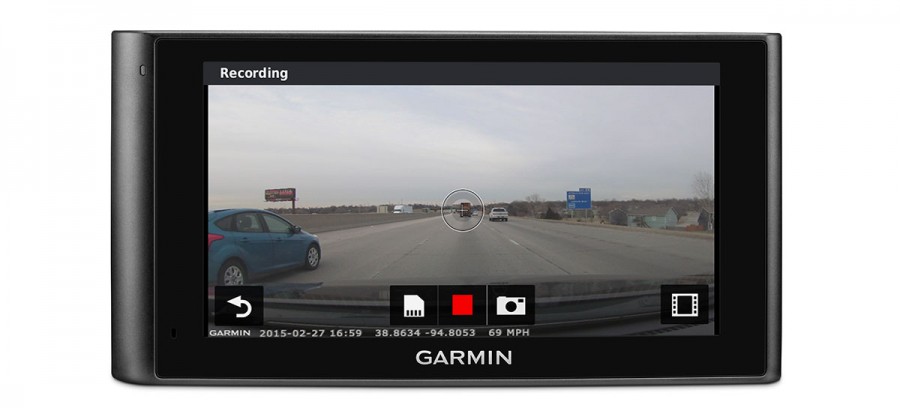 For instance, if you're driving a little too close to another car, the system will pick up on that from the camera and tell you that yeah, you're driving a little too close, and to back off. And if you start to drift off, the system acts like a bit of a driver reviver and alerts you to that fact with sounds and on-screen notices.
Finding your destination is also factored into the camera's inclusion, as Garmin has developed a technology called "Real Vision" which analyses the numbers on buildings to decipher what they say in an attempt to inform you where your destination actually is.
The GPS will also talk to smartphones — both iOS and Android — with a feature that is becoming quite necessary, providing live weather and real-time data services to the driver by way of the phone's mobile connection, while also bringing Bluetooth-based hands-free calling if you need that in your car.
"The NüviCam LMT goes beyond helping drivers get from Point A to Point B," said Matt DeMoss, General Manager of Garmin in Australia.
"The intuitive driver-assist features not only lessen the stress of getting you to your destination, but the NüviCam also provides peace of mind in knowing that your commute is being recorded and can be referenced should you need it."
In Australia, Garmin's NüviCam LMT comes preloaded with maps of Australia and New Zealand, and can be found in stores across the country for a recommended retail price of $499 with free maps updates for the life of the GPS (though this can be a bit of an ambiguous term, and often means closer to four or five years).