The GPS Garmin DriveSmart 61 LMT-S GPS offers a massive 6.95 inch edge-to-edge screen that is a boon to those who have trouble reading speedo dials.
The Garmin DriveSmart 61 LMT-S may have a massive 6.95in edge-to-edge screen but its narrow bezels means the screen fits into a 6in body. It is also thinner and lighter at 173 x 99 x 19mm x 243g.
It is Garmin's top of the range model that lacks nothing. It has Wi-Fi updates, Smartphone link, Bluetooth calling and even is backup camera compatible.
What is Garmin DriveSmart 61 LMT-S?
The first of a new breed of narrow bezel GPS units taking the bulk out of larger screens. It is ideal for those with long sight, (e.g. have trouble with reading books) and has almost every conceivable feature. All this in a $329 unit.
The majority of in-car GPS are 5 or 6in. Navman had a 7in EZY270LMT, but that size is missing from its 2018 range. Reviewers universally said with its traditional big bezels it was too large for a typical car.
In the box
Garmin DriveSmart 61 LMT-S
Vehicle windscreen suction cup mount
Vehicle power cable and charger
Mini-USB to USB-A cable
The device supports up to 64GB micro-SD cards (not supplied)
First impression
You will note that is it smaller and lighter than you expect. The top/bottom/right-side bezels are barely there, and the left-side bezel is about 1cm wide. Overall it is thinner than most at 1.9cm.
Download Garmin Express to a PC or Mac and update the maps and software. There are new maps almost monthly. You can get maps at extra cost for the US, Europe, Asia, Africa and the middle east.
The screen is a delight. 1024 x 600 in a 16:9 format using a W-LED backlight for crisper text, clearer images, better brightness and daylight readability.
Maps
Garmin uses Here maps. I am a long-time advocate for Here (Wikipedia article here) now owned by Audi (Volkswagen), BMW, Mercedes/Daimler, Intel, Bosch and Pioneer.
HERE produce maps in 200+ countries; offers voice-guided navigation in 94 countries; provides live traffic information in 33 countries; and has indoor maps available for about 49,000 unique buildings in 45 countries. It is the engine behind Amazon fulfilment, Bing, Yahoo, Facebook and many more.
Here portable maps default to 640×480 VGA resolution, so this 170ppi screen handles the upscale well. You can also download a free Here WeGo version for iOS and Android smartphones.
Here maps on Garmin provide:
Millions of points of interest, including hotels, restaurants, parking, entertainment, fuel and shopping
Turn-by-turn directions
Enhances pronunciation data spoken street names
Navigational features, such as turn restrictions, roundabout guidance and speed categories
Traffic data for devices that use traffic receivers
As a GPS
It does everything every other GPS does. It gets you from A-B with hopefully the most direct route or avoiding tolls (if you wish). The Garmin seems better because it has:
Intuitive and logical menu system
Accurate speed indicator and local speed limits
Offers the shortest routes and an option to avoid tolls
Here maps seem better than others – free lifetime updates
Removes clutter from the display – does not show minor streets in navigate mode
Picture and intersection guidance are excellent – means less hesitation in unfamiliar surrounds
TripAdvisor and Foursquare info and Notifications if you pair it to a smartphone
Tunnel emulation mode is very accurate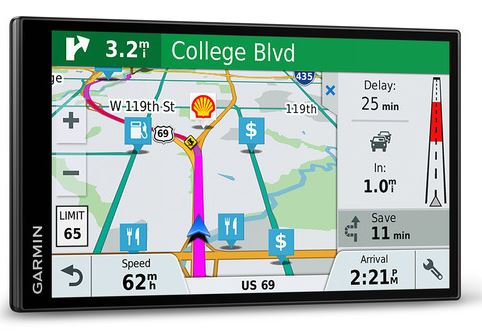 I won't go further down the GPS rabbit hole. Let's focus on what is different to many other brands.
Wi-Fi compatible
You can use its Wi-Fi to link to a home network to update maps or use Garmin Express via a computer. When connected it checks for updates and offers an install menu.
Smartphone Link – Garmin Live services
The Smartphone Link for iOS or Android allows the GPS device to receive live data, including live traffic data, parking trends, up to date red light and speed cameras, weather, and other live services. It also enables smart notifications (SMS, calendar etc.), hands-free calling and Foursquare check-in.
I tested handsfree calling asking it to access a person in my contacts list. The call was clear and at least the standard of a Bluetooth call. Live traffic comes via the smartphone, but you can buy an optional GTM36 traffic receiver cable to get around that.
The LiveTrack feature lets you share your trip with contacts from your smartphone and your social networking accounts, such as Facebook and Twitter. While you are sharing, viewers can track your current location, recently visited locations, and the path of your recent travels in real time.
Trip planner allows you to specify where you want to go and maps the route including attractions along the route. Lastly, the Baby Cam and back seat reminder are great for kids.
GadgetGuy's take: 
As an in-car GPS, it does everything I need – plus, with the 6.95in screen, I can read the letters and numbers! The screen layout is better than most other brands. It receives my best larger GPS of 2018 award.
The extras are nice, and I use Wi-Fi to keep maps up to date. The other Smartphone Live features are great when travelling.It is a well-built, fast and accurate GPS with the advances of a 6.95in responsive capacitive screen in a 6in body.
My only issues (none are deal breakers) are:
Traffic receiver should be standard although it is not costly
Voice activation is patchy at best although all brands suffer accordingly
Hands-free phone still needs touch screen commands and could use more volume
For more details, a video of live services is available below.
GPS expert Johnny Appleseed may be your best place to start.
One of the biggest screens (6.95") in a smaller body
Good colour, brightness, touch responsiveness
GPS is easy to use and highly intuitive
Traffic receiver cable is extra cost
Voice activation is patchy
Hands-free phone is good but still requires manual touch screen commands