Garmin has removed the pet hate of most activity tracker owners – constant recharging is a thing of the past with the new vivofit 4 and its 1+ year battery life.
The vivofit 4 is primarily an activity tracker although it can be paired with a smartphone, adding more functionality and options, such as sleep tracking, intensity minutes and more.
Garmin Move IQ feature automatically detects activity and classifies activity type.
Through the Garmin Connect app, users can customise it with various watch faces, colour themes and personalised text, such as an emergency contact or motivational phrase. It is one of the better health and fitness apps.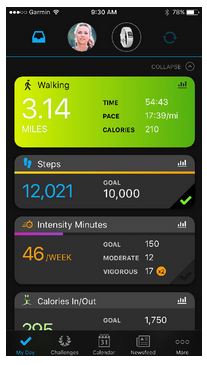 It is also pool safe rated for up to 5 ATM (approx. 50 metres underwater). It has an always-on colour display is bright and easy to see, even in the sunlight
Interchangeable accessory bands (sold separately) make it easy to switch up colours and styles to match any mood or outfit.
Use the Toe-to-Toe feature to challenge your kids to a step competition. The vivofit 4 activity tracker wirelessly connects to your child's nearby vívofit jr. 2  or another vívofit 4 to kick off an instant timed step competition.
Specifications
Strap material
silicone or TPU
Physical size
Width: 19 mm
Thickness: 9.4 mm Circumference (small/medium): 122-188 mm
Circumference (large): 148-215 mm
Weight
Small/medium: 25 g
Large: 25.5 g
Water rating
Swim to 50 metres
Display type
sunlight-visible, transflective 8 colour memory-in-pixel (MIP)
Display size
0.43″ x 0.43″ (11 x 11 mm)
Display resolution
88 x 88 pixels
Battery life
Up to 1 year (2 x SR43 coin user-replaceable, not rechargeable)
Memory/History
Four weeks of activity data
Automatic daylight-saving time
Yes
Alarm clock
Yes
Timer
Yes
Stopwatch
Yes
Weather
Yes
Find My Phone
Yes
Smartphone compatibility
iPhone, Android
Compatible with Garmin Connect Mobile
Yes
Move bar (displays on device after a period of inactivity; walk for a couple of minutes to reset it)
Yes
Auto goal (learns your activity level and assigns a daily step goal)
Yes
Sleep monitoring (monitors total sleep and periods of movement or restful sleep)
Yes
Calories burned
Yes
Distance travelled
Yes
Intensity minutes
yes (moderate)
TrueUp
Yes
Move IQ
Yes
Kid activity
Toe-to-Toe Challenges
The vivofit 4 is available in White (S/M), Lime Green Speckled (S/M) and Black (S/M and L) for A$159.
Interchangeable accessory bands are available in a Speckled Merlot and Speckled Navy combo pack (S/M) for A$39. Accessory bands in Speckled Black (S/M), White (S/M) and Black (S/M and L) are available for individual purchase for A$29.
GadgetGuy's take
We will review this soon, but for the price, it offers a lot of features as well as great battery life.