Big news from Google overnight, with the company announcing that it's getting into the hardware business with a new range of 'Pixel' mobile phones and is launching new virtual reality products.
Google Pixel
Starting with the phones, while Google has in the past partnered with different companies to make its Nexus range of handsets, it has never led the design of the hardware, leaving that to the manufacturer.
Having control of both hardware design and the operating software (Android) is only something that Apple currently does, and this can be a huge advantage when producing a world-leading product.
While Taiwanese phone manufacturer HTC will be building the actual Pixel phones, the hardware design is all Google.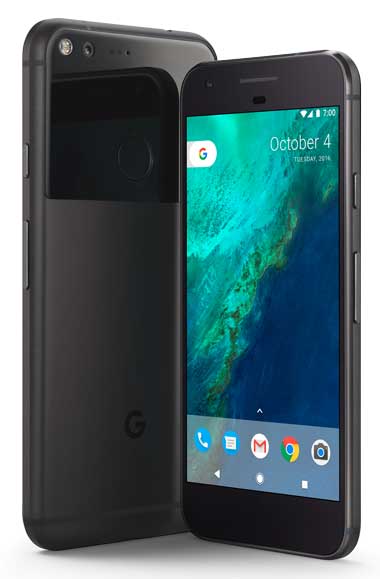 There will be two models released in Australia, the 5 inch Pixel, and the 5.5 inch Pixel XL. Both are clad in aircraft grade aluminium, and feature curved edges and smooth surfaces. Colour choices are 'very silver' and 'quite black'. We don't get the blue version otherwise available in the US, however.
The displays are AMOLED, meaning that they'll look great with deep blacks and vibrant colours – 16.77  million of them to be exact. And with 441 pixels per inch and 534 ppi on the XL model, onscreen text is ultra-crisp and sharp, with greater-than-high-definition detail.
On the camera front, the Pixel looks good on paper with a 12.3 megapixel rear-facing camera and an 8 megapixel selfie camera included. The rear camera boats a 2.0 aperture, and a 1.55μm pixel size, meaning a good sensitivity for colour accuracy and low light shots. Google describes the camera as having the "…best-ever 89 DxOMark Mobile score…" but we'll need to get our hands on one to test this claim over the coming weeks.
For storing photos, the Pixel comes with unlimited cloud-based storage for your full resolution shots and videos. In contrast Google Drive lets you store photos, but cut-down ones and not the full-fat version.
As part of Android Nougat, the latest build of Google's operating software, you get Google Duo, which is a video conferencing app similar to Apple's FaceTime but this works across both Android and iOS phones. There's even a 'Knock Knock' feature where you'll see a preview of the caller before you pick up.
Also new is the full integration of Google's Assistant. By holding the 'home' button, you can ask the virtual assistant for weather reports, manage everyday tasks, find photos, translate on the go and manage your travel arrangements. Also, using machine learning, it's context sensitive, so you can ask the assistant for example, "do I need sunglasses today," and after it gives you the weather, you can just ask, "and what about tomorrow" and it will know that this also relates to your previous question about the weather.
Both models have a back-mounted fingerprint sensor, called Pixel Imprint, for easy and secure access.
Both are also following the trend of using USB-C connectors for charging and transferring data, which is good news.
On the charging front, there's a quick-charge mode where 15 minutes gives the phone up to 7 hours of use. We'll inspect the charge times of both models in our full review.
For those moving across from another device, including iPhones, Google has provided a migration adapter and software tool called Quick Switch to copy all of your old phone's information on to your new one.
The Tech21 Evo Check case in 'clear' colour. The Tech21 Evo Check case in 'smokey black' colour.
Phones come in 32 to 128GB memory sizes and it does not appear that you can expand the memory. Also absent is water and dust resistance.
On the pricing front, the Pixel is available for pre-order in Australia today, starting at $1079 RRP. Google Australia says: "We are teaming up with Telstra as our exclusive telco partner to make Pixel available nationwide at all Telstra stores and JB Hi-Fi stores as well as through the Google Store."
There are even some cases out for the Pixel already, with Tech21 announcing its Evo Check range of drop-resistant cases that feature a 'checked' pattern created to work in harmony with the Pixel's styling.
Google Daydream VR
With the Virtual Reality industry growing all the time, Google is back in the game (let's just forget about the Google Glasses project) with its Daydream platform and headset.
First off, Daydream is Google's new home for high-quality VR content, and there will be Daydream compatible devices stating with the Pixel, with more announced soon.
We imagine that these Daydream 'compatible' phones will need to have a set level of screen resolution, graphics and processing power to make the grade. It's likely that Daydream will be an app that you can download to your compatible Android Nougat phone.
The Daydream View is the VR headset that works with Daydream ready phones.
What's immediately obvious is its lightweight fabric construction. Given that you'll need to place your Pixel phone into the Daydream View headset, it's good that Google has focused on keeping the weight down as well as comfort.
The fabric comes in three colours – crimson, snow and slate, and is breathable and hand-washable.
There's also a separate hand-held remote control, rather that an integrated area found on other VR headsets.
The Daydream View arrives in Australia this November and will be available for $119 RRP at the Google Store and from Telstra and JB Hi-Fi.