Google Nest Audio is a $149 Google smart speaker with a modicum of audio tuning that makes it both useful and sound good too. Which I have to say for a low-cost smart speaker is pretty unusual.
The Google Nest Audio designers started from the premise that you did not need to be an audiophile to appreciate good sound. Joe and Jane Average can tell the difference even if they can't relate to things like Bass, Mid, Treble and sound signatures. GadgetGuy has a guide here that goes into all that.
What they found is that Joe/Jane could perceive loudness differences, distortion level, artificial sound (synthetic versus natural sound), and whether there was any bass strength. So that is what the Google Nest Audio seeks to address – to hear music the way it should sound.
Australian review: Google Nest Audio
Australian website here
Price: $149 including free Australian delivery
Pre-orders: now and delivery 16-21 October
From: Google Store or major retailers
Country of manufacture: Thailand
Google is part of Alphabet Inc – an American multi-national BIG TECH company. You can read more on Google as part of our 'Can you Trust?' series.
Let's get some perspective here
The Google Nest Audio is the replacement for the original $199 2018 Google Home. Now that speaker was not too bad when it came to sound with reasonable high bass from 100Hz and relatively flat frequency response to 10kHz. I called it "Easy listening and not harsh at full volume.'
Since then, Google rolled smart speakers into the Nest division, so its siblings now include the Nest Hib, Nest Hub Max, Nest Mini (Gen 2). The big beastie Home Max is still current.
So we are not comparing it with an expensive hi-fi speaker from Bose, JBL, LG Meridian, Sony etc. it is a smart speaker with benefits.
Google Nest Audio specs
Google is joining the pervasive 'almost' no-specs brigade which, as far as GadgetGuy readers are concerned is a shame. We get off on watts RMS, THD and more.
Size: 175 (h) x 124 (W) x 78mm (d) x 1.2kg (without power adaptor). The Home was 96.4 (round) x 142.8 (h) x 477g – quite a difference
Enclosure: Back and base are plastic, front panel (under acoustic mesh) is metal
Forward firing 75mm woofer and 19mm tweeter
Three far-field mics
Stereo pairable or Google groups
Touch for play/pause and volume up/down
Wi-Fi 5 AC dual-band
BT 5.0 and Chromecast
Quad-core A53 1.8Ghz with embedded Machine Learning
Power: 24V/1.25A/30A plug pack
Google Assistant and the ability to do more on-device
Black or Chalk
Google Home app for Android or iOS
How does it sound?
Before we get into sound, it has ambient IQ. No, this is not room tuning, but it uses its three mics to determine what ambient noises the audio content is competing with. It is not something you can see or touch – just take Google's word for it.
Next is a basic Google Home EQ where you can adjust Bass or Treble. Google designers mentioned a Media EQ that analyses content and adapts for music, podcasts, audiobooks or Assistant.
Google claims a maximum of 86dB and our tests topped out at 82dB. The sound was surprisingly clear and 'listenable.'
Deep Bass: 20-40Hz – nil
Middle Bass: 40-100Hz – building nicely to peak at 100Hz
High Bass: 100 to 200Hz – flat
Low-mid: 200-400Hz – flat
Mid: 400-1000Hz – flat
High-mid: 1-2kHz – flat
Low-treble: 2-4kHz flat
Treble: 4-6kHz – dip to avoid treble harshness
High Treble: 6-10kHz – flat
Dog whistle: 10-20kHz – flat to 20kHz
This is a balanced sound signature – neither the bass nor treble overpowers the mid-range. The EQ does allow for some high bass reinforcement, but I would leave it flat.
BTW below is the original Home frequency response – pretty good for its day too although the Nest Audio has far better bass and treble control to avoid harshness. BTW – we cant substantial Google's claim that the new Nest Audio is 75% louder than the Home – it was 80dB.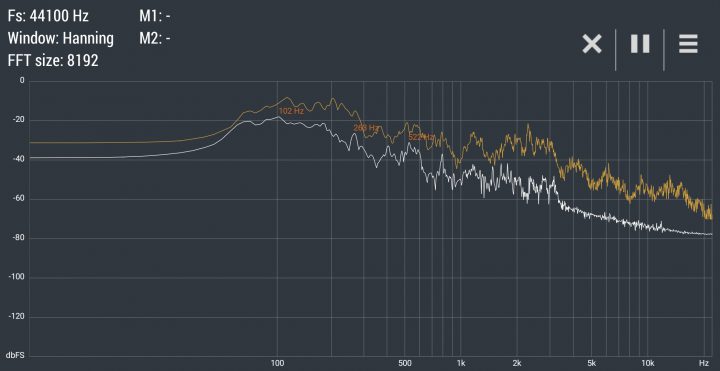 Duo and other calling
Use Google Duo on Nest Audio to call mobile phones, tablets and more. This is free and works internationally.
Call Home: In the Google Home app, there's a "Call Home" coin at the top. Tap that coin, and your Nest Audio will become a home phone.
Use as an intercom: Call any other Nest speaker or display in your home. Just say "Hey Google, call the living room" or "Hey Google, call the kitchen."
Broadcast: Just say "Hey Google, broadcast [any message]" to send that message to all the other speakers and displays in your house. You can also broadcast from within the Google Home app.
Google Assistant and Privacy
You can read more about what Google Assistant does here.
If you have any smart speaker from any supplier, then it collects data on you. What you ask for, where it is and often much more.
First, you can mute the mic via a dedicated slider switch. As we have a home full of Google Assistant speakers, this is handy to stop them all answering!
Second, You can view your Google Assistant history in My Activity accessible via the Google Home app and online at myactivity.google.com. You have control over your data and can delete history at any time.
Unlike some other speaker ecosystems, this is not an adjunct to an online shopping mall.
GadgetGuy's take – Google Nest Audio is an improvement over Google Home
Google Nest Audio reflects 2020 technology and a lot of experience since the original launch.
I have a truckload of Google speakers from LG, Sony, Lenovo, Panasonic, Sonos and more. At $149 it is almost in a class of its own – perhaps challenged by the JBL Link Music ($169.95 5/5 – not in stock anywhere). It is slightly louder at 84dB and has a slightly better frequency response for music.
Rating this is easy. In its price bracket, there is a) no alternative and b) no better. It is a tangible improvement over Google Home. I would still like detailed specs, so I am going to drop a point or two for that.
BTW – our retail sources tell us that sales of Google Assistant speakers have reached three-out-of-four sales – 75%. That is up from 68% in Q1 this year (Source WhistleOut). Its success here is because Amazon is not a household word and the Google Ecosystem is supported by so many IoT devices and speakers – LG, Sony, JBL, Sonos, Lenovo, Bose and many more.
And not surprising is that Sonos has ramped up its Google offerings across the range and its $649 Sonos Move portable ($649 but as low as $550 online) Sonos One ($299 and $240 for a pair) has captured around 5% of the market here.
So, if you read that Alexa has a 53% market share that is in the US only – and it is down 8% from 2019.
More aesthetic than the original Home
Better sound than the original
Local processing means faster react times
No 3.5mm audio in (but not a deal-breaker as it has BT/Chromecast)
Plug pack is too wide to fit a double 240V point