The Google Pixel 3 XL is the perfect symbiosis of Android Pie and Qualcomm 845 system-on-a-chip (SoC) hardware. Apart from some secret sauce in the camera co-processor and a mysterious Titan M security chip, it is a 100% Qualcomm reference design.
Why is that important?
Many makers wrap other brands of components around a Qualcomm SoC. In some cases, it is for cost competitiveness and in others for supply chain control etc. Often it results in compromises to performance, but you don't know that – all you see is a Qualcomm 845 SoC. Google Pixel 3 XL does not do that.

Imagine buying a V8 muscle car only to find that massive engine's power marred by a mishmash of inferior parts and cheaper workarounds – you are never going to get maximum performance or reliability. The Qualcomm 845 SoC is that V8 and it works best with a full suite of Qualcomm parts like its X20 LTE modem, Bluetooth, Adreno GPU, Hexagon AI DSP, Quick Charge 4++ and onboard security.
Then there is the right fuel, and that is Android Pie. Pure unadulterated Pie that exploits all of Qualcomm's hardware smarts. No ham-fisted chefs cooking up their own UI (User Interface) stew. Google and Qualcomm are a marriage made in heaven.
From that viewpoint alone Google deserves a 10 out-of-10 for effort and sticking to a reference design. Is the Pixel 3 XL (and the smaller Pixel 3) a 10-of-10 too? Read on.
How we rate phones
We use robust paradigms to assess phones in different categories. Price is a major delineator:
Flagship >$1000
Mid-to-high $500-999
Mass-market $200-499
Value pre-paid <A$199
Then over a week or so of real-world use we compare specifications to performance, e.g. what is missing or what is punching above its weight.
The Pixel 3 is $1,199/1,349 for a 64/128GB and Pixel 3 XL is $1,349/1,499 – so we review it as a flagship-class device.
There are two issues with the price paradigm.
First, is that Apple has upped the flagship ante to an eye-watering $2,346 for the iPhone XS Max 3/512GB. Is it fair to use the same paradigm on the Pixel 3 XL as a phone costing almost double that?
From a tech perspective, there are now many niche segments of the flagship market, just as there are emerging new segments all down the line. And many makers are selling last seasons flagships at lower prices – there is nothing wrong with them either.
For example, LG's amazing G7 ThinQ* ($799), LG V30+ ThinQ, HTC U12+* ($1199), Sony Xperia XZ premium ($799), Sony XZ2* ($949), OPPO Find X* ($1,099), Huawei P20 Pro ($1,099), Apple iPhone 6 ($979), Apple iPhone 8 Plus ($1,149) , Samsung Galaxy S8 ($997), Google Pixel 2 XL ($999), and Nokia 8 Sirocco* ($999).
So, for this review, we are going to leave price out of the equation and look at it as a Qualcomm 845 based device. We identify these as * above.
Why mention all the competition in a Google Pixel 3 XL review?
Apologies to Google for mentioning all the fierce competition. But it makes the point that a phone needs to rise above the others and appeal to a market that the others don't address.
The Pixel 3 XL is a thinking person's phone.
For the right person it is a unique phone – bar none. That person appreciates pure Android Pie and three year's operating system (OS) upgrades (Android Q, R, and S) as well as guaranteed timely security updates. Linux and Nexus users rejoice!
Let's explore the OS upgrades. Android O was good; Android P is even better with a raft of new AI features, battery management, screen management, background app management, faster performance, gesture interface, digital wellbeing (tells you if you are addicted to the phone) and multi-point Bluetooth – to name a few.
What will future versions of Android hold? The answer is very few makers guarantee more than the next OS upgrade and most are a few months behind in security updates. Not so with Pixel 3 XL.
Yes, there some other brands offering Qualcomm 845 and Android One.
The thing we like about Android One is it gives you a pure Android experience free from bloatware that chews up memory and resources.
That narrows the field to Nokia 8 Sirocco, Motorola Z3 (releasing soon), LG G7 One, HTC (coming soon) and others are coming. It makes sense for Google to handle the updates directly, free custom user interface and Telco constraints.
What commentators call Pixel's Achilles heel is what Google call its strengths.
Google has made a well-tuned V8 where Android P extracts the maximum from the hardware.
Google says its single-lens camera is more than a match for dual/quad cameras especially as these also use AI to get the result you want. We agree.
And who needs memory expansion when you have unlimited photo/video storage in Google Photo cloud (with the attendant AI benefits).
Dual sims? Use Google Duo video calling over Wi-Fi for free.
GadgetGuy's spoiler alert!
If you want a flashy giant-killer, then the Kirin 980 SoC (not Qualcomm) based Huawei Mate 20 Pro at $1599 – the first smartphone GadgetGuy has ever given a 5-out-of-5 flagship rating – is for you.
If you are a thinking person, then Google's Pixel 3 and Pixel 3 XL will make you very happy.
Review: Google Pixel 3 and Pixel 3 XL
Australian website
Google Pixel 3 XL is the third-generation, and some say it took this long to get it right. I use a Pixel 2 XL as a reference device, and I think critics are a bit harsh – it too is a great, functional, typical Google style, device.
The 3 and 3 XL are almost identical save the screen, battery and weight so don't feel short-changed if you buy the more pocketable Pixel 3. That is a clever move by Google as often other brands make unacceptable compromises between Standard and Plus sizes (Huawei we are looking at you – the Mate 20 Lite/standard are not nearly as good as the Pro). So, we will just refer to it as the Pixel 3 XL in this overview.
In the box
Handset
Quick Switch adaptor USB-A (female) to USB-C
USB-C to 3.5mm DAC adaptor
USB-C to USB-C cable
Pixel USB-C earbuds and mic
18W USB-C charger 5V/3A and 9V/2A
The first impression
The review unit is Just Black. It also comes in Not Pink and Clearly White.
I love the attention to detail with the soft touch matte textured Gorilla Glass 5 back that gives great grip and eliminates all but the oiliest of fingerprints. It has a full aluminium frame and fingerprint magnet Gorilla Glass 5 on the front. That is good to minimise the risk of cracks when dropped, but I recommend a tempered glass screen protector and bumper case as well.
My only niggle is that the power button is above the volume rocker and you need to remember that.
Buy here – or you will regret it
We issue the standard warning that you must buy the genuine Model with Australian firmware as it works on all Australian Carrier LTE bands and can make a 000-emergency call without a sim.
Screen
XL is 6.3", 2960 x 1440, 532ppi, 18.5:9, 82.8%, S-T-B-R with a fairly large notch
Flexible OLED Diamond Pentile pattern made by Samsung max 434 nits
3 is a 5.5", 2160 x 1080, 443ppi, 18:9, 77.2%, S-T-B-R – no notch
Flexible pOLED display made by LG max 426 nits
Both: Screen protection: Gorilla Glass 5
Always-on-display
100,000:1 contrast (in reality OLED is infinite as blacks are 0 nits)
16.77 million colours
UHDA HDR certified (HDR400)
Built for VR to work with Google Daydream View headset
DisplayMate gave the Pixel 3 XL the highest A+ grading for absolute picture quality and Absolute colour accuracy. It says, "Pixel 3 XL is visually indistinguishable from perfect." Only the Samsung Galaxy Note9 Note and Apple iPhone XS Max have a similar rating – all are screens Samsung made.
If you want to play with colours, it has Natural, Boosted and Adaptive settings. Adaptive automatically selects the best colour gamut (119% DCI-P3 for movies, sRGB or Rec 709) as well as everything in between.
It has 434 nits brightness (max). It has a low screen reflectivity of 4.3% – just under the reference Samsung Galaxy S9, making it very daylight readable.
The notch is slightly larger than others as it holds the two front-facing cameras, ambient light and proximity sensors, and ear speaker.
Android P controls the screen resolution it does not seem overly aggressive towards battery saving over brightness.
A great screen!
Performance
Processor
Qualcomm 845
4×2.5 GHz Kryo 385 Gold & 4×1.6 GHz Kryo 385 Silver
Hexagon 685 DSP, Qualcomm All-Ways Aware
GPU
Adreno 630
OpenGL ES 3.2, OpenCL 2.0 full, Vulkan, DX12
RAM
4GB LPDDR4-1866MHz
64 eMMC or 128GB UFS2.1
No storage expansion but free Google Photo Cloud
OTG means you can back up to external SSD, flash drives etc
Compared to last year's flagship 835 it is about 25% faster, 30% faster graphics, better battery management, has Quick Charge 4, and a 3rd generation Hexagon DSP for advanced AI.
Performance tests Geek Bench 4:
It scored 2385/8341 single/multi-core. By comparison, a Samsung Galaxy Note9 is 3,718/9026 (Exynos version of Qualcomm 845). We do know that Google has slightly throttled the 845 to ensure the best heat management and that accounts for the difference between the HTC U12+ (not throttled) of 2,456/9,001.
Renderscript (video competency) score is 13,666 against the Note9 at 9,324 and Huawei P20 Pro at 12,713. It is fine for video games and VR.
RAM is 4GB – it was smooth and efficient in multi-tasking. It will run the next three versions of Android so no issues there.
I would be tempted to buy the 128GB version if only that it is faster UFS 2.1 over eMMC.
Google Photo cloud: The catch 22 is that in Australia mobile data is costly, so you need to ensure cloud transfer uses Wi-Fi only. But it also supports OTG which means that you can plug in an external USB-C or SSD and use Files to transfer data to that device. Considering a 128GB USB-C flash drive is about $50 it is cheap backup storage.
Comms
Comms
Wi-Fi AC, Dual Band, 2×2 MU-MIMO, 256QSM
Chromecast only 0 not Miracast
Hotspot, DLNA
USB-C 3.1 gen 1 (5Gbps)
Power Delivery 2.0 (5V/3A and up to 20V/3A – 60W to power connected devices
NFC for Google Pay
Bluetooth
5.0 supports Qualcomm aptX HD codec.
Peak speed is 867Mbps, and it held that to 7 metres from our test D-Link AC5300 router. At 30 metres (the limit of 5GHzx Wi-Fi it was 280Mbps. That is good.
It lacks the new 160GHz compatibility that allows Wi-Fi aggregation to go over 1Gbps.
Bluetooth 5.0 offers multi-point connectivity for up to eight devices using the same stream.
Sound
Sound
3.5mm audio jack
Dual stereo front-firing speakers with 2x2W amplifiers far better for Google Daydream
ANC dual mics
32-bit/384kHz high res DAC
Qualcomm's Aqstic technology is pretty good supporting hi-res audio.
Google claims a 40% improvement over Pixel 2 in volume and sound depth. Pixel 3 XL has about the same ringer loudness (80db) and music/voice loudness (71/77dB).
Sound signature favours a pure 'mid' – bass recessed, mids booted and treble recessed. That is fine for voice and Skype but a little bland for music or movies. Using the USB-C headset gave better bass and treble.
We tried the Pixel 3 XL with a pair of Sony WH-100XM2 headphones that support Hi-Res aptX HD. I expected a little more from aptX HD. Yes, the frequency response was good – 20Hz-20kHz but sound lacked upper-end sparkle.
I re-tested with SBC codec (standard) output, and it really was not much better. That is unusual for the Qualcomm 845 audio, so I suspect a firmware update can fix this.
Other
Other
Fingerprint sensor
GPS and e-compass
Duplex and Titan M Security
Titan M is part of the boot process and manages screen-locking, as well as many other aspects of security. Developers can use Titan M StrongBox KeyStore APIs for applications like e-voting and P2P money transfers to authenticate transactions.
What it means is that malware can't root the device as it will not boot.
Battery
Battery
XL: 3,340mAh
3: 2915mAh
Qualcomm Quick charge 4.0 rated
15 minutes for seven hours use
Charger
18W USB-C charger 5V/3A and 9V/2A
Qi
Qi 10W with an optional charge pad
Our FHD video loop at 50% brightness in aeroplane mode ran for 11 hours.
Like all fast charge, it uses the 9V/2A to fast charge to about 60%, 5V/3A to about 80% and 5V/2A to 100%. A full charge takes about 1.75-hours with 80-90% at 1.5-hours.
Pixel Stand is a $119 portrait or landscape 10W Qi fast charger that also enables 'Personalised experiences', Google Assistant routines, photo frame and more. It also has a Qualcomm 4.0 wall charger – a great spare. Full charging takes about 2.5 hours.
4G/LTE

LTE
Cat 16 (1Gbps/75Mbps) with 5 CA, 4×4 MIMO, 256-QAM (depends on operator)
Bands include 1, 2, 3, 4, 5, 7, 8, 12, 13, 17, 18, 19, 20, 25, 26, 28, 29, 30, 38, 39, 40, 41, 42, 46, 66 and 71 – it is a true world modem.
Sim
Single although there is an eSIM as well that is not activated here
Other
VoLTE and VoWiFi depends on the carrier
I really like Qualcomm's X20 modem as it is a true 4G world modem. The single sim does not offer the flexibility of dual sim, but we understand there is an eSIM inside that may be activated later (depends on carrier).
Operating system
OS
Android 9 with three years OS and security updates
Pixel Launcher (optional skin)
Google Assistant
There is everything Android Pie offers including Google Assistant.
Android Pie is all gesture now, and that means relearning.
Back button: Return to the previous screen.
Flick right: Switch to last used app.
Long press: Summon Google Assistant.
Long swipe up: Open app drawer.
Swipe left: Nothing.
Tap: Go to the home screen
Swipe right: Browse recently opened apps.
Swipe up: Enter Overview screen.

All the apps are pure Google, so we need not go there. Pixel 3 XL is risking losing some identity to other Android One phones that all have the same interface – well then you could say that about Windows PCs as well.
Digital Wellbeing is a suite of tools to help you understand how you use your phone.
Flip the phone face down to turn on Do Not Disturb with the new Shhh gesture.
The Digital Wellbeing Dashboard shows you how much time spent on different apps.
Set timers for how much time you want to spend on an app.
Wind Down mode to turn your phone screen to grayscale and turn on Do Not Disturb.
Build etc
Colours
Clearly White • Just Black • Not Pink
Build
Aluminium frame covered with rear, soft touch, Gorilla Glass 5 and front Gorilla Glass 5
Squeeze me
Pressure sensitive Active Edges
Dimensions
XL 158 x 76.7 x 7.9mm x 184g
3 145.6 x 68.2 x 7.9mm x 148g
IP Rating
68 2m for 30 minutes
What's missing
Missing
Memory expansion slot compensates with Free Google Photo cloud storage
Micacast (Chromecast only)
No status LED bit AOD display makes up for that
Face recognition
4K@60fps video record
Camera
Rear Camera 1
Primary
12 MP dual-pixel image stacking
1.4μm, f/1.8, FOV 76°
Sony Exmore RS IMX363 4032 x 2034 sensor
Autofocus and dual pixel phase detection
Auto HDR+ and dual LED tone flash
Optical and electronic image stabilisation
Shoot RAW or JPEG
Capable of 4K@30fps
Quad flash and spectral and flicker sensor
Rear Camera 2
N/A
Rear Camera 3
N/A
Selfie
8 MP dual: Sony Exmor IMX355
Auto HDR+
8MP, f/2.2, FOV 97°
8MP f/1.8, FOV 75° Autofocus phase detection
Capable of FHD@30fps with
Before you laugh at a single lens, with what amounts to fairly average hardware specifications, consider that the superseded Pixel 2 rates 98 on the DxoMark. Only recent flagships like the Huawei P20 Pro, Apple iPhone XS Max, HTC U12+ and Samsung Galaxy S9/Note9 best it.
Google says it does not need the second depth lens because of its expertise in machine learning technology. It says Pixel phones extract enough depth information from the camera's dual-pixel sensor and then run machine learning algorithms, trained on over a million photos, to produce the desired photo effect.
HDR+ captures eight frames and merges them into a single image that for colour and light than a single frame could express.
OIS and EIS are amazingly good. Shots I felt sure would be blurred are crisp. Read on for why!
The secret camera sauce!
Pixel Visual Core (PVC) Chip. Version one was in the Pixel 2. This is proprietary hardware meaning only Pixel 2 and 3 have it. It comprises an A53-ARM 426MHz processor, 512MB LPDDR4 DRAM and an eight-core Image Processor Unit connected to the SoC by a PCIe bus. Call it a photo supercharger!
All the PVC APIs and software are part of Android Oreo or later. So, while other Qualcomm 845 based smartphones may use its Spectra 280 image processor, Pixel 3 XL has a hardware and software advantage. And it is just that.
Camera modes include Panorama, Portrait, Camera, Video, photo-sphere, slow motion, photobooth, Google Lens.
Google has nailed it with one lens – it takes two or three for others to get it right.
AI
Top Shot is all about automatically taking a bracket of shots and having AI analyse the perfect one! When you upload to Google Photos, the bracket comes along with it allowing you to make manual selections later.
Super Hi-Res Zoom uses AI to fill in the details despite Pixel 3 XL not having an optical zoom. It is very good.
Night Sight produces almost day-light like shots in low light by recognising the subject and 'colourising' it. Suffice to say the low-light results we saw are amazing if a little colourful. This feature is not yet available here. We won't go down the 'skin-tone' rabbit hole yet.
Playground Playmoji characters react to each other and you. New Playmoji packs coming soon include characters from the Marvel Cinematic Universe and everyday fun like Sports, Weather, Pets, and Signs.
Google Lens work in real-time on URLs, emails, phone numbers, addresses, and QR codes. Long press to identify plants and animals, copy text, clothes and furniture etc.
Google claims its front camera has a 184% improvement in wide-angle terms for more expansive selfies.
Daylight, outdoors
Remembering this is a 12.2MP Sony sensor its detail and colours are as good as others like the Nokia 7.1/Plus, LG V40 or the hoard of Chinese smartphones using this 'industry standard' sensor.
Daylight has the least need to add post-processing, so you get natural colours and good light balance. HDR seems to make little difference here although it could just be our test shots do not need it.
ISO 61, 1/4000 sec, 4.4MB
Indoors Office Light
Again, colours are natural, and details are good – as good as you need.
ISO 87, 1/100 sec 2.8MB shot
Low light
I was amazed at the detail, colour and brightness in this shot. I would rate it better than the Huawei Mate 20 Pro that will blitz the DxOMark. I have put the Huawei Mate 20 Pro, and Samsung Galaxy Note9 reference shots for comparison.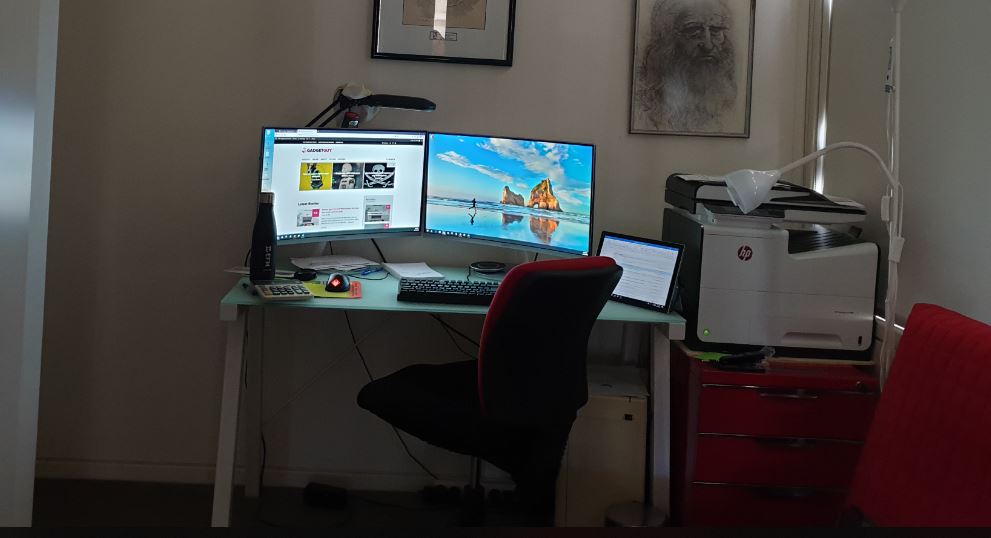 Selfie
Dual lenses mean it can take groupies but also vary the bokeh depending on distance. For example, bokeh can be a gradient (gradual out-of-focus) or a typical subject in focus and everything else out of focus.
It is evident that the post-processing has kicked in as there is massive outline sharpening giving profiles a crisp edge. Colours are good. It just edges ahead of the Note9 and is way ahead of the iPhone XS Max.
Video
The maximum is 4K@30fps. There is FHD@60fps and bot have a form of image stabilisation, be it optical or electronic or a bit of both (AIS).
Audio is stereo at 192kbps/ Its pretty good but not rock concert standard as some other brands manage. There is almost no difference in 4K@30fps versus FHD@30fps colour. The first chews up 48Mbps and the latter 22Mbps.
GadgetGuy's take
Features – all flagship except Miracast and micro-SD but has USB-C support for OTG
Battery – at least a 24-hour day and Qi and fast charge
Screen – superb OLED A+ rating
Camera – far smarter and better than the specifications would indicate, and dual/tri/quad camera makers would have you believe!
Android 9 – has both the new gesture mode and three years of OS and security updates
Power – heaps and don't worry about 4GB/64GB
These are truly 'Made by Google' products – minimalist, fast, secure and a great camera.
Would I buy one?
At the beginning of this review, I went to great lengths to show whom the Pixel 3 XL appeals to – it is a niche phone. It is a thinking person's phone who wants the security of dealing with the Android maker.
Yes, I would buy on because it now has Qi (a previous deal breaker). But I doubt Joe and Jane Average will be so analytical. They will be love the giant-killer Huawei Mate 20 Pro.
Ironically you may be happier with the simplicity of the Pixel 3 or 3 XL and not suffer nagging doubts (cognitive dissonance) about did you buy the right phone. It simply is superb.
Positives
If you want the best Android, go to the Android maker
The A+ screen is perfect
The camera competes well with dual and triple cameras
Better design with soft-touch grippy rear Gorilla Glass
Fast and Qi charging
Negatives
Mediocre battery life – yes, it a full day phone
No face unlocking (damn as I just got used to that as a must-have)
3.5mm audio jack missing (but USB-C adaptor and buds supplied)
No memory expansion slot (but free Google Photo and OTG support)
Chromecast only
It is the Cyrano de Bergerac of notches - huge