Apple isn't the only one with the new "Type-C" USB ports, as Google has this week updated its high-resolution Chromebook Pixel, and guess what? Type-C USB is there with it.
If you've brushed up on that whole "USB Type-C" thing Apple rolled out with its new ultra-slim MacBook, then you'll know what this story is all about, as Google has just announced a new generation of its Chromebook Pixel that is packing USB Type-C just like the aforementioned and yet-to-be-released MacBook.
The new Chromebook is an update to an older generation of computer, with the Google Chromebook Pixel appearing a little over two years ago and made to be Google's attempt at building a MacBook Pro style of machine for its Chrome operating system, a system developed from the Google Chrome web browser that delivered your passwords, bookmarks, and access to web apps like Google Docs and Evernote to a computer that found it very hard to get viruses.
While the idea of a Chromebook is that it always stays online — because it's a web browser — the constant connectivity isn't always required, and as noted in our reviews on the available Chromebooks, and you can work with locally available applications without being connected, synchronising with web sites and services when you're in range of a wireless network.
Google's Chromebook Pixel relied on this very system, but managed to bring together a Retina-class display running a resolution of 2560×1700 in a 12.85 inch screen, producing slightly higher pixels per inch than even the 13 inch MacBook Pro with Retina. There was also an Intel Core i5 processor, 32GB solid-state storage, and a generous supply of 4GB RAM, 2GB higher than most of the Chromebooks we've seen.
The body was also made from aluminium and the screen incorporated touch, something no other Chromebook supported at the time.
In essence, the Chromebook Pixel was Google's flagship Chromebook, but Australians just never got to see it.
This week, Google has updated the Pixel again, keeping the name the same and changing a few things, one of which could signal Google's plans for other products in its release schedule.
For starters, the new Pixel is the first Chromebook to get one of the fifth-generation Intel processors, a Core i5 with "Broadwell" on-board and working with 8GB RAM, an amount we've never seen on a Chromebook.
Google goes further saying a Core i7 will also be made available — called the "LS" or Ludicrous Speed" edition — relying on that super speedy processor with a supply of 16GB RAM also thrown in for good measure. We're not even sure what you'd need a Chromebook with that much grunt for.
That same high resolution touchscreen install here, as is a glass touchpad, with 802.11a/b/g/n/ac WiFi, Bluetooth 4.0, two USB 3.0 ports, an SD card reader, 3.5mm headset jack, and two Type-C USB ports.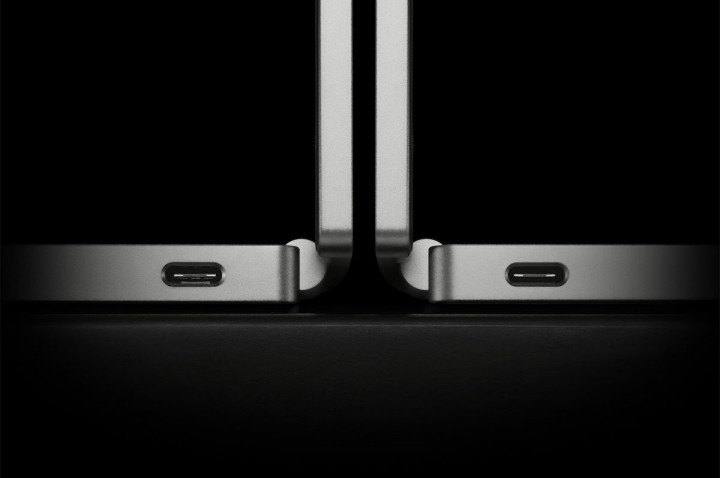 Yes, just like the ultra-thin MacBook Apple announced earlier in the week, this laptop will arrive with the super-slim reversible USB Type-C connector, and two of them, no less. Charge will be taken for the laptop here, delivering up to 2 hours of power in 15 minutes, while a full charge should provide up to 12 hours of battery life altogether.
And of course, the USB Type-C connector can be used for graphics out with either an HDMI or DisplayPort converter — just like the ones Apple will be selling — as well as working to convert to a full-size USB 3.0 port, in case you run out of places to plug devices.
Interestingly, this release of a Chromebook with Type-C USB could be seen as a preview for other Google devices, with the likelihood that they will get the port type soon instead of microUSB.
On the Google Chromebook Pixel blog post, Google has thrown up a video detailing how the company is working with the Type-C USB connector, with one of Google's Product Managers Adam Rodriguez being quoted as saying "expect to see this in a lot of Chromebooks and Android phones in the near future."
As for pricing, overseas in America, Google has said the regular Chromebook Pixel will sell for $999 while that insanely fast version will cost $1299, but as to local availability and pricing, that turns up a question mark.
Google's Chromebook Pixel sure isn't showing up in the Australian online store, telling us that we're probably not going to get the Pixel again, but we're checking with our people at Google to see if they know anything more concrete.