Action camera maker GoPro may dominate, but it has heaps of competitors that have imitated the style it practically created. A new camera is on the way, though, and it could blow the other guys out of the water.
It's called the "Session" and it's a new ultra-small take on GoPro's market dominating action camera, fitting in with GoPro's "Hero 4" line-up of cameras that launched late last year.
But rather than just offer another model with the same established rectangular design, GoPro has taken a different route with the Session.
"It's quite a bit of a departure of our current form-factor," said GoPro's Chris Kinman, telling us the Session was "substantially smaller [and] substantially lighter" than any camera the company had ever made before.
"It will get into nooks and crannies our other cameras couldn't," said Kinman. And when you see the camera, you'll believe it.
For this model, which sits just below the Hero 4 Silver in the current range, GoPro has put the camera on a diet, literally cutting the camera in half and making the Session 50 percent smaller and 40 percent lighter, throwing all that GoPro camera technology, support for Bluetooth and WiFi, and two microphones into a body that basically resembles a small cube.
This small cube is a little different from the previous rectangular prisms we've seen out of GoPro, and the company has had to change some of the camera modes to make the Session work in 2015, as this Hero 4 model lacks 4K video capture, going all the way up to 1440p in the GoPro 4:3 "SuperView" mode which expands to a wide frame which is more detailed due to the sensor being the same aspect ratio, while the Full HD 1080p mode is also here, capturing in native 16:9 widescreen. Both of these modes will run at 30 frames per second, while 960p (4:3) will net 60 frames per second, and 720p HD will see as much as 100 frames per second, providing some slow motion action when you need it.
Images are also possible here, with 8 megapixel shots out of the Session in both single, burst, and time lapse modes, and this can be controlled using the one button found on the device — one main button, anyway — and using either the GoPro Bluetooth remote that used to come with cameras and is now optional, or that smartphone tablet link most os use via the app available on Android and iOS.
The lens is also still very wide, offering a 170 degree viewing angle, which won't go far enough to get you in the frame, but will show everything you're doing, with the camera clipping into GoPro mounts using two frames, one of which is slim and low profile.
The microphone system is also particularly interesting, with those two aforementioned microphones able to pick up wind noise at either side and switch to the different mic dependent on which is noisier. Is the front picking up more noise? No worries, it goes to the back.
GoPro's battery is also interesting here, as it is non-removable and built into the unit, only switching on when you start the camera recording and going into standby when it goes off.
Estimates put the battery close to two hours, and we suspect this will charge using either the standard miniUSB GoPro cameras have used for yonks, or the more modern microUSB most smartphones and tablets charge from.
But perhaps the most interesting part of the GoPro Session is the water-proofing, because for the first time on a GoPro product you don't actually need to encase the camera inside of a small plastic box to stop it from being killed by water.
GoPro cameras tend to be pretty well built and survive a lot of wear and tear, too, but this one is ready to be dunked in water without any casing, as GoPro has made the Hero 4 Session waterproof up to 10 metres.
Those microphones we mentioned earlier are also built to deal with water, with a small channel system made into the hardware to flush the water out of the microphone as the camera is lifted out of the water, funnelling out liquid so as not to deliver fuzzy or fluctuating noise that you'd normally get from water-logged microphones.
"It's definitely been a labour of love and been on the drawing board for arguably close to three years," said Kinman, who said the first patents for this camera were file back in 2013, with work on the Session going on a little longer, and that work can be seen in the result.
The camera is positively tiny, and really makes a dent on the existing action cameras out there, feeling like a tiny cube you could pocket and clip on anywhere.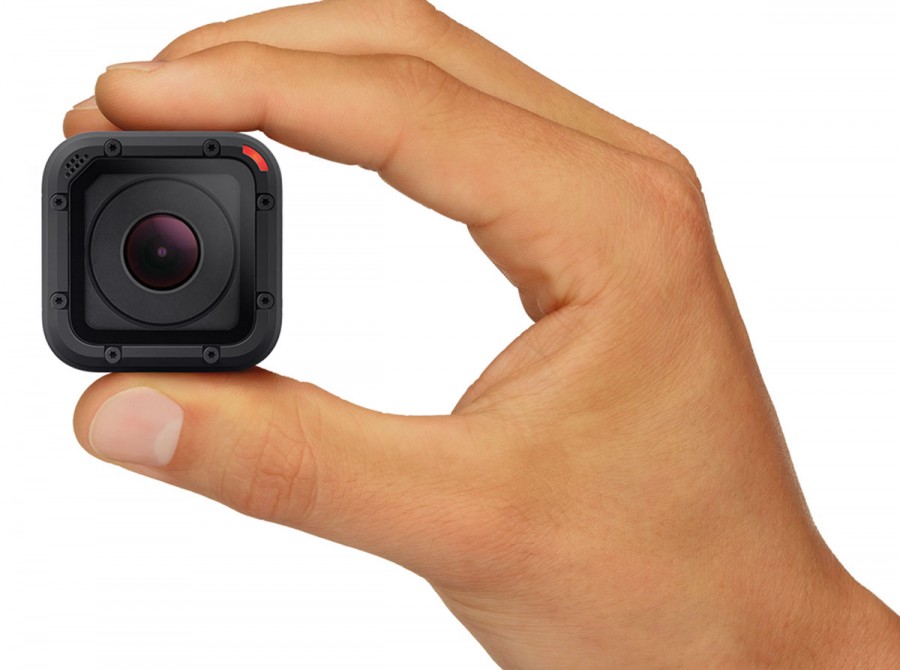 When we say it's small, we mean it, and your current GoPro, and even the current GoPro clones out there made by all manner of companies, really don't have an edge on what the Session aims to be.
This is small, so small that it does look like it could go anywhere, and for this announcement, GoPro has a few new mounts to help it do just that.
First, there's "The Strap" which is a small strap you can plonk the Session onto and have it mount to a limb, such as an arm or a leg, with a rotating mount that lets you flip the view of the camera quickly and easily.
There's also "The Jam" which is a new clamp mechanism made musicians who want to capture their activities.
Frankly, we're keen to see whether the "Fetch" mount we checked out last year is a little friendlier with this camera and dogs, because while the JackChi back then handled the regular style, a camera that is even smaller, lighter, and doesn't require waterproof housing should result in a smaller camera for a dog to go running and exploring with.
As for pricing and availability, Australians will see the GoPro Hero 4 Session in stores from July 12 for a recommended retail price of $579.95, with the new mounts also available alongside it.