The laptops
One of the first companies with an Ultrabook, Acer is bringing that same engineering to the new touch-enabled Ultrabooks for Windows 8.
Laptops will now have features similar to a tablet, with a big screen that you can poke and prod, zooming in with your fingers and selecting things, while still being able to use a proper full-size physical keyboard and touchpad mouse.
For this launch, the company is letting Australians put their hands all over the Aspire S7, a computer shown recently at Computex earlier this year.
Built in an aluminium unibody, the computer features a full HD 1080p touchscreen coated in Gorilla Glass, Intel Core Ivy Bridge processors, USB 3, and 128GB of solid state storage.
To say these things are thin would be an understatement: collapsed, the 13 inch Aspire S7 measures 12mm thin and weighs just over a kilogram, with a total weight of 1.3 kilos. The 11 inch model trumps that with a weight of 1.1 kilograms, not bad considering the machines boast Core i5 and i7 processors and 128GB of solid state storage.
Both bodies feature that lovely Full HD touchscreen, an Acer cooling system so that your palms don't heat up from a toasty processor, and a backlit keyboard, one of the features we wished the Acer Aspire S3 Ultrabook had.
There are some interesting design features here too, with the 11 inch featuring an aluminium top, and the 13 inch covered in another piece of scratch-resistant Gorilla Glass.
From the feel of the Aspire S7 range, Acer has really made some progress in crafting a well-built machine, and the specs certainly suggest these models will handle Microsoft's new operating system well.
The Aspire S7 Ultrabook arrives in two models, with the 11.6 inch model coming out on October 26 from $1799 RRP, and the 13.1 inch model arriving from November 15 from $1999.
The desktops
Windows 8 is all about the touch, but that doesn't mean only tablets and notebooks get the benefits, and Acer has been working hard on a model of all-in-one desktop computer that features a big screen that you can put your fingers all over.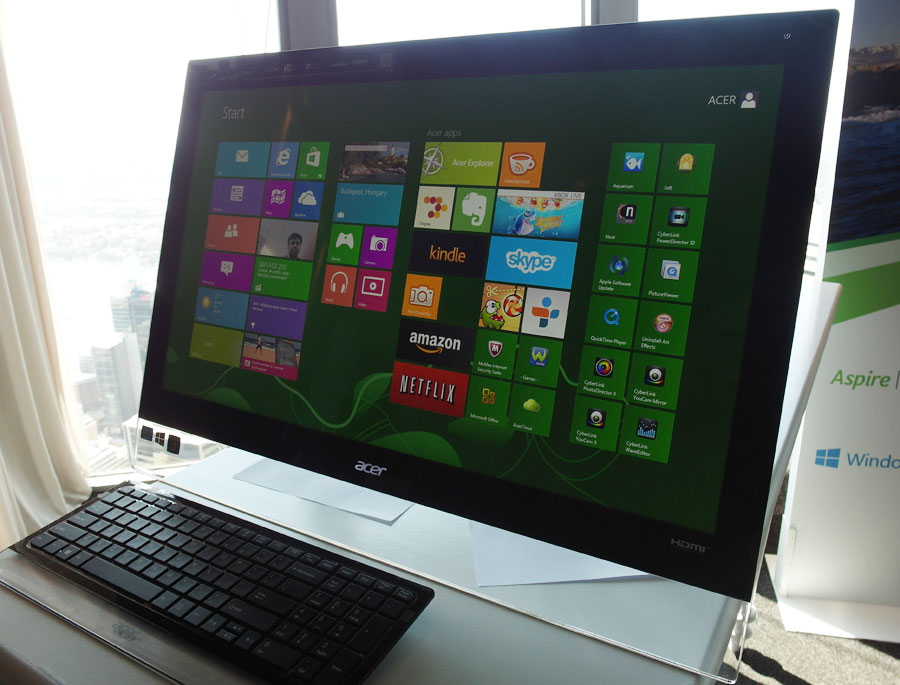 Launching in two varieties, the Acer Aspire U series of computers throws in either a 23 inch or 27 inch screen with full 10 point touch, a special stand that can actually push back and tilt the screen, and lots of inputs and outputs, including USB 3, TV, and even HDMI in, making it possible to turn either of these into a PC that you can play an Xbox 360 or PlayStation 3 on.
We spent more time with the 27 inch this week, and wow, Acer has done some impressive work here.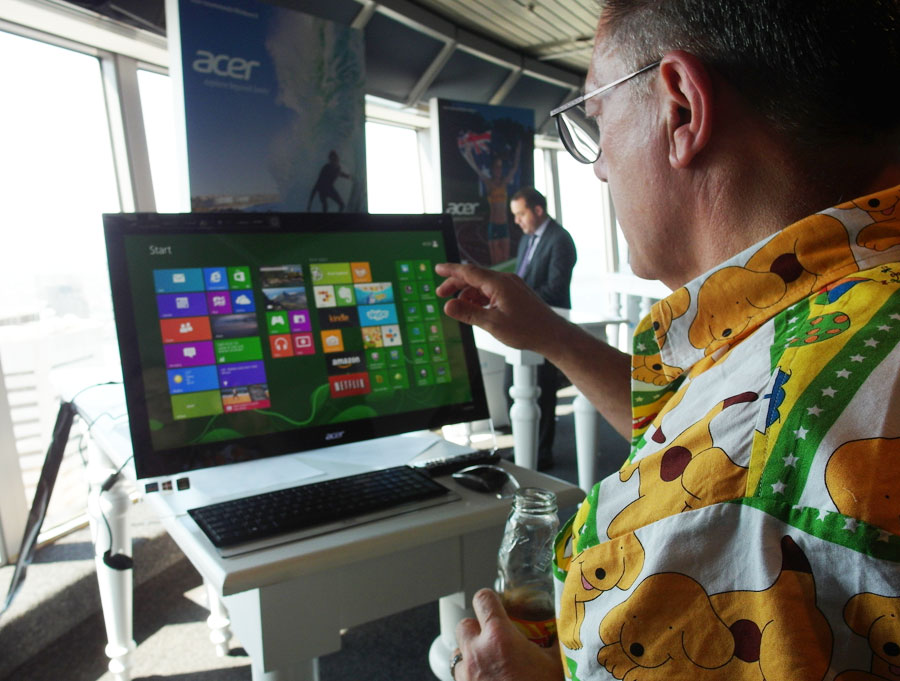 The LED screen shows a full HD 1080p image that spans edge to edge, and the touchscreen is very fast. The system comes with surround sound Dolby, and even manages optical audio and HDMI out, depending on what you want to plug it into.
A video camera at the top of the frame can even work with some motion control technology, allowing you to control your copy of Windows with your hands, similar to the motion control used by Microsoft's Kinect for the Xbox 360. From our brief play, this still needed some work and wasn't quite as responsive as the Kinect, but could still offer some interesting ways of controlling Windows.
There are some nice design touches too, with a clear scratch-resistant glass panel, a very thin 35mm profile while still accommodating a Blu-ray drive, 1TB of storage, 32GB solid state drive to speed up loading, and a stand that can either lie mostly flat, or stay positioned at a 90 degree angle, so you're sitting facing it.
That stand even houses the plug port, so there's only one cable coming from your all-in-one, and it looks like it comes from the stand itself, which is cool.
Or you could ditch the stand and mount it to a wall, as Acer is including a metal VESA mounting plate in the box, allowing you to bolt the entire system to a wall, like a 27 inch window into the world of, well, Windows.
While Windows 8 launches October 26, you'll have to wait a few more weeks for these models, with the Acer Aspire U 27 inch (7600U) arriving November 15 for $2299, and the 23 inch model coming a month later on December 26 for $1399.